On the fringe of the NHL preseason, The Grind Line takes a look at which players have the most to gain from training camp in Traverse City, Michigan. From seasoned veterans looking for a role to young prospects hoping to crack the roster, it seems as though every Red Wings player has something to prove heading into the 2016-17 season.
Jacob Messing: Thomas Vanek
In a recent interview, Thomas Vanek said he could still score in the NHL. Vanek signed with the Wild in 2014, excited to return to Minnesota where he won a National Championship with the Minnesota Golden Gophers.
Vanek was coming off of a season in which he scored 27 goals and 68 points between the Buffalo Sabres, New York Islanders and Montreal Canadiens. He had mediocre production in Minnesota, often criticized for poor defensive play in Mike Yeo's defense-first system.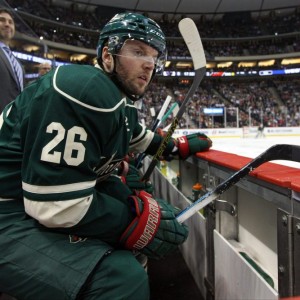 It's arguable that Minnesota misused Vanek; his ice time was cut and his production decreased along with it. Vanek averaged 19:21 of ice time when he scored 68 points in 2013-14. In his first season with Minnesota he averaged just 16:13, scored 21 goals and 52 points. Last season, he recorded just 18 goals and 41 points in 15:37 of ice time.
It came as no surprise to see him bought out this summer. Conversely, it came as a big surprise that Detroit snagged him to a one-year, $2.6 million deal. It's an extremely low risk, high reward contract that could pay great dividends for the Wings.
However, nothing is going to be given to Vanek, who is missing the start of training camp while playing for Team Europe in the World Cup of Hockey.
Vanek will have to earn his spot in the lineup. Jeff Blashill will favor Henrik Zetterberg, Dylan Larkin and Frans Nielsen over Vanek and likely Justin Abdelkader, Gustav Nyquist and Tomas Tatar, as well. That pushes Vanek to the third line, forcing him to score his way into the top-six.
A strong training camp or productive World Cup could have done that for him, but he'll be late to camp and while he has looked strong for Team Europe, he has just one assist through four games to show for it.
Brandon Peleshok: Xavier Ouellet
Xavier Ouellet is the most likely candidate to skate as the Red Wings' seventh defenseman this season, but he will still have to prove himself against several other blueliners during the preseason. His toughest competition is fellow 2011 draftee, Ryan Sproul, who was drafted just seven spots after Ouellet. Neither defender is exempt from waivers this season, so the Red Wings will likely have to run the risk of exposing one of them to the rest of the league. Although with Tomas Jurco sidelined until sometime in November, the team could elect to carry eight defensemen in lieu of a 14th forward.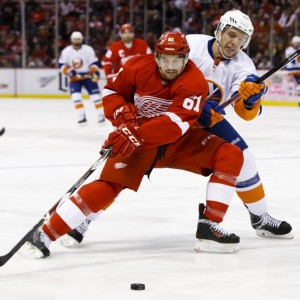 Ouellet spent the majority of his 2015-16 campaign with the Grand Rapids Griffins, scoring 29 points through 61 games. His point totals do not exactly pop out, but the Wings like his ability to play safe, mistake-free hockey. Even though Ouellet only skated in five games for Detroit last year, he participated in 21 contests during the 2014-15 season. It gives him the experience edge over some of the other candidates vying to take over the vacant spot on the team's back end.
Jeff Blashill will afford the 22-year-old native of Bayonne, France every opportunity to prove he is an NHL-caliber defender during the Wings' training camp. Niklas Kronwall has continued to skate by himself for the first couple of days in camp, hoping to rehab his knee back to full health before the season starts. In his absence, Ouellet could take on an even larger role than he anticipated and play against tougher competition in the Wings' exhibition games. Considering the state of the team's current defense corps, there has never been a better time for a young, budding blueliner to reach up and grab the proverbial brass ring.
Craig Peterson: Tyler Bertuzzi
Look at the Wings roster and it's obvious there's a logjam up front. With the emergence of Andreas Athanasiou and Anthony Mantha—not to mention rookie All-Star Larkin—last season, plus the signings of Nielsen, Vanek and Steve Ott in the offseason, it is abundantly clear that the Wings have more forwards than Ken Holland knows what to do with.
However, that same problem occurred last year in Detroit when the team waived the likes of Daniel Cleary, Joakim Andersson, and Tomas Nosek to make room for young guys like the aforementioned Larkin, Athanasiou, and Mantha.
Injuries will happen throughout the course of the 82-game season and when the Wings look to Grand Rapids for a forward, Bertuzzi has got to be the first name plucked from the Griffins.
Bertuzzi is coming off of a productive week in which he was the Wings' best player in the Prospects Tournament. That is a promising step following his success in Grand Rapids where he's scored 13 goals and 31 points in 73 regular-season games to go along with 14 goals and 20 points in two playoff runs.
Last preseason, Bertuzzi scored one goal and five points in four games.
The more exposure he gets, the more he seems to prove he's a capable forward for the Wings. Couple the momentum he'll carry over from the Prospects Tournament and his maturity from last season to the present, with the absence of other Wings forwards due to injury or participation in the World Cup, and Bertuzzi has a huge opportunity to showcase his talents.
He's flashy yet gritty; fast but physical. He may not be on the Wings opening-day roster or even a regular in 2016-17, but training camp and preseason are a chance for the young Bert to play a major role and potentially earn a call-up at some point in the not-so-distant future.
Tony Wolak: Anthony Mantha
With training camp now concluded, Anthony Mantha could have a significant impact on the Wings roster decisions if he follows up camp with a fantastic preseason. From all accounts, Mantha has had a great week in Traverse City and could force his way onto the regular season roster.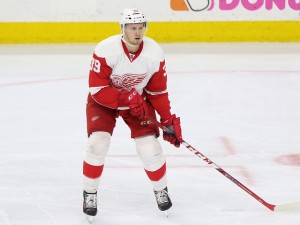 Over in the World Cup tournament, Team Europe forwards Tatar, Nielsen and Vanek will continue to miss preseason action after advancing to the best-of-three championship round. In addition, injuries continue to be a factor for Wings forwards—Zetterberg remains out and Jurco is sidelined until November. Teemu Pulkkinen is still on the mend, but could return soon.
With all of these players out, Mantha will be given the opportunity to play top-six minutes during preseason games. For the time being, Mantha could skate alongside Larkin and Abdelkader with Nyquist, Darren Helm, and Riley Sheahan, filling out the rest of the top six (for now).
Mantha's size and his great shot would complement Abdelkader and Larkin well. If he were to pop in a few goals during the preseason and play a solid, two-way game — a knock on him in the past — Mantha could stick with the team, especially if Zetterberg has to start the year on injured reserve.
| | | |
| --- | --- | --- |
| LW | C | RW |
| Henrik Zetterberg* | Frans Nielsen | Gustav Nyquist |
| Tomas Tater | Dylan Larkin | Justin Abdelkader |
| Riley Sheahan | Darren Helm | Thomas Vanek |
| Drew Miller | Luke Glendening | Teemu Pulkkinen* |
Extra: Steve Ott, TBD**.
Injured: Jurco, Johan Franzen
*Zetterberg and Pulkkinen may not be ready to start the season.
**Depending on how many defensemen the Red Wings carry, they could opt to roster another forward.
As you can see in the depth chart above, there is still a lot up in the air when it comes to Wings forwards. A strong preseason performance from Mantha could earn him a few early-season games. What he does in those regular-season games will determine the rest of his 2016-17 season.
After spending the 2014-15 NHL season reporting as an editorial assistant for the Detroit Red Wings, Craig now covers all Detroit sports as a member of CBS Sports Radio.