Kevin Shattenkirk remains near the top of most trade bait boards and he's easily among the most likely players to get traded prior to the March 1, 2017 NHL Trade Deadline. The only reason he's still available is thanks to Shattenkirk himself.
That he hasn't yet been traded is not for a lack of trying by the St. Louis Blues. There are reports that on at least three occasions, the Blues had successfully consummated trades that meant the right-handed offensive defenseman was going to find a new home. Ultimately, Shattenkirk decided he didn't see himself as part of those teams extended futures.
That's the problem with trying to trade for a pending unrestricted free agent (UFA). When they are bound to warrant a big ticket extension, require a number of assets to acquire and you — as the acquiring team — don't want a simple rental, there are a variety of factors out of your control.
This is what happened with the Edmonton Oilers.
The Interest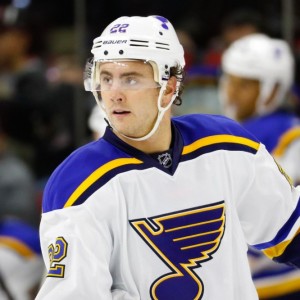 It makes a lot of sense that the Oilers would show interest in his skill set. Edmonton lacked a right-handed defenseman that could provide offense and bigger minutes on their blue line. In St. Louis, Shattenkirk had a proven scoring track record as a top-four defenseman. It seemed, on paper, a perfect fit.
Before the 2016-17 season, he'd run together three consecutive 40-plus point seasons and quarterbacked the Blues' power play. That he didn't offer a lot defensively was acceptable considering his one-dimension was a pretty good one and it covered a weak spot for the Oilers.
Not since Sheldon Souray did the Oilers employ an offensively skilled defensive weapon. Edmonton tried to plug holes with less than adequate options, but Shattenkirk was the real deal. He could score, had been an all-star and would have brought his experience and scoring to the Oilers.
The Ask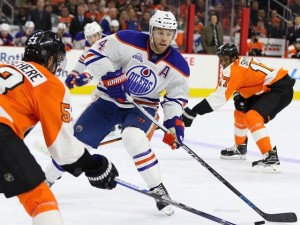 As is now being learned, obtaining Shattenkirk meant likely moving Taylor Hall. At the time, there wasn't anything confirming such a steep price, but with Hall eventually moved for Adam Larsson, it seems clear that Hall's name was out there and with the current price on Shattenkirk as a rental, St. Louis would have been asking for a tremendous return.
It also makes sense that Oilers general manager Peter Chiarelli would have accepted such terms. Larsson — while now a player the Oilers have come to be quite fond of — was not a "sexy" return. Few knew what the Swedish defenseman could bring as he'd had only one productive season in New Jersey to work from as a reference. Larsson was potentially more rounded defensively and came at a cheaper price long-term, but he provided little offense. Shattenkirk was the more "sure thing".
The Problem
Edmonton and St. Louis had a deal in principle. The only issue was, Edmonton couldn't, and wouldn't, give up Hall for a player who would be leaving at the end of a single season. Edmonton's needs were perpetual at the position and Shattenkirk had no interest in being in Edmonton long-term. He'd made it crystal clear.
It was rumoured Shattenkirk wanted to play in the Eastern Conference. Because the Oilers were not in the east, they couldn't come to terms on an extension. With no long-term agreement, there would be no deal. Ulimately, the Oilers went another way and Larsson for Hall became a reality.
Looking Back
Hindsight is always 20/20. Looking back now, it seems to have worked for the Oilers. There are still some who will argue that the trade of Hall for Larsson was not a good one. As improved a team as the Oilers have become, those people will always have a viable position to argue from.
So too, it appears that Shattenkirk seems to have one final goal in mind. Rumours are he's turned down a multi-year contract with a team in the east, thus we can only assume he has a short-list of destinations on his radar. Most people seem to think he'll end up with the New York Rangers.
Should the @NYRangers obtain Kevin Shattenkirk at any cost? The Maven says no! https://t.co/1a1jfsYHi9 #NYR #NYRonMSG

— Stan Fischler (@StanFischler) February 25, 2017
The Future
Shattenkirk would have provided the Oilers with something they needed and, quite honestly, still something they need. But, it would have come at a cost.
Edmonton would have moved Hall, not gotten Larsson and likely paid more in salaries to make the nuances of those deals work. That's more money and fewer options to sign both Leon Draisaitl and Connor McDavid. That's a pretty steep price — assuming you choose to connect the dots.
There's no guarantee Chiarelli couldn't have made it all work, but if there was even the slightest of chances that obtaining Shattenkirk meant having trouble keeping Edmonton's two most offensive weapons, few would probably climbed on board the Shattenkirk bandwagon.
Shattenkirk for Hall is a trade that almost was. Perhaps, it will go down in history as a trade the Oilers will be glad did not come to fruition.