The wind picked up, and what looked as if it could end up being a nice spring day — in February — turned into a great scene for the Coors Light Stadium Series matchup between the Pittsburgh Penguins and Philadelphia Flyers. Beforehand, while enjoying live music and numerous booths to celebrate the event and NHL history, fans representing both teams seemed to be getting along great.
You read that right, Penguins and Flyers fans coexisting, peacefully.
Flyers fans traveled well. In the early goings, as the stadium began to fill up, I thought we'd see a 50/50 split. It didn't quite end up that even but it was impressive, nonetheless. The action on the ice was impressive as well. Despite the temperature dropping to nearly 30-degrees and snow flurry's falling, things heated up just as you'd expect between these two clubs. And fittingly, in need of a rebound outdoor performance, Sidney Crosby got things started on the scoresheet.
Goaltending the Biggest Story
As Philadelphia's story has gone for much of this season, they played well but ultimately fell short due to goaltending. They controlled play for a large portion of Saturday night's contest but Michal Neuvirth allowed three questionable goals that the Flyers couldn't overcome.
All while Matt Murray was stellar at the opposite end.
The Flyers outshot Pittsburgh 38-29 and it wasn't a case of quantity over quality. Philadelphia generated plenty of chances but Murray came up big. During his postgame press conference, Murray admitted to feeling a bit more nervous than usual for an event like this but the Flyers testing him early helped overcome those butterflies. He was able to get into a rhythm thanks to steady work early-on and never lost it. You could argue that he was the player of the game but for me, a veteran forward stole that honor (more on that in a moment).
Consider the shot chart below, courtesy of HockeyStats.Ca.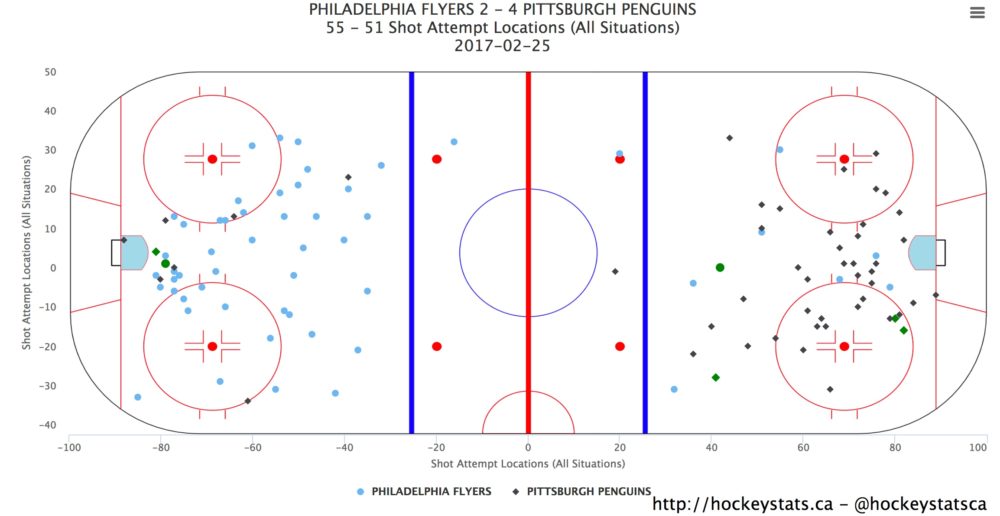 Most of Philadelphia's attempts came from between the circles. They generated traffic around the crease and went after Murray — wreaking havoc around the blue paint — as much as possible. Murray was up to the task and unfortunately for the Flyers, Neuvirth wasn't.
Crosby's opener was set up by a great pass from 22-year old Jake Guentzel. There wasn't much Neuvirth could do on the play except hope that Crosby mishandled the puck. He didn't. All three ensuing goals, though, were questionable and the goal that ultimately put the game out of reach — the nail in Philadelphia's coffin, if you will — was possibly the worst of all. Very little traffic in front, a simple shot from the point and the Flyers were simply running out of time.
The Flyers needed this one. They needed a strong showing, but instead, they fell to 2-7-1 in their last 10 games and at this point, playoffs are essentially an afterthought. It may be time to consider selling at the upcoming trade deadline to prepare for re-tooling this summer.
Matt Cullen a Man Amongst Boys…Literally
It was impossible for Cullen to hide his excitement leading up to this Stadium Series contest. At 40-years old, the 21-year veteran never had the opportunity to play in an NHL outdoor game so of course, he scored the game-winner at Heinz Field in front of a sellout crowd of 67,318.
With Pittsburgh fresh off their dad's trip, head coach Mike Sullivan joked that Cullen was closer in age to most dads than he was other members of the Penguins. He sure looked like a kid again when he buried the Penguins' third goal off his own rebound, generated by a wrap around that caught goaltender Neuvirth completely off guard.
During the post game locker room scrum, Cullen said this was arguably the most fun he's had playing hockey. He was magnificent all night, and if I'm picking a player of the game, I'm looking no further than number seven. Maybe there's something to wearing number 7 at Heinz Field that brings out the best in an athlete.
Stadium Series By the Numbers
Prior to Saturday night, there were 21 outdoor games played in the NHL. In those 21 games, the visiting team had gone 14-5-2.
Sidney Crosby, with his opening goal on Saturday night, has now recorded 84 regular season points versus the Flyers. The Islanders are the only team he's tortured more, with 100 career points throughout his career.
Before Crosby entered the picture, the Penguins were 69-128-33 against the Flyers, all time. With Sid, they're 44-35-4.
Eric Fehr leads all Penguins in points in outdoor games with three (all goals). However, he netted those goals as a Washington Capitals and two of them were scored against the Penguins in the 2011 Winter Classic at Heinz Field.