The Los Angeles Kings have a very interesting future in front of them. It's not bleak by any stretch, with the flawlessly consistent Anze Kopitar donning the "C," and the reigning Norris Trophy winner Drew Doughty destined to remain the game's best on the blue line (sorry Ottawa). Yet there are turbulent times ahead, with the same annoying issues that face every successful sports franchise. Aging players, a salary cap crunch, and unfortunately, having to prioritize the players that will remain in the fold.
The business side of sports is not pleasant at all. Imagine a world where every player can blossom with the team that discovered them, steadily earn more money (based on production of course), before bowing out gracefully with their organization in good financial health. That world exists somewhere between Happy Gilmore's "Happy Place" and a Bob Ross painting. The real world of competitive sports offers no such pleasantries, as rosters are forced to turnover and players move on to bigger and better opportunities. The mistakes are real, and the accidents are not happy (who didn't like Bob Ross as a kid?).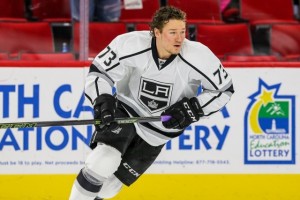 L.A. has a major crossroads forthcoming with forward Tyler Toffoli, and not the kind where everyone giggles as Britney Spears dips her feet into acting. Toffoli is the brightest young player the Kings possess, and it was his scoring punch that ultimately tipped the 2014 Stanley Cup Playoffs into L.A.'s favor. He's 24 years old, with steadily increasing stats (31 goals, and a total of 58 points in the 2015-16 regular season), and is due for a sizable raise when his contract expires after the following season. What exactly are the Kings waiting for?
There's that pesky business issue again. A current look at L.A.'s salary cap situation shows a team flirting with death like a sadistic trapeze artist. There's buyouts, long-term contracts with interesting cap hits, and a roster that is pushed to the salary limit. The Kings simply don't have the money to pay Toffoli what he undoubtedly wants, or even what he is properly entitled to. Not yet anyway.
This column is not going to be a sales pitch discussing why #73 should remain a Los Angeles King, an argument for how to make the hockey jenga pieces stack in order to keep him, a contrarian approach to life without the young winger or a plea to my editors to include Toffoli's parental-advisory required nickname just once in writing (one day, one day). The point of this article is simple: how much money does he really deserve, based on production and the market for his services? A lot of players signed new contracts and extensions this off-season, and several of those deals will play a large role in determining what Toffoli will ask for, and the terms of the deal he will eventually receive.
The Baseline Offers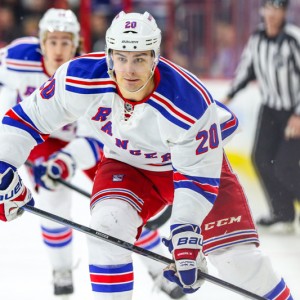 Every player has a marketplace factor to consider when signing a new contract. In Toffoli's case, it's very easy to identify. Toffoli is a promising young player under the age of 25. Now he is not (nor quite frankly will he ever be) in the Tavares, Stamkos, or McDavid category of organizational assets. But that next tier, just a level before the face of the franchise, is definitely in play. Toffoli registered 31 goals last season, in essentially his second "full" NHL campaign (his 2013-14 regular season consisted of 62 games in a much lesser role). If the stats continue to rise, Toffoli's monetary value will also ascend at a rapid pace.
But the numbers could also plateau, or even dip. Remember, his NHL career has just begun, and the term "flash in the pan" holds true in many cases. Maybe that's why the Kings haven't been in a hurry to clear cap space, with very little data to go on before making a monumental commitment.
Be that as it may, there were a few contracts that will assuredly serve as the baseline to any Toffoli discussions with L.A.'s brass. This includes the baseline deals, which basically translate to: "there is no way I'm taking less money than this schmuck (and I use the word schmuck loosely, in Tyler's perspective. Great word by the way). The first such player is Chris Kreider of the New York Rangers. His game is exciting, and the winger can definitely be a valuable player with the right offensive system and linemates. Four years at $18.5 million is a fair deal, though his stats did slip mightily last season. Was it a blip on the radar? Perhaps. Or maybe his lack of production was a direct result of the system around him failing, and his inability to bring the scoring artillery when his team desperately needed it.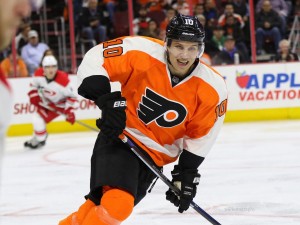 Whatever the case, Toffoli will not be getting less money than Kreider. His smooth approach to the game has given him far more consistency than his Broadway Blueshirt counterpart, who was non-existent far too often last year. This example is easy, given the difference in each player's respective trajectories at the moment. That is not the case regarding Philadelphia's Brayden Schenn.
Schenn's stats last season were nearly identical to Toffoli's (26 goals, 33 assists), and he was rewarded with a four-year, $20.5 million contract. While both players do their damage in different locations on the ice (Schenn prefers to get dirty in front, while Toffoli likes to work his way on net with speed from the outside), each had a resounding effect on their team's success. Unfortunately for L.A.'s forward, the Flyers had both more cap room, and a larger need for a point producing forward. Schenn could have potentially gotten more money if he were to hit the open market, but he made the smart choice. Was the sudden spike in both youngsters' production a sign of things to come, or an outlier? With both at 24 years of age, we have plenty of time to see.
The Overpaid Player That Complicates Everything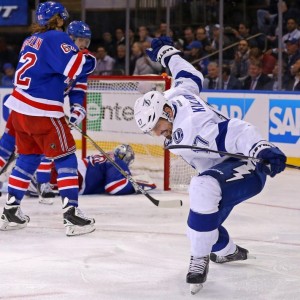 I love what the Tampa Bay Lightning are doing big picture wise. I think Alex Killorn is a fine forward for their club. And I respect Steve Yzerman so much that I once went up to a man in a #19 Red Wings jersey and asked for an autograph with my youth hockey teammate (shockingly it wasn't him, and all we had left to show for it was his dad's ripped up map to get us to our game). I just can't justify every aspect of this deal. Seven years, $31.5 million for a guy who has averaged a shade under 40 points the past three seasons is perplexing. Stats in hockey aren't everything, and his puck possession metrics are very impressive, but this is still a very large commitment to a player who hasn't proven this level of worth on the ice.
It's not the annual cap hit ($4.45 million) that may mess with impending Toffoli negotiations, but the years on Killorn's deal. Tampa Bay gave a fine player that is two-and-a-half years' older some fantastic long-term job security. Pro sports are full of contracts based on potential, but the effect it has on the marketplace can turn similar financial dealings into an athletic gold rush. I'm sure Toffoli believes that he is entitled to more money than Killorn, and it's hard to blame him. Have the years of a new deal crept into the back of his mind too? L.A. couldn't have been thrilled with this new development, and now has another outside contract that will shape the process of retaining their prized possession.
The Fairest Comparison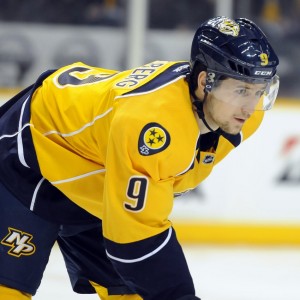 With all due respect to the Senators Mike Hoffman (rough column for Ottawa apparently), there is only one freshly inked contract that should serve as a direct mirror to what Toffoli can secure on the open market. Nashville's Filip Forsberg re-signed with the Predators for six years at $36 million, and the deal was as fair as could be. Forsberg has meant everything to a revamped Nashville offensive attack, and he has gotten better each game. Like Toffoli, Forsberg is young (22 years old), blossoming (63 and 64 points respectively in his previous two seasons), and taking on a larger role with a veteran-heavy team. Both came into the NHL with specific specialties, but each has proven to be dynamic on both ends of the ice.
Forsberg could have been a restricted free agent, but he never really intended on leaving. He was comfortable with the organization that swindled the Washington Capitals in a trade that involved the corpse of Martin Erat and nothing else for his services and wanted to continue to build on the hockey culture he is creating. The Kings hope that is a familiar tune come next summer. Clearing cap space won't be easy, but general manager Dean Lombardi has a master's degree in hockey money management. He can figure out a way to shed team salary in a year, but Toffoli has to be patient. Will he? The patrons of the Staples Center surely hope so.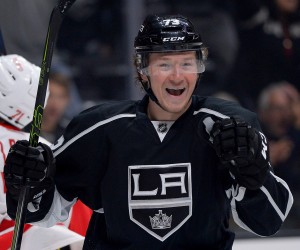 It's hard to understand the business mind of a hockey player, regardless of what they say or how they conduct themselves in public. But Tyler Toffoli has never struck me as being entirely motivated by money. He clearly wants to win and has already done so in a black and white sweater. In his early 20s, with the kind of budding statistics he is producing, I wouldn't be shocked if he bet on himself in the form of a shorter deal with a higher cap hit. Still, long-term deals are always desirable and demonstrate that loyalty is a two-way street between the organization and player.
Each option will benefit Toffoli financially, but the Kings have to decide which route is better and less financially daunting for their organization. #73 is on the cusp of a special NHL career, one that L.A. hopes will be all-inclusive. Hopefully, for their sake, they can afford it.