It was just over year ago when the identity of the Philadelphia Flyers completely changed. It was a quiet Thursday morning, and the hockey community was en route to Minnesota in preparation for the 2011 draft. While most people were speculating whether Adam Larsson or Ryan Nugent-Hopkins would go first overall, the Philadelphia Flyers swiped the limelight in just a couple of hours. After trading Jeff Carter to the Columbus Blue Jackets, the Flyers sent captain Mike Richards to Los Angeles. The hockey world was stunned.
Every single component of the trade was shocking. Following a very disappointing outing with the Boston Bruins, it was obvious that Philadelphia was looking to shake things up.  Maybe that meant trading Hartnell or Briere for cap relief, or even for another defenseman. Instead, they shipped out their two biggest stars in Carter and Richards. These were the guys that were drafted just 13 picks apart in the most stacked draft class of all time. They were a part of the Flyers organization for close to a decade, winning the Calder Cup and leading the team to the Stanley Cup Final in 2010. They both signed multi-year contracts with low cap-hits with the expectation of staying in the city of brotherly love for the rest of their lives. But in just a couple of hours, Paul Holmgrem created the biggest single shake-up of a team of the millennium, an unprecedented act in the modern NHL.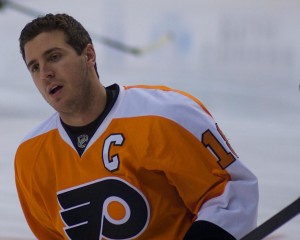 One year later, we all know what happened. Philadelphia became an incredibly well-liked team consisting of young, talented players. Claude Giroux became an elite NHL player and one of the most likeable guys in the league. Rookies Brayden Schenn and Sean Couturier were both acquired as a result of the two trades and became very valuable forwards. However, a cringing injury to Chris Pronger and spotty goaltending and defending saw the Flyers lose to the Devils in the second round.
The other two players they traded? Well their fates were much better, at least for the time being. Both had sub-par seasons, dealing with controversy and were despised for the maligned allegations that were leaked to the public. However, they both landed in the film capital of the world and created a script that not even Hollywood could imagine. They were two-thirds of a very important second line that helped lift the Kings to sixteen wins and both lifted the cup (and had the audacity to take a picture with Gagne, just to rub it in).
One year later, Paul Holmgrem decided to make another move, this time trading winger James Van Riemsdyk to Toronto. This story was a little different. The Flyers' lack of solid defenders and excess of forwards made this an easy swap. James had dealt with injuries and some tough times catapulting himself up the depth chart. He did not, however, leave on bad terms. He went on record saying that Homer "treated him fair". On the surface, it seems like a very sensible trade. Unfortunately, this trade could result in a very bad ending for the orange and black.
In 366 days, the franchise traded away the following in the three players aforementioned:
26 years of term
Over $125 million in salary
Three former first round draft picks
A gold-medal winning captain
A Calder-cup winning center
A promising, young, talented winger
The list goes on and on about these three men. Of course they could have been traded, just like everybody else in the league. However, Mike Richards was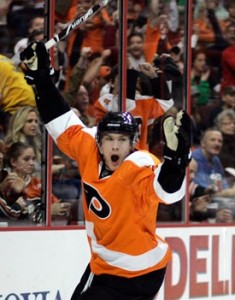 traded not even 5 years into the 12 year contract he signed with the team. Carter and Van Riemsdyk were shipped out even before their multi-year contracts were in effect, or even their limited no-movement clauses. All three of these guys were given signs of confidence by the management. For JVR, it was an agreement to let him remain in Philly to prove his value. For Carter and Richards, they were contracts given to the friends to keep them in the city of brotherly love for life. Instead, the Flyers have painted upon themselves a notion that there is no loyalty within the organization, and they can move anybody whenever they want, regardless of the votes of confidence.
It's going to hurt their ability to sign unrestricted free agents. Not even a week ago, we all saw Ryan Suter and Zach Parise sign 13 year contracts to keep them in Minnesota for life. Why? Because players love the sense of security, to have a permanent home for as long as their contract says they do. The Flyers offered contracts to both players (reportedly 110 million to Parise) and were spurned. It was probably because of their desire to play in Minnesota, but it wouldn't be outlandish to assume that the two stars saw what happened to the faces of the Flyers' franchise and steered away.
A bigger issue will arise in the summer of 2014, when Claude Giroux's insanely cheap contract expires. By then, we're all thinking "G" is going to be an undisputed top 10 player in the NHL. If he wants to re-sign with the Flyers, he's either going to be asking for an unbelievably high salary that's virtually immovable, or a no-trade clause. As seen in 24/7, it's very apparent Giroux loves Philadelphia. However, he'll likely want to be in an area that can provide job security to a player of his caliber. Unless the Flyers can prove to him that they are loyal to their superstars (which is difficult to do following the events of the last 2 summers), they're going to have to be prepared to shell out the big money.
Finally, it makes a very big difference to the fans. All three of the players moved (most notably Richards) were fan favourites. Mike Richards was the captain of the storied franchise, Carter was a scorer that could snipe from anywhere in front of the blueline, and Van Riemsdyk showed just truly how skilled he was in a dominating 2011 playoff run. Fans like to create allegiances to important members of the team and it's difficult to do when there is a seed of doubt planted in their minds; that anybody on the team could be traded at any time.
Of course, the Flyers had their reasons. We'll probably never know what happened behind the scenes between Carter, Richards, and the team. We're pretty sure that Schenn is a very nice commodity to own, and could be an awesome shutdown defenseman. However, the only thing we know for sure is that Richards, Carter, and Van Riemsdyk were integral members of the team that were given long term contracts and were soon traded. It sets a bad example, and it will be an uphill climb for Holmgrem to justify if all three players excel outside of Pennsylvania.