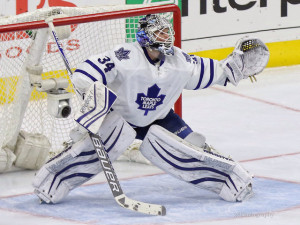 OK, the Leafs are 11 games into the reign of Peter Horachek and they have lost nine in a row and ten of eleven. Everyone agrees that Horachek has curbed the run-and-gun ways of the Carlyle era, but many seem to think that this has come at the cost of scoring.  Nothing could be further from the truth. 
Steve Buffery of the Toronto Sun says "The Leafs dropped the ball firing Carlyle..under RC the Leafs were in position to make the Playoffs."
Now, it's only been a month so I think this ignoring of reality is unforgivable. No offense to Mr. Buffery, but it's already difficult enough to try to be the voice of reason in a market where the most influential media members are already hyperbolic and tend towards easy-answer narratives, without them going completely fictional.
On December 8th the Leafs had won three out of four and I wrote this article entitled "Reality Check: Why the Leafs Won't Make the Playoffs." The team would go on to win 10 of 11 games but my reasoning was thus: The Leafs were almost in third in the NHL in PP%, they were percentage points out of being 3rd in the league on the PK, Bozak was producing like Gretzky and it was unsustainable, they were 26th in shots allowed and this is not conducive to sustainable winning, they were over .500 when outshot, they had had no significant injuries and hadn't blown a lead after two periods, they lacked a #1 C and #1 D and were among the worst possession teams in hockey.
All that good fortune and they couldn't get higher than 8th in the conference.
I'm not bragging: an idiot could have predicted they would collapse. My point in bringing it up is that if Steve Buffery thinks the Leafs "were a playoff team under Carlyle" he is either not qualified to write about hockey or does not respect the intelligence of his audience. Frankly, such a narrative is highly offensive.
Firing Carlyle is a good move independent of anything else that happened.  He was a bad coach and was getting extreme good luck. Extreme.  So, whether or not Horachek has been an improvement, it is empirically proven to the point of fact that the Leafs had no choice but to fire Randy Carlyle.
They were never a great offensive team under Carlyle: they sacrificed defense to the point where having two of the best offensive players in the world on one line still meant that line was a detriment to the team overall. They rode tons of puck-luck and a high shooting percentage to being one of the NHL's highest scoring teams, but a team that still was only in a Playoff spot because they played more games than the two teams chasing them (at the time of RC's dismissal).
Horachek's Reign:
This brings me to Horachek.  Under him the Leafs have lost nine in a row and ten of eleven.  Bad times. But, lost in the narrative of his defense-first outlook  stifling the formerly high-flying offense of the Leafs are a few facts:
– The Leafs shooting percentage under PH is 3% – team's averaged better during the dead-puck era and Horachek is not having his team play a "don't cross the red-line" dump-and-chase game.  This is just unlucky.
– The Leafs just had their lowest scoring month in team history.  Do you really think they never played this tight of defense before? Pat Burns' teams played tighter D and they scored more because they never got so unlucky as to shoot 3% for a month.
But, before I stick up too much for Horachek, just check out this game-by-game breakdown of his Leafs career so far.
Washington 6 (Empty Net) Toronto 2  January 7, 2015
– Toronto out-shoots Washington 33-25 
A good debut by the new coach. The team has a noticeably better defensive game and the score ends up being kind of ironic since the Capitals got an AMAZING game from Holtby, and Bernier had a bad/unlucky game.  Note that the score was just 2-1 Capitals when a fluky face-off-goal that deflected off the stick off Franson made it 3-1. The Leafs quickly got that goal back but then immediately allowed another goal to deflate any chance of a comeback.
Overall, the Leafs were the better team and can expect to win the majority of games they play like this. One must also consider that Washington has a much better roster than Toronto.
It is also worth noting that the Horachek era begins minus Lupul and Holland, two top-six forwards on a team that has a very weak roster to begin with.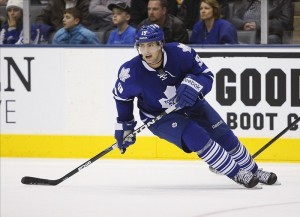 Toronto 5 (EN) Columbus 2  January 9, 2015
Toronto out-shoots Columbus 31- 20
Columbus was receiving a comical amount of injuries at this point, but the Leafs thoroughly dominated them and had some good puck-luck and a rode a couple PP goals to nice victory. After two games people are thrilled with the direction the new coach is taking the team.
LA 2 (EN) Toronto 0 January 12, 2015
LA out-shoots Toronto 20-19
The Leafs first game of a hard-core western  road-trip where they will face four of the best teams in hockey. The Kings may not have had the best results so far this year, but they are still one of the NHL's best teams. Unfortunately for the Leafs, they get the Kings on a four game losing streak – for a team this good, they're due.
L.A starts their back-up, Martin Jones, and he shuts-out the Leafs in fine fashion.  Seriously, watch the highlights, he played amazing.  At this point no one is talking about the Leafs lack of scoring chances or offensively deficient style of play, because the Leafs are averaging 3.5 goals per game under Horachek, so far.  The Leafs got only 19 shots in this game, but judging by the highlight package, at least a 1/4 of them were high-octane scoring chances.
You'll notice one play where JVR is robbed putting it through his legs, the rebound comes out to kadri who is unable to put in a goal he will score roughly 99% of the time. Phil kessel is robbed POINT BLANK and a tap in rebound is not converted. In the third, JVR  has a sure goal stolen by Mike Richards' stick in the crease.
The Leafs should have won this game: Martin Jones was fantastic.
If even half of their sure-thing chances found the back of the net, we would not be talking about their anemic offense right now.
3 games into his tenure, Horachek should be 3-0.  They have held their opponent to under 25 shots for three straight games and have out-shot and out-possessed their opponent in each game (Tor out-shot LA at 5v5) and done so while missing Holland and Lupul. Komarov was injured in this game.
Anaheim 4 (EN) Toronto  0 January 14, 2015
Toronto out-shoots Anaheim 28-25
The Leafs entered this game short three of their top nine forwards.  They out-shot and out-possessed the BEST TEAM IN THE NHL. Sure the score looks bad, but remember how those goals went in? 1. Anaheim 5 on 3. 2. Bad bounce of Cody Franson's stick. 3.Corey Perry breakaway 4. Empty net.
In most games you won't allow a 5-3 goal and an empty-netter doesn't matter, so the Leafs essentially lost a game 2-0 to the best team in the league while down three of their top players and adjusting to life under a new coach. Hard to really complain about this one.
Significantly the Leafs won the possession battle four games in a row: something that never happened once under Randy Carlyle.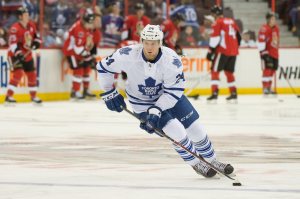 San Jose 3 (EN) Toronto 1 January 15, 2015
 San Jose out-shoot Toronto 42- 25 
Even the best team's are going to be out-possessed sometimes, and Toronto is not one of the best teams. However, playing a back-to-back against one of the NHL's better teams, they essentially lost this game 2-1 on the strength of an amazing performance by Reimer.
This was probably the Leafs' worst game under Horachek so far.  Not much positive you can take out of it except that it is the third game in four nights against a far superior opponent and is, as such, bound to happen.
 St. Louis  3 Toronto 0 January 17, 2015 
Blues out-shoot Leafs 33-27
If you eliminate special-teams shots, the Leafs were only out-shot by two. They were at the end of one of the toughest road trips imaginable and playing another of the NHL's best teams. The Leafs played a strong first period and if not for a cross-bar by Winnik and some fine goaltending by Eliot, the Leafs would have been up entering the second and perhaps won the game.  For those thinking that the Leafs aren't scoring because of Horachek's focus on defense, the Leafs hit several  posts, and JVR shot high on a wide open net.
The Leafs easily could have won this game by doing nothing different.
 Carolina 4 (EN) Toronto 1 January 19, 2015 
Toronto out-shoots Carolina 35-32
The Canes were up 3-0 after one minute into the second period. From that point on, the Leafs were dominant and only a superb game by the Carolina goalie prevented a win. Again, countering the myth of scoring chances under Horachek, we find Nazem Kadri personally with at least five golden chances that would normally result in at least two goals no matter who the coach or goalie was.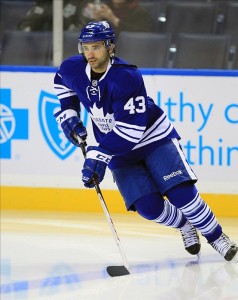 Ottawa 4 Toronto 3 January 21, 2015
Leafs out-shoot Sens 40-26 
A frustrating game for all involved. The lack of scoring is starting to make people actively insane and talking about luck becomes a little like shouting into the wind. Say what you will, but the if team X plays like this every game, they will win most of the time.  Sometimes results are the last thing you should look at.
New Jersey 2 Toronto 1 (SO) January 28, 2015
Toronto out-shoots New Jersey 30- 23 
coming into this game the Leafs had lost six in a row. The Leafs owned this game. They had rush chances, they had "go to the net" chances and at one point Kadri hit two posts on one shot. Schneider was stunning and the Leafs lost in a shoot-out.   Too bad no one cares at this point, but this is another game you could replay ten times and the Leafs would win nine of them.
Arizona 3 Toronto 1 January 29, 2015
Coyotes out-shoot Leafs 40-25 
This was a the tail end of a back-to-back and teams good teams don't fare well in these situations. The Leafs' goalie gave them a chance to win and they entered the third up 1-0. However, a couple bad goals and the Leafs lost. That's OK, they deserved to anyways and it was unfair to make Bernier the goat. Still, Mike Smith played great and the Leafs had lots of good chances, contrary to the narrative, of course.
Philadelphia 1 Toronto 0 January 31, 2015
Leafs out-shoot flyers 30-18
The Leafs were the best team in this game by a country mile. The Leafs had 30 shots and a ton of them were from in close, on the rush or just plain fantastic scoring chances.  Another great process bad result game.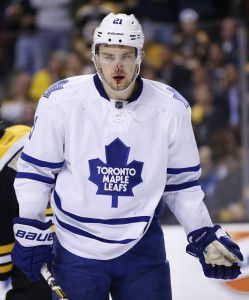 CONCLUSIONS
If we look at Horachek's games so far here's what we see:
– They could have won the game against Washington, they did beat Columbus and they by all rights should have beaten the Flyers, Kings, Hurricanes, Devils and Senators.
– That means that with just the normal amount of luck – i.e shooting at a league average % and not running into ridiculously hot goalies or being sabotaged by bad goaltending of their own –  Horachek could easily be 7-4 without the team doing anything differently.
-Throw out the two brutal games on the second-half of back-to-backs and the team has played well enough to win seven of nine games.
– We know for a fact that possession correlates to winning over time and the Leafs under Horachek have won the possession game eight out of eleven times under Horachek. Two of the games in which they lost it were back-to-backs.
– The Leafs – under optimal circumstances – are not a .500 team. They have glaring positional deficiencies and this season has been a gong-show of controversy and media fire-storms.  They had to adjust to a coaching change which called for the team to completely overhaul how they play the game.  They played most of the coaches first games without three of their top nine players.  Kadri returned early from injury. Kessel has been nursing injuries all year. Not to mention the psychological toll not scoring must take in the way it snowballs and saps confidence. What about the four game Western Road-Trip against four of the best teams in hockey?
Is it any wonder the team has struggled under Horachek so far?
Much of their problems can be attributed to being unlucky – you couldn't shoot 3% over 11 games if you tried not to score on purpose, and some to the difficulties of making adjustments on the fly. However, anyway you look at it, fans should be happy: the team is going to get a high draft pick in a season where the best case scenario was a first round loss to a vastly superior team anyways. Horachek has the team playing in a way that is sustainable and while the results might be lacking, the process is certainly better.
The Leafs would be lucky to be 4-7 in their last 11 games no matter what, but under Horachek – during one of the worst streaks of luck in franchise history – they deserve to be over .500 based on how they've actually performed. That is an accomplishment.
The Leafs ought to remove the interim tag and sign him to a long-term deal. He deserves it.