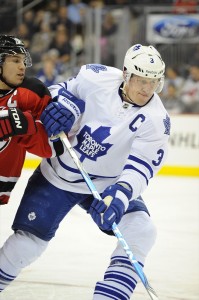 As a resident of the west coast and a previously long-time suffering Los Angeles Kings fan, I am decidedly neutral toward the Toronto Maple Leafs. They exist, and I recognize their right to exist. Beyond that — nothing. I couldn't care less about how the team fares, one way or the other.
Mind you, I am not not a fan. They don't cause my blood to boil like Phoenix, Vancouver or Detroit. To me, they are the Spain of the NHL: situated somewhat innocuously within a densely-populated geographic region amidst other powerful entities, they nevertheless aren't perceived as much of a threat. It's not like they don't have the tradition, history, manpower or resources to be one, because they do. They just aren't.
This isn't intended as a criticism. In fact, prior to last season's stunning Cup run, one would say the exact same things about the Kings, minus the history-steeped tradition. Up until the final horn of game six of the Stanley Cup finals, it was all but inarguable that the Los Angeles Kings were the least successful NHL franchise over the previous four plus decades. They missed the playoffs eighteen times, including eleven out of fifteen seasons between 1993-94 and 2008-09. When they did manage to sneak their way in, they were one-and-done 16 out of 25 trips. From a building-for-tomorrow perspective, they regularly traded away high draft choices, retaining just one first round pick during a ten-year stretch between 1969 and 1978. What did all that mortgaging of the future get them? Absolutely nothing.
Strangely, a bizarre sort of parallel universe kinship exists between the two franchises, one that would be otherwise unexpected given their relative lack of proximity. Prior to Los Angeles' entry into the NHL, the Leafs were the toast of the NHL. They had just come off of their fourth Stanley Cup in six seasons, led by future Hall of Fame denizens Frank Mahovlich, Dave Keon, Bob Pulford, Red Kelly, Chief Armstrong, Tim Horton, Terry Sawchuk, Johnny Bower and head coach Punch Imlach. Starting with the 1967-68 NHL expansion that brought into the fold the Kings, the California Seals, the Minnesota North Stars, the Philadelphia Flyers, the Pittsburgh Penguins and the St. Louis Blues, a whole new era was initiated. And with that, so began the long, slow decline of the Maple Leafs.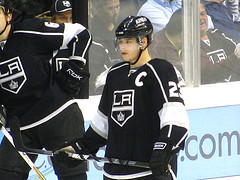 Since 1967-68, the Leafs have missed the playoffs a grand total of 18 times. Sound familiar? It's the exact same number registered by the Kings. From 2005-06 to the present, they missed the playoffs seven consecutive seasons, highly similar to the Kings' streak of six straight between 2002-03 and 2008-09. When they did get in, they were eliminated in the first round twelve times, only slightly improved over L.A.'s abysmal number. Toronto may have done a superior job hanging on to high draft picks, but so did everybody else not wearing Gucci sunglasses and attending red carpet movie premiers.
As so often happens in sports, the two universes have collided three previous times in the playoffs. Coming off their most successful regular season (before or since) in 1974-75 with a 42-17-21 regular season record and led by Bob Nevin, Mike Murphy, Dan Maloney, Butch Goring, Whitey Widing and goaltender Rogie Vachon, Los Angeles lost in the preliminary round to a pedestrian Toronto squad, two games to one. Two years later and with the situations essentially reversed, the Kings were swept by the favored Maple Leafs 2-0. Lastly and most significantly for a franchise that up until 2012 had seen its high water mark reached in 1992-93 during the Gretzky era, Los Angeles exacted a measure of revenge by defeating the Maple Leafs in the conference finals 4-3. Noteworthy to that series was the Kings overcoming a 3-2 series deficit. A quick, wistful retrospective of that series can be seen here:
There aren't many players that have skated for both franchises in recent years, but Felix Potvin backstopped a 13 game playoff run for the Kings in 2000-01, not long after a six-year stretch with Toronto during the 1990's. Potvin was the goaltender for the Leafs during that hard-fought 1993 conference finals series. Jason Allison also huffed and puffed his way up the ice for both teams, lasting relatively short stints each time. Alex Ponikarovsky, David Steckel, and J.S. Aubin also donned both uniforms, and Pat Quinn served time behind both benches.
There is little doubt that most Leafs fans shrug their shoulders indifferently at the mention of the Los Angeles Kings, just as we do them. Different conferences, no geographic or strategic rivalry, no good reason to throw love or hate in either direction. And yet, the two franchises — at least since the birth of the Kings — share many of the same frustrations. Up until the 2012 Stanley Cup, they were equally futile in their respective quests over very long periods of time. We may not particularly care about our Canadian counterparts 2,200 miles to the northeast, but we certainly understand how they feel. We've been there, again and again. In fact, until the miraculous turnaround that started at last season's trade deadline, we were on the ragged fringe of the playoffs one more time, hoping beyond hope to luck our way in. That was the typical Kings fan's standard refrain: hold our breath and pray for the best.
It all came together during the 2012 playoffs for a team literally devoid of success over more than four decades. With that said, take heart, Leafs fans: we share that weird, unexplainable, unquantifiable connection between our two franchises. The 2012 Los Angeles Kings proved one thing: if we can do it, anyone do it. That's about as encouraging as a completely neutral party can be.