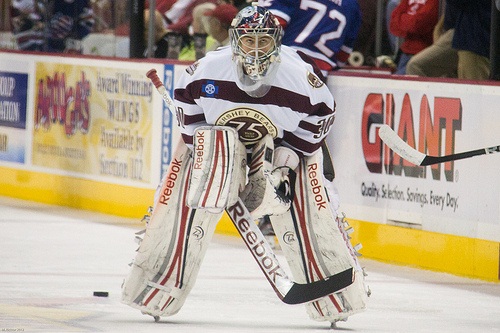 For Washington Capitals' goalie prospect, Philipp Grubauer it was a long time coming for his first AHL start. Grubauer was slated to begin the season with the Hershey Bears this season, but was sent to the Reading Royals of the ECHL due to the NHL lockout. Braden Holtby was expected to start the season in Washington alongside Michal Neuvirth, but Holtby was sent to the AHL just before the lockout began. If the lockout were to last a whole season, Holtby would likely be paired in net with AHL veteran, Dany Sabourin.
Grubauer earned his chance Sunday night at Giant Center against the Binghamton Senators, minor league affiliate of the Ottawa Senators. The Capitals fourth round selection in 2010 NHL entry draft didn't disappoint in his AHL debut. The 20 year old German native stopped 24 of the 26 shots that came his way, but recorded a loss due to an overturned goal call with 6.5 seconds remaining in overtime.
The 2nd year pro faced a lot of adversity in the first period, fighting off twelve Senators' shots on goal, including a couple big saves during a five on three penalty kill.
Hershey Bears coach Mark French talked about Grubauer's play during the penalty kill. "It was a big part of the game", French said. "Anytime a team gets a five on three it's often a turning point in a game, he made a number of big saves and I would imagine he has gained some confidence in how he was playing."
Before the five on three penalty kill, Grubauer faced very few shots for a long period of time. The Capitals highly touted prospect delivered, regardless of the lack of action.
"Of course it's always hard if you get ten minutes off and then suddenly there's a shot", Grubauer said. "But, give the guys a lot of credit they made it so easy for me back there and I tried to be there when they lost the puck."
The Bears' offense didn't hand Grubauer any favors however, only managing a second period goal on the night. Regardless, Grubauer had a strong AHL debut, but it's uncertain what the short term future holds for him.
"I thought he played well", French said. "Gave us a chance to win, he looked very calm and composed in the net and I thought he played the puck very well. I thought it was a really good start for him."
Hershey doesn't play until next Friday, October 26th against the Connecticut Whale, signaling a potential assignment back to the ECHL. Capitals goalie, Braden Holtby is currently listed as day to day, but should be healthy before this weekend's games.
Not only was Grubauer's coach impressed, but fellow teammate and AHL veteran, Jeff Taffe spread some light on the young net minder.
"It was great", Taffe said. "Obviously we've only seen him practice a little bit, quiet nice kid. He was huge, five on three [penalty kill] there. He kind of held us into the game when things could of gone the other direction, but he was out challenging the shooters all night and he played really well, very impressed."
Grubauer reflected on his first start at Giant Center, the Bears' home barn. "Finally got my first game in the pocket there", Grubauer said. "It was pretty exciting and pretty fun to play out there, in front of the fans out there."
Tonight was likely first of many starts for Grubauer in Hershey, as he hopes to find time in Washington down the road.
You can follow Matthew on twitter @m_speck and email him at mspeck21@yahoo.com with any questions or comments.