I woke up this morning to articles in every major Toronto newspaper about the Leafs supposed interest in Eric Staal and his supposed willingness to waive his no-trade clause to make it happen. As with most things in Toronto pertaining to the Leafs, this is getting blown way out of proportion.
Or at least, we can only pray that it is.
I mean, Eric Staal to the Leafs? What a horrible idea. With Halloween almost upon us, I wouldn't hesitate to call the idea of trading for Staal  "Frighteningly Stupid."  I had really thought the Leafs – with Shanahan and Dubas – were embracing a new way of doing things.
Trading for an aging, over-priced vet with declining skills is more like the Leafs of old, and frankly, I have had enough of that – it's clearly a model that fails 100% of the time and there is no point in taking a "win now" philosophy and applying it to this team. They have Percy, Rielly, Gardiner, Kadri, Nylander Bernier, JVR and Kesesl, so barring a total failure of all of them to develop or maintain their current levels, the Leafs are going to be a very good team very soon. There is no reason to rush things by bringing in a player like Staal.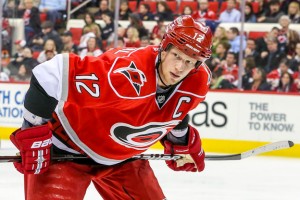 Here's 3 reasons why:
Age & Skill:
Eric Staal is a nice player. At one time, he was among the league's best players. Between 2005 and the 2013 lockout season, he consistently put up (or was on pace for) 70 points and in those 8 seasons he was a point-per-game player 4 times. He has, however, never been able to match his second season in the NHL where he scored 45 goals and put up 100 points. Since it was his second season, Staal, despite having a pretty decent career, has left everyone wanting more.
Last season, he scored only 61 points in 79 games. It was his worst season since his rookie year and he followed it up by having off-season surgery on his stomach muscles. Last off-season was spent re-habbing a knee injury.  Yes, Staal has been remarkably durable during his entire career, but he turns 30 this month and his recent injuries and age, along with his style of game, suggest he will be less durable and more likely to be injured going forward.
Since he is clearly not the player he used to be and no longer the shoe-in to play every game he once was, acquiring him is a bad idea for a team still a year or two out from being a perennial contender. Despite the Leafs glaring need for a game-breaking big-bodied top line centre, acquiring Staal at this point in his career would be a better idea for a more veteran team closer to contention.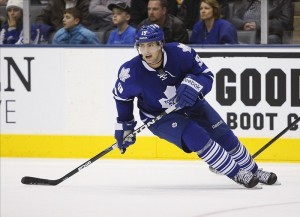 Salary & Cost:
The Leafs currently sit less than $1 million dollars under the salary cap.
Eric Staal has a cap hit of $8.25 million dollars. 
The idea that the Leafs could trade for him is almost absurd.  The Leafs would almost certainly have to include Lupul in any trade for Staal and then clear an additional $3 million in cap space. Lupul gives the Leafs – when healthy – a near elite first-line winger who plays on the second line, thus he has a ton of value to the team. While Staal is an easy upgrade over Bozak, you then are left with a situation where Bozak moves to the third line and that messes up the best surprise of this young season (the Santorelli, Clarkson, Komarov line) as well as weakening the team's strength on the wing. Sure, you could move Kadri to the wing, but there's reason to think the Leafs problems in recent years have been just as much about a lack of secondary scoring as they are about a lack of a number one centre.  And I think Kadri has looked great so far this season.
I just don't think that, at this point, when you consider his cap-hit and all the moving parts in the lineup, that you are even better off acquiring Staal than you were before you got him. Yes, Staal is a superior player to Bozak, but all things considered, Bozak and Lupul combined are probably better than just Staal.
Then there is the cost of acquiring him in a trade. If they could trade Bozak and Lupul for him, they could fit Staal in under the cap and also avoid the lineup ramifications of trying to move Bozak down the lineup, but I can almost guarantee that Carolina would want more. What purpose do two guys around Staal's age, making the same salary but for longer, serve to the rebuilding Hurricanes? Almost none, one would think.
The reality is that any conversation the teams have about a trade is going to involve Rielly, Gardiner, Kadri, Percy or Nylander. Basically, the five Leafs players (beyond Kessel, Bernier and JVR) who should be considered untouchable. For once in the history of the franchise, it would be nice if the Leafs didn't trade their young players. It might take time, but a defense that is half made up of Percy, Rielly and Gardiner can one day be among the NHL's best. It honestly makes more sense for the Leafs to tank the season and trade Kessel for a pirate's ransom than it does to move any of their younger not-quite-prospects-but-still-not-fully-developed-future-stars.
I do not advocate trading Kessel, but I advocate it more than trading for Staal, which is a move that has disaster written all over it. The only way it makes sense to trade for Eric Staal is to do a three-way trade where some other team gives the 'Canes the prospects they surely want in exchange for the Leafs sending them Lupul and Bozak.  But seriously, who would be willing to do that who wouldn't just rather have Staal? This whole thing is a non-starter.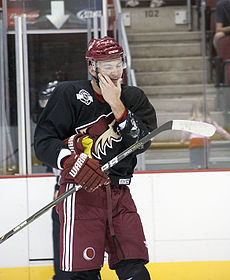 Other Options:
As I wrote yesterday, there are other options available that the Leafs could pursue. Namely, Martin Hanzal and Patrik Berglund. Both would be cheaper to acquire and cheaper to pay. Both are big bodied centremen and both are younger than Staal and while neither will ever be as good as Staal once was, they might just be better going forward. Certainly they are in terms of value.
Besides those two, there are literally dozens of options if the Leafs got creative. If they want to accelerate their rebuild, they could use their #1 pick from next year's McDavid draft along with some of what it would take to get Staal to acquire a young blue-chip stud like Ryan Strome, Sasha Barkov or Ryan Nugent-Hopkins. The Lightning are stacked and looking to compete, would they trade Drouin?  I am not saying any of these guys would be available or that trading the first round pick is advisable. I am just saying that there are more creative, interesting options out there than Eric Staal.
It literally makes no sense for the Leafs to trade for a 30 year-old Staal with a body that probably can't sustain the style of play he is known for and who makes $8 million dollars, with only 2 years left.  Take those assets and go after someone who fits the age group of the team and who can be a Leaf long-term. But most importantly, for once, hold on to the damn kids and let them develop.
The bottom line is this: There is virtually no realistic scenario where the Leafs acquire Eric Staal and it is a good move. Let's just move on and never speak of this again.
Thanks for reading.