After watching the Leafs for 3 games so far this season, their tendency to be badly out-shot shows no signs of improving: they have allowed 32, 41 and 38 shots in their games so far. I believe that one common observation from last season holds true: without a big-body centre on one of your top two lines,  it's very difficult to possess the puck more than the other team.
As individuals, I like both Kadri and Bozak. I just don't think they  make for a very good top two centres as a combination. The Maple Leafs, in my opinion, should either make Kadri their # 1C and replace Bozak altogether, or they should put Bozak at 2C, make Kadri a winger and get a new #1C. Either way, they need to acquire another player. Preferably a centre with size who excels in the down-low game.
In a perfect world, that player would be an elite, best-of-the-best # 1C. Alhough that player may not be available, or may cost too much if he was, I believe there are two players who fit the mold of the kind of player the Leafs are desperate for, and which are good "change of scenery," mid-20's players, who haven't exactly lived up to their potential with their current teams.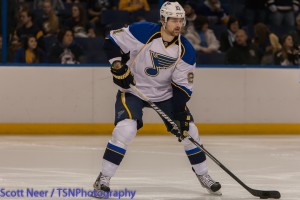 Patrik Berglund
Berglund is a 6'4″ 215 lbs centre currently being utilized on left-wing because of the Blues depth at centre.  Although he hasn't exactly set the world on fire lately, Berglund is only 26 – which makes him younger than Bozak – and is a former first round pick, 26th overall in 2006.
Berglund looked destined for stardom when, as a 20-year-old, he made the Blues and as a rookie put up 21 goals and 47 points in 76 games. He suffered through a sophomore slump but then rallied for 22/52 in his 3rd year. Since then, however, Berglund has struggled to take his game to the next level, having gone each of the last three seasons without topping 40 points.
There is no doubt Berglund is talented and much of his struggles may just be due to ice-time and allocation of minutes: the Blues are one of the deepest teams in the NHL at forward.  Still, it can't be denied that much more is expected from Berglund and that as a result of his struggles and the Blues depth, he may be available. His size and talent make him a good candidate for a reclamation project.
If we ignore his lackluster stats of recent years, and just look at the player himself, we see a hulking centre with a great shot and offensive instincts as well as an excellent two-way game. Considering that the Leafs can surround him with elite or near-elite wingers, he should be a perfect fit for a team that is begging for a two-way centre with size to play on one of its top two lines.
Berglund is on the first year of a 3 year contract with a $3.7 million cap-hit. And while his lack of an upward trend in the scoring department does look concerning, it must be noted that he is rumoured to have played much of last season with a separated shoulder and that he has never played with wingers like Kessel and JVR before.  St.Louis is a much, much better possession team than the Leafs, so it would be foolish to go into Berglund's stats and think they translate to the Leafs, but it is worth pointing out that the Leafs biggest weakness is that they allow way too many shots and thus never have the puck, whereas the biggest benefit to a player like Berglund is that his size, ability to protect the puck and his cycling ability are some of the biggest factors in being a strong possession player.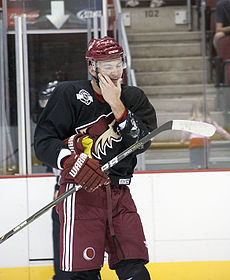 Martin Hanzal
Much like Berglund, Hanzal is a prototype of the big-bodied centre the Leafs desperately need to acquire. He is 6'6″ almost 240 lbs and 27 years old. Similar to Berglund, he is a former mid-to-late first round pick who has never really lived up to his potential.
An absolute monster down-low, Hanzal had his best season last year when he put up 40 points in 65 games on the offensively anemic Arizona Coyotes. Hanzal has had health issues in the past, mostly his back and knees due to being so huge, and has had his development stalled by not appearing in 80 games since the 09-10 season.
When healthy, few players can hold the puck and dominate from the hash marks to the back of the net like he can. He is almost impossible to knock off the puck and, like Berglund, excels in a way that none of the Leafs current forwards, with the possible exception of JVR, do. What makes him even  more appealing is his contract that only has a $3.1 million cap-hit and two years left to run after this one.
While injuries would be a concern, they also would likely make him more affordable. If given a full healthy season in a more offensive environment and wingers like he might get in Toronto, Martin Hanzal still has the potential to be a point-per-game player who dominates possession and plays a solid two-way game. Though he has been inconsistent, there are times when Hanzal can just take over a game. He moves well for such a large player and would be able to create a lot of room on  the power-play for players like Kessel and Kadri to get open.
In closing, the Leafs aren't going to be acquiring a generational talent like Tavares or Stamkos any time soon, so they should be targeting a player who fills their biggest weakness: A large bodied centre with offensive instincts. Both Hanzal and Berglund fit that bill and both of them have been injured and/or unable to live up to their potential for long enough that they may be prime candidates to move to another team and see if a fresh start kicks things up a notch for them. Unlike trading for blue-chip prospect – like a Sasha Barkov or Ryan Strome – the Leafs wouldn't have to part with prized possessions like Kadri, Rielly or Nylander to make it happen.
From a risk/reward standpoint, from a cost analysis standpoint, from a 'what kind of player do we need that we don't have' standpoint, as well as Berglund and Hanzal being two players who excel at the team's biggest weakness – namely they play a kind of game likely to improve the Leafs' possession and shots against numbers – there is every reason for the team to pursue one or the other of these two players.