I can tell you that remodeling a home is one of the biggest nightmares in the world, and rarely, do things turn out how you intended them to. Extra costs, broken materials, the wrong tools, lazy contractors… the list of possible mishaps can go on and on. What makes the remodeling of a National Hockey League roster different is…well… absolutely nothing.
In Vancouver, GM Jim Benning and President Trevor Linden clearly made their case for a full blown youth movement when they traded Eddie Lack, Kevin Bieksa and declined to sign Brad Richardson and Shawn Matthias. They even kept true to that plan today by signing Yannick Weber (26) to a one year-$1.5 Million deal and Matt Bartkowski (27) to a one year-$1.8 Million deal. But when the news broke today that Benning and his staff had moved F Zack Kassian and a 2016 5th rd. pick to Montreal for… 30-year old enforcer Brandon Prust. That infusion of youth was put on hold, for mysterious reasons.
#Canucks acquire @BrandonPrust8 from Canadiens for Kassian & 2016 5th rounder. Release – http://t.co/i9gzp7rwsM pic.twitter.com/n1sA4SUjBe

— Vancouver #Canucks (@Canucks) July 1, 2015
I can't stress this enough, Kassian has every upside that Prust never had. Not to mention, Vancouver just got seven years older and added just under a million dollars of salary to their tight cap situation. What the Canucks management saw in this move, I'm not sure, but what I can do as a journalist is help the fans break it down.
Zack Kassian's Pros
~ At age 23, turning 24 during the 2015-2016 season, and yet to play a full season due to injuries, it's not like Kassian has been given the chance to prove himself as a young impact player. 24 is young, let's remember that in the National Football League the average age of players who are drafted is 23.1. Which means Kassian wouldn't even have been drafted until this year. For the 'Nucks brass to give up on Kassian's development, but believe that Sven Baertschi is still a player to work with? Baffling.
~ In Kassian's short and injury plagued NHL career his average points per game is .33ppg. That is over his first 198 games. Prust on the other hand has had 451 games to tune his skills and has averaged .23ppg. To make a trade comparing their values in that sense seems crazy.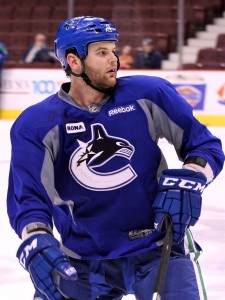 ~ Kassian was under contract for one more year at a cap hit of $1.75 million while Prust is earning $2.5 million this coming season. So what we have here is a young player with huge upside that would be an asset to a youth movement for $750,000 less than a very limited veteran player who is going into free agency next season and has zero upside. Again, baffling.
~ Kassian at 23 years old is nowhere near finished in his physcial development and last season he was notched at 6'3″ 214lbs. That is a big player with an opportunity to continue gaining strength and confidence with age. Prust was notched in at 6′ and 194lbs but plays like he is 220lbs. If the Canucks wanted to add grit and size Prust was not the option and Kassian was not the asset to give away. Contradiction is glaring.
~ Although Kassian had some controversial moments this season where fans in Vancouver were asking whether or not he would ever find his game, he was popular with the fans. He was young, confident, strong and personable. He played a skilled game and was exciting to watch when he was on. Taking away all the players that Vancouver fans love (Lack, Bieksa, Kassian…) is not the way to win the confidence of your fan base. Being a general manager is as much about keeping your organization's relationship with the city as it is about following your own personal agenda but those don't seem to be weighed equally in Vancouver.
Zack Kassian's Cons
~ There has yet to be a season where Kassian hasn't missed significant time with an injury and at times this season there was speculation that his career was in jeapordy because of the back issues he has had at such a young age.
~ Due to missing so much time it has been exponentially harder for Kassian to find his footing in the league and inconsistency has been a devil on his shoulder throughout his play.
~ It has been hard for the Canucks to find the right linemates for Kassian on a regular basis, which has limited his ice and production.
The Return Vancouver Gets… nothing.
When the paperwork was signed and Kassian and Vancouver's 2016 5th rd. pick were no longer the Canucks' property they had little to say for it. Prust, a highly overpaid 'character' player with no upside and little skill to assist the team. What made the Canucks brass feel like Prust was worth Kassian, plus, is something only they know… if they even thought about it. Kassian's pros heavily outweigh his cons but he needed to be given the injury free opportunity to thrive.
It seems to me that Benning no longer wanted to wait on Kassian's health or development and wanted to move forward with young players that he himself had brought in. It doesn't exactly play to the strengths of his organizational plan though. He moved a young player with impact potential and a draft pick. It feels like the move was almost a desperate attempt to rid themselves of something that really wasn't a burden. How Prust is considered less of a burden than Kassian… just has no substantial backing and unfortunately this move will surely backfire for the Canucks.