The Stanley Cup.
There are numerous stories and traditions that surround the oldest trophy in North American sports.
Since 1914 the "Stanley Cup" has been awarded a total of ninety-four times to the NHL's playoff series champions.
It wasn't always that way.
Donated in 1892 by Lord Frederick Stanley, the Governor General of Canada, the trophy was named the "Dominion Hockey Challenge Cup" or "Challenge Cup" for short. It was awarded to the top-ranked amateur ice hockey club in Canada. Simply put, the "Challenge Cup" was a trophy that could be challenged for in a best of three game series.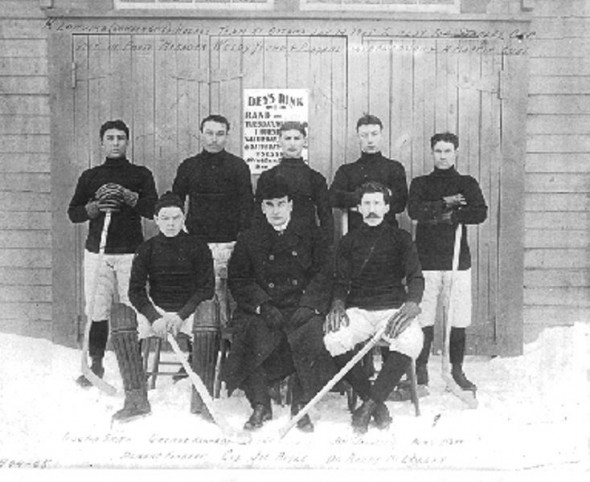 In 1905 a team from Dawson City, Yukon known as the "Dawson City Nuggets" made a challenge to compete against the Ottawa Hockey Club aka "The Silver Seven".
The team from Dawson City had two former elite hockey players, Weldy Young who had played for Ottawa in the 1890's and D.R. McLennan who had played for Queen's College against the Montreal Victorias in the challenge of 1895. The remainder of the "Nuggets" were comprised of players from other Dawson City clubs.
Their challenge was accepted.
The journey to Ottawa from Dawson City spanned over 6,000 kilometers with a variety of transportation modes used by the players. They set out for their initial stop of Whitehorse on December 18, 1904. Some players traveled by dog sled while others chose to travel by bicycle. At Whitehorse the bad weather caused a train delay so the players were forced to travel by sea, which caused seasickness for many of them. There were other weather problems forcing the team to adapt as they went along but eventually they arrived by train, in Ottawa on January 11, 1905. Less than two days before their scheduled series.
With only 36 hours to recover and still minus their best player, Weldy Young who had been delayed by his duties as an election official, the Nuggets requested the series be put back a couple of days.
The Ottawa squad refused their request.
The Nuggets went on with the challenge and primarily due to their fatigue, were not up to the contest. They lost the first game 9-2
From there it only became worse.
Playing for the Silver Seven was Frank "One Eyed" McGee. McGee acquired the nickname "one eye" after suffering an eye injury in 1900, the result of a high stick. McGee had come out of retirement in 1903 and was Ottawa's star player. Although he was one of the smallest players in the league at 5' 6" he was an agile skater who could stickhandle around most players and despite his impaired vision could score goals seemingly at will.
The Nuggets' Norman Watt made the mistake of announcing that Frank McGee wasn't that good, as he had only scored one goal that game.
Had the Dawson team triumphed in this series, they may have had the longest dynasty in Stanley Cup history as challenges at that time normally took place in the cup-holders town. Visiting teams could not have effectively played against them.
The Dawson City Nuggets did manage to make history though as numerous records were set in Game 2, including Frank "One Eyed" McGee's 14 goals.
The Ottawa Silver Seven went on to record the largest margin of victory for any Stanley Cup final game in history winning by a score of 23-2.
Feeling dejected from the lopsided defeat, the news got even worse for two of Dawson City's core players, McLennan and Watt. Only one day after the second game, Their employer announced they would be laid off from work effective immediately.
Frank McGee played one more season, winning one more cup with Ottawa before he enlisted into the Military for World War 1. He was killed in action on September 16, 1916. His body was never recovered.