On July 2nd, 2015 Troy Brouwer was traded to the St. Louis Blues from the Washington Capitals along with goaltender Phoenix Copley. Today we're going to look at his career numbers and what important events have occurred in the Vancouver native's hockey life thus far.
214th Overall
Brouwer was chosen 214th overall in the 2004 NHL Entry Draft by the Chicago Blackhawks and the rest was history. Although he wouldn't have his NHL debut until the 2005-2006 season, Brouwer's NHL career began on that June day in 2004. Coincidentally, Brouwer also weighs 214 lbs. and stands at 6'2", which gives him a decent amount of size to be a force to be reckoned with on the ice.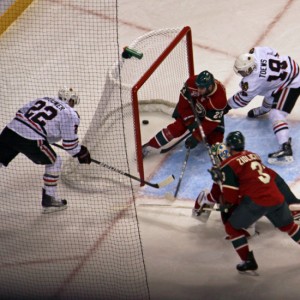 3rd NHL Team
The Blues are the third NHL team Brouwer has been on, the first being the Blackhawks and the second being the Capitals. He was traded from Chicago to Washington back on June 24th, 2011 for a first round pick in the 2011 Entry Draft. That pick turned out to be left winger Phillip Danault.
531 Games Played
The number of games Brouwer has played in the NHL. During those 500+ games, he's scored 255 points (132G, 123A) and has a less than impressive plus-minus of -7. Last season, however, he boasted a plus-11 rating, which goes to show his growth in defensive play.
One Stanley Cup, One Year Remaining
In 2010 the then 24-year-old won the Stanley Cup with the Chicago Blackhawks. During that post-season he had 8 points (4G, 4A) in nineteen games with a minus-1 rating. Brouwer also has one year left on his contract until he becomes an unrestricted free agent. His salary for the final year is $3.75 million with a cap hit just under $3.67 million.
All of these seemingly random numbers come together to make one St. Louis Blues forward and one player that will hopefully have a large impact on the team this upcoming season. If that proves to be the case, Brouwer could be in the Gateway City for the next couple of years of his NHL career, but only time will tell.
What do you think of Brouwer's numbers? Leave your thoughts in the comments.