Please "Click Here" for "Notes Up Front" and the "Legend" for various topics covered below in my "Live Updated" NHL 2011 Draft Preview article – The Next Ones.
John Gibson
Date of Birth: July 14, 1993
Place of Birth: Pittsburgh, Pennsylvania
Ht: 6-3 Wt: 204
Catches: Left
Position: Goaltender
NHL Draft Eligibility: 2011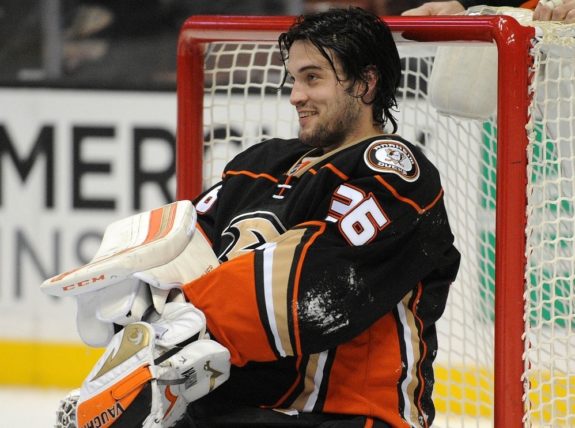 One Timer:
John Gibson is likely the best goaltender in the 2011 draft class, but he is by no means a sure thing. Gibson is still raw, and has only enjoyed a small amount of success in his years with the USHL. He will likely be selected in the 2nd round by a team that doesn't need goaltending help in the foreseeable future, but may need a new number one in the next five years.
Gibson has good size and plays a conservative style of goaltending to cut off angles and leave little net for shooters to look at. He plays a butterfly style with a veteran poise. He also possesses great strength, an attribute of his that all scouts rave about.
He is not the most athletic goaltender in the world, hopefully something he can work on in his first year at the University of Michigan. Gibson has a long way to go until he reaches the NHL, but he may someday be a team's number one goalie.
Top Prospects Game:
John Gibson did not participate in the top prospects game.
Statistics:

Scouts Honor:
"The clear-cut No. 1 guy is John Gibson, who combines excellent size and a calm demeanor in the most important games. He plays economically and is strong in the butterfly, using his long legs to take away the bottom half of the net. Gibson is a big netminder who plays big, challenging well and not leaving much space for shooters to look at. He's also calm and patient and allows the play to come to him. We like his mental strength and focus in clutch situations"
-Red Line Report's  Kyle Woodlief
"John has great net coverage and size (6-foot-3, 200 pounds), and is very strong," NHL Central Scouting goalie guru Al Jensen told NHL.com. "He's sound technically, moves very well laterally and is controlled. He's calm, not busy." While Gibson and Campbell are poised under pressure, Jensen said he sees different styles between the two. "Campbell is the more the quick, athletic type and Gibson is the more a controlled, strong positional type," Jensen said. "Both do have good size — I like how strong Gibson is."
-Central Scouting's Al Jensen
Bio/Interview(s)/Links(s)
International Tournaments:
John Gibson has shined internationally at this young juncture of his career. This year he won the award for Best Goaltender at the Under 18 World Juniors. He also posted the best GAA of any goaltender in the U-17 WHC.
ETA=4/5 Years
Risk Reward Analysis:
Risk – 2/5 Reward – 4/5
NHL Potential:
A middle of the pack number one goaltender.
Strengths:
*See One Timer Section Above
Great Size
Intelligent Positioning
Smooth Latteral Movement
Veteran Poise
Flaws/Aspects He Needs to Work on:
Overall quickness
Athleticism
Fantasy Hockey Potential: Goaltending = 8/10
NHL Player Comparisons:
Ryan Miller, Craig Anderson
Off The Iron (Interesting Notes):
Drafted By The Kitchener Rangers
Favorite NHL Goalie is Ryan Miller
Favorite NHL Team is the Pittsburgh Penguins
THW's The Next Ones prospect profile template design architect: Chris Ralph
Follow Patrick Kearns on Twitter @THWpkearns for prospect info and updates.
Patrick Kearns covers prospects for The Hockey Writers, and his local Rangers and Devils for The Fourth Period.
You can follow him on twitter @PatrickKearns to talk anything hockey related.