Please "Click Here" for "Notes Up Front" and the "Legend" for various topics covered below in my "Live Updated" NHL 2011 Draft Preview article – The Next Ones.
Mark McNeill
Date of Birth: February 22, 1993
Place of Birth: Edmonton, Alberta
Ht: 6-2 Wt: 210
Shoots: R
Position: Center
Draft Eligibility: 2011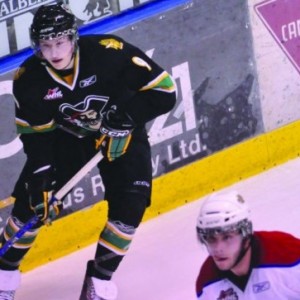 One Timer:
Mark McNeill, the Prince Albert Raiders powerful, gritty forward showed why he should be a top 15 draft selection in this years NHL Entry Draft last season. He uses a combination of grit, with good playmaking ability to make him one of the top centers in the Western Hockey League.
A player that thrives on being strong on both ends, McNeill is also never afraid to drop the gloves and stick up for his teammates. To add to his impressive total of 81 points this year, he also finished with 53 penalty minutes.
Defensively, McNeill plays the shutdown role very well. He uses his strength and strong positioning to easily knock opposing players off the puck. He is also a strong faceoff man, which in addition to his strong defensive game makes him a good penalty killer.
It will be very interesting to see how McNeill progresses again next year. While playing for one of the worst teams in the WHL McNeill was still able to put up a impressive point total, and single-handedly carried his team for most of the year.
The offensive aspect of his game is not often discussed like his defensive aspects, but that doesn't mean he is lacking one. McNeill works hard along the boards, and can score while driving hard to the next. He also has impressive playmaking abilities, which were overshadowing by the teams lack of finishers this year.
That team that drafts Mark McNeill should think of it as a great investment for a championship roster. Players like McNeill are important pieces to dynasties and winning teams.
Top Prospects Game:
McNeill was named an alternate captain for team Cherry who lost the game 7-1. He was held off the score sheet but had coincidental roughing minors with Shane McColgan at 16:08 of the third period.
From Red line's scouting report on the top prospects game, "Very good outing. One of the hardest working players on ice and played a very complete game – high speed with a lot of intensity. Good anticipation and reads play well. Threw his weight around and showed very good puck support. Never gave up on a play and showed good vision and puck moving skills."
Statistics:
Scouts Honor:
"At about 6-2 and pushing 210-215 pounds, he's already a physically mature specimen, but will be an NHL project. McNeill is a pretty good skater for a big man but needs to work on his agility and change of direction. Red Line Report noted that he has significantly improved from where he was last season in terms of picking up his skating stride and quickness, so he's on the right track. In fact, Kyle Woodlief and Co. had McNeill in their October issue rising section, likening his improvement this season to that of Ryan Johansen last year."
-Bruins Draft Watch's Kirk Luedeke
"He's really composed and has a real pro-style game. He has a nice touch, can dish, and has nice, soft passes. His on-ice awareness is very good and he's paid attention to detail at both ends of the rink. He has good defensive-zone coverage as well as being offensive at the other end."
-Central Scouting's B.J. MacDonald.
International Tournaments:
Mark suited up for Team Canada in the World U-18 tournament and finished with six assists in seven games.
Bio/Interview(s)/Link(s):
Bruins Draft Watch Scouting Report
NHL.com Profile
ETA= 3/4 years
Risk/Reward Analysis:
Risk= 1.5/5 Reward= 4/5
NHL Potential:
Strong two-way #2 center man on a contending team.
Strengths:
*See "One Timer" section above
• Strong in the Faceoff Circle
• Unrivaled Work Ethic
• Strong Defensively
• Good Size
• Excellent Vision
• Very High Hockey Intelligence
• Valuable Leadership
• Relentless Grit
• Incredibly Strong on his stick
Flaws/Aspects He Needs to Work on:
• Top End Foot speed
• Agility
• Shooting Accuracy
• Ability to Create Plays on His Own
• Deceptiveness With the Puck
Fantasy Hockey Potential: Offensive= 8/10 Defensive= 9/10
NHL Player(s) Comparisons:
Brandon Dubinsky, Martin Hanzal, Bobby Holik, Ryan Kelser
Video(s)
Off the Iron (Interesting Notes):
• Finished first on the Raiders in assists.
• Strives to be a player like Ryan Getzlaf.
• His father Bernie McNeill played for the Edmonton Oil Kings
Patrick Kearns covers prospects for The Hockey Writers, and his local Rangers and Devils for The Fourth Period.
You can follow him on twitter @PatrickKearns to talk anything hockey related.