Please "Click Here" for "Notes Up Front" and the "Legend" for various topics covered below in my "Live Updated" NHL 2011 Draft Preview article – The Next Ones.
Boone Jenner
Date of birth: June 15, 1993
Place of birth: London, Ont., Canada
Ht: 6-1 Wt: 204
Shoots: L
Position: Center
NHL Draft Eligibility: 2011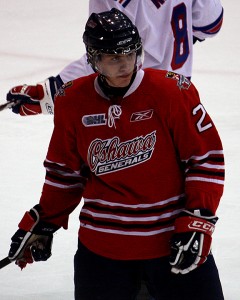 One-Timer:
Not often do I find myself at a lost for adjectives when describing a prospect. When tackling the prospect profile of Boone Jenner, I can find no better way to launch into this edition of The Next Ones draft preview series then to simply state I love the way this kid plays the game.
Growing up on a farm in Ontario, Jenner has a work ethic that is second to none in this draft. The physical and skilled centerman almost seems to be from a different hockey era. I can picture this kid going up against a Bobby Clarke type player and not backing down and actually excelling.
This kid is simply a player you would love to go to battle with. Coaches love him. Teammates love him. Fans love him. Opponents hate to play against him.
The major question mark heading into the season was skating, but he has improved that aspect of his game immensely this season. Jenner is one of the safest picks in this year's draft. He is also able to elevate his game as the stakes get bigger.
In the fantastic 2003 draft, Mike Richards went 24th overall. NHL GMs and scouting teams likely will not let history repeat itself with Boone. Jenner should definitely go in the first round in June. Some see him as a top 15 pick. I would not be shocked to see a team be totally enamored with him and take him off the board in the top 10.
Momentary Lapse of Professionalism: Boone Jenner possesses perhaps the coolest name in this year's draft (and there is some brilliant ones out there). It sounds like an alter ego for a superhero.  I can almost hear Boone saying to a soon to be annihilated opponent: "You won't like me when I'm angry…"
Top Prospects Game: (from Kirk Luedeke of Bruins 2011 DraftWatch)
"This game was very typical of what Jenner is as a player: solid, productive but unremarkable. Jenner isn't a great skater, but has gotten to the point at least where any deficiencies are not noticeable, according to one NHL scout who expressed some serious concerns before the season about Jenner's wheels. He does hustle, however, and his heart and willingness to work the proverbial bag off all the time go a long way toward erasing any concerns that may linger about the skating. He's a pretty straight-line player: A to B without a lot of flash and dash. And, you don't necessarily find yourself drawn to him during a game, but at the end of the night, you look at the boxscore and there he is, with a couple of points. That's how his top prospects performance looked on video– you heard his name, but didn't really notice him all that much, until the puck ended up in the net and you realized that he was in on the play. He's got intangibles, and doesn't seem like much of a fit for the Bruins given how stacked they are at center, but you never know. One thing seems certain, though– some NHL team will call Jenner's name early enough in the draft. The biggest question with him is upside, but given the work he's done to get his skating more where it needs to be, don't bet against this guy."
Statistics:
Scout's Honor:
"The phrase, 'I want 20 of those guys on my team,' gets overused, but it not only applies to Boone, he can be the poster boy for it. Boone does what it takes to win. He blocks shots, wins battles along the boards and is an outstanding forechecker. He wants to be first to the puck every time. He's solid on his skates and fights through checks on his way to the net."
– NHL Central Scouting's Chris Edwards
"…an all-around hockey player. He is a dynamite faceoff guy who can just as easily play the powerplay as play on the penalty kill. You don't need to watch the (Oshawa) Generals too often to see that he is a leader on the team. He can dominate periods let alone shifts. We love his compete level and that motor that runs non-stop."
– HockeyProspect.com's 2011 NHL Draft Guide
Bio/Interview(s)/Link(s):
International Tournaments:
Boone donned Team Canada red and white at the 2010 Ivan Hlinka Memorial, winning gold – he had 3 points in 5 games. He also captained Team Ontario to a silver medal at the 2010 World Under-17 Hockey Challenge, notching 4 points in 6 games in the process.
ETA = 1 yr
Risk-Reward Analysis:
Risk = 0-0.5/5   Reward = 4/5
NHL Potential:
2nd Line All- around Centreman; Team Captain
Strengths:
*See "One Timer" section above.
All-around player who can play in all situations
Work ethic and passion for the game
Fierce competitor
Steady & consistent effort
Leadership
Faceoffs
High hockey IQ
Wrist shot
Strength
Puck protection
Flaws/Aspects He Needs To Work On:
Continue to train to increase strength and add mass to frame to handle the rigors of the NHL.
Continue to work on skating although he's already made major strides.
Fantasy Hockey Potential: Offensive = 8/10   Defensive = 9/10
NHL Player(s) Comparison:
– Mike Richards, Manny Malholtra
Video(s):
From Jerome @ NHLDraftVideo:
Off The Iron (Interesting Notes):
He is the nephew of former NHLer Bill Carroll – Carroll won four Stanley Cups, three with the New York Islanders (1982, 1983 and 1984) and one with the Edmonton Oilers (1985). His older brother, Leo, also played in the OHL (Plymouth 2005-10). (NHL.com)
Jenner was named to the OHL First All-Rookie Team and was a runner-up for the OHL's Rookie of the Year after finishing second in rookie scoring with 49 points in 2009-10. (NHL.com)
Photo: courtesy of Derek Marques/Flickr
THW's The Next Ones prospect profile template design architect: Chris Ralph
Christopher Ralph is THW's prospect and draft analyst
*Follow ChrisRalphTHW on Twitter as he infiltrates, dissects and analyzes all happenings of hockey prospects and the NHL entry draft.
This document is the intellectual property of Christopher Ralph and cannot be used or duplicated in any way without expressed written consent. Any use of this document without the expressed written consent of Christopher Ralph will result in public exposure and legal prosecution.