Now more than ever, there is an emphasis on the need for players to play a 200-foot game. You look no further than at a guy like Anze Kopitar, and the massive contract he just signed, as the prototypical example. A players' value is now so much more than just putting up points. It's about winning faceoffs, possessing the puck, being smart and responsible in your own zone, being reliable without the puck. One-trick ponies might start to see a dip in ice-time, as their impact begins to lessen. Players who have skill, but contribute nothing if they aren't scoring, are now looked at less favorably. Every team wants a sniper, but even more so they want skilled players who can control the game at both ends of the ice.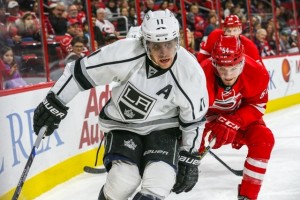 The Selke Award has existed for a long time, though it doesn't come with as much fanfare as other distinctions. But being the league's best defensive forward is an honor, because smart hockey people understand just how crucial these guys are for the success of a team. There's a reason why the Kings (with Kopitar), the Blackhawks (with Jonathan Toews) and the Bruins (with Patrice Bergeron), have frequented recent Stanley Cup finals. The NHL understands the need for this award, and why it's important to recognize this skill. In the same vein as the Selke, there's another award the NHL must consider bringing in, and that is for the best offensive defenceman, as a separate prize to the Norris Trophy, which is for the best all-around defenceman.
Erik Karlsson sits third overall in points. Not among defencemen, but among all players. Other than the hey-day of Mike Green, we have not seen this kind of production from a blueliner for a long time. Karlsson's season is bringing back memories of Paul Coffey, and it's been an absolute joy to watch. He leads the league in assists. Again, not just fellow blueliners, but the entire NHL. When a player is labelled as an offensive defenceman, it can come with the reputation of being bad defensively, causing some people to question if Karlsson truly deserves to win the Norris. But his outstanding season deserves to be recognized, especially in today's NHL, where the stay-at-home, shot-blocking defencemen aren't as coveted as they used to be, and Karlsson's smooth-skating and puck moving abilities are lauded.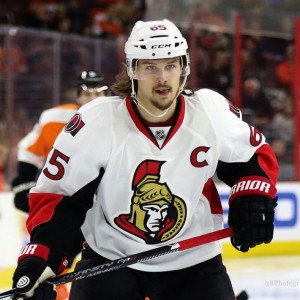 The defence (no pun intended) for Karlsson to win the Norris is that if you're scoring a lot of goals, and if you have the puck a lot, that's a form of defence. Plus, Karlsson plays so many minutes it's inevitable that he'll be on the ice for a lot of goals against. He faces the oppositions best players, afterall. And, he is able to control the play, and move the puck to his forwards, which is a crucial aspect of playing the position. His name is being mentioned in the same breath as guys like Nicklas Lidstrom, and Bobby Orr, and that's pretty exclusive company. Karlsson's skill and creativity, however, often results in turnovers, short-handed chances against, and backbreaking goals. For as much as he can win the game with one shot, he can lose it by trying to do too much.
So when we are judging who should win the Norris, it's difficult to overlook guys like Drew Doughty and Duncan Keith, who are rock solid defensively, and can put up points as well, making them the true complete package. But because there is only one trophy awarded to defencemen, Karlsson is most likely going to be the recipient. A separate award would solve this problem, however, giving guys like Brent Burns, Kris Letang, and rookie Shayne Gostisbehere who are having outstanding offensive seasons, the chance to win as well. At the time that this article was written, the scoring race among defencemen looked like this:
Erik Karlsson (15 goals, 63 assists, 78 points)
Brent Burns (27 goals, 46 assists, 73 points)
Kris Letang (16 goals, 45 assists, 61 points)
Roman Josi (13 goals, 44 assists, 57 points)
John Klingberg (10 goals, 46 assists, 56 points)
Here's a bit of trivia for you. Only one of the Canadian blueliners in the top 10 (Drew Doughty), made Team Canada's initial roster. (John Klingberg was also left off of Sweden's list). The other defencemen on Team Canada's blueline so far are Shea Weber (12th in scoring), Duncan Keith (17th), and Marc-Edouard Vlasic (26th).
Burns and Letang (as well as P.K Subban), are all long-shots to make the team, despite their success statistically. Canada has an embarrassment of riches to choose from on the blueline, and the emphasis isn't on point totals. It's about trust, and stability. Risk taking is not what the management staff is looking for, so it's interesting points are often the biggest criteria when voting for the Norris. I suppose the question in these debates will always be, if you're starting a franchise, which defenceman would you choose first?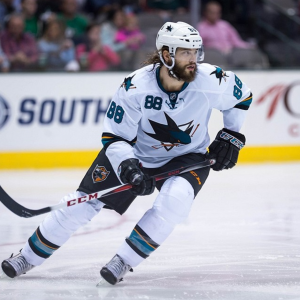 What makes a defenceman great? Is it his ability to generate offense? Is it his positioning, his decision making, his puck possession, his skating, his hockey sense, his stamina to play more minutes? Is it all of those things? Does one aspect stick out more than others? Or is a combination of a few? At the end of the day, the NHL needs to have two separate awards, one to celebrate offensive skill, and the other to recognize the overall ability of the player. In other words, they may not put up the most goals or assists, but the rest of their game is so strong, they're the kind of player you dread having to try and score against.
Do opposing players fear Erik Karlsson for his defensive abilities? Or do they lick their chops when the Senators need to score, rendering Karlsson ripe for a mistake? There are a lot of factors that go into choosing the best defencemen, and as Team Canada has proven, your goal totals aren't everything. But it is something special to watch blueliners put up stats that are better than many forwards in the league. That deserves its own distinction. That deserves its own trophy. Not diluting the Norris, while celebrating the skill that we're so fortunate to watch on a nightly basis.
Marcy, a former hockey player, is a hockey correspondent on CTV News and TSN radio. She began her career as a Sports Journalist in 2009 and has been part of The Hockey Writers since 2010, where she is currently a senior writer and editor.