The first night of the 2015 Stanley Cup Playoffs was nothing short of amazing. A double-overtime thriller to cap a 3 goal comeback, a game winner with 30 seconds left, and a very physical all-Canadian series. What wasn't so thrilling was PK Subban's tomahawk chop on Mark Stone.
Once again, not a slash, something more akin to a tomahawk chop.
This snapshot of slash captures root of controversy. #Subban #Stone pic.twitter.com/NeQx3dKuit

— Eric Macramalla (@EricOnSportsLaw) April 16, 2015
Montreal fans immediately went into outrage when Steve Kozari assessed Subban a 5 minute major along with a game-misconduct, but there is no doubt that the right call was made. As per rule 61.3 in the NHL Rulebook:
"61.3 – Major Penalty – A major penalty, at the discretion of the Referee based on the severity of the contact, shall be imposed on

Mark Stone has been a rookie sensation for the Senators. (Brace Hemmelgarn-USA TODAY Sports)

a player who slashes an opponent. When injury occurs, a major penalty must be assessed under this rule (see 61.5)."
And to compliment rule 61.3…
"61.5 – Game Misconduct Penalty – Whenever a major penalty is assessed for slashing, a game misconduct penalty must also be imposed."
So once again, there is no doubt that the right call was made on the ice. Stone was clearly in distress as he went straight to the locker room.
Stone was back a few minutes later and PK Subban could be seen on camera losing his cool since he was ejected. But today we learned more about the severity of Mark Stone's injury.
Injury update: #Sens Mark Stone has suffered a microfracture of his right wrist & his availability for the series is unknown at this time.

— Ottawa Senators (@Senators) April 16, 2015
If Mark Stone misses a significant amount of this series, that is an absolutely devastating loss for the Senators. Stone put up 38 points in 36 games down the stretch, including six, yes six, game winning goals.
Last year I chronicled how the NHL's discipline system was failing miserably. I used Shea Weber's head smashing incident against Detroit as the prime example in the article. That was the first night of the post-season as well. Weber wasn't suspended, and those playoffs went on to include a plethora of dirty hits and suspensions. So would the NHL change their ways here?
NHL discipline chief Stephane Quintal confirms P.K. Subban not facing any more discipline for slash on Stone. Penalty last night sufficed.

— Pierre LeBrun (@PierreVLeBrun) April 16, 2015
Apparently not.
The puck was nowhere near Stone when the slash happened. There was also no shot coming toward the net, so it'd be hard to say Subban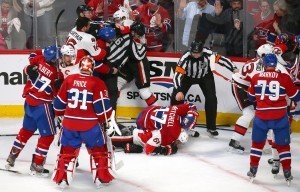 was defending. The video also clearly shows Subban winding up and having to come fully across his body to slash Stone. It's also tough to argue that Subban didn't mean to hit him where there is no protection on the wrist. Player's know where they can cause pain, Stone's arm was in relatively the same position for the seconds before Subban hit him. He didn't try and slash his stick, he went for the wrist. Take it with a grain of salt, but Ottawa also accused the Canadiens of targeting Stone all night. So Subban's slash would fit the narrative.
When everything was said and done, Subban should have faced supplemental discipline. Nothing too harsh, maybe a game or two, but if the Senators lose Stone for the series, it will be a serious blow to their chances at ousting Montreal.
Only time will tell if this opens the door to more dirty plays during these playoffs, but one thing is for sure, the NHL didn't get this one right.
Matt is a contributor for the Philadelphia Flyers at The Hockey Writers. He has previously covered the Flyers for GrandstandU. He enjoys playing hockey and making music in his spare time.