Discipline? Or Slap on the Wrist?
Hop into your time machine and travel back almost two years to the 2012 Western Conference Quarterfinals between the Nashville Predators and Detroit Red Wings. Game 1, less then 5 seconds left on the clock with Nashville up 3-2.  As the clock gradually winds down, Henrik Zetterberg tries to tie up Shea Weber in the corner and just as the clock expires, Weber maliciously throws a punch at Zetterberg's head, forcing it against the glass, then proceeds to grab Zetterberg's head and smash it up against the glass again.  A stunned Brian Engblom comments on Weber's actions and following the game many fans were outraged.  Surely there would be a hefty suspension forthcoming, right? Wrong.
The hockey world awaited as Weber had a hearing for what looked like something straight out of an MMA fight.  This was Brendan Shanahan's chance to put his foot down and let the rest of the players know that incidents like this would not be tolerated, and he failed miserably.  Shea Weber received a $2,500 fine, .03% of his 2011-12 salary, for smashing Henrik Zetterberg's head into the glass.  Here was Brendan Shanahan's justification, via NHL.com
"This was a reckless and reactionary play on which Weber threw a glancing punch and then shoved Zetterberg's head into the glass," said NHL Senior Vice President of Player Safety and Hockey Operations Brendan Shanahan. "As is customary whenever Supplemental Discipline is being considered, we contacted Detroit following the game and were informed that Zetterberg did not suffer an apparent injury and should be in the lineup for Game 2."
Shanahan seemed to justify his decision based on the fact that Zetterberg was not severely injured on the play. But is that the right call? What if Zetterberg would have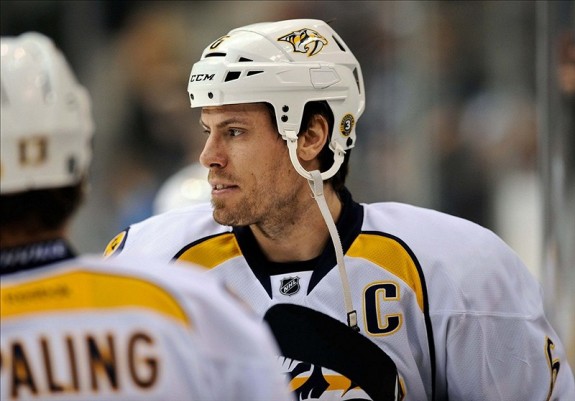 sustained a severe concussion or maybe even was knocked out on the play?
That should not be the difference between a $2,500 fine and a suspension that would send a message to the player, making them well aware that things like that will not be tolerated in the NHL. Who is to say Shea Weber won't go out and do the same thing again? And if he does do something like that again, what happens if it results in a severe injury? Only now should he get 15 games instead of just a slap on the wrist?
Of all the potentially dangerous things that can arise from the speed of the game and the split-second decision making involved on the ice, this is one that is totally preventable. It was malicious, unnecessary, not a 'hockey play', and it was the direct result of a player making a conscious decision. And above all, the NHL didn't make him pay the price, and that opened the gates to more brutality.
Preventing Repeat Offenders? Or Encouraging Them?
Shea Weber's brutal incident with Zetterberg opened the 2012 Stanley Cup Playoffs, but there was much more to be seen after that.  Fast forward only a few days after the Weber incident, and you come eye to eye with Raffi Torres.  In game 3 of the Western Conference Quarter Finals, Raffi Torres left his feet and rocked Marian Hossa, leaving him to be carted off the ice on a stretcher.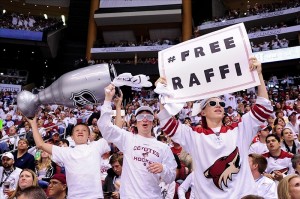 Torres hit Hossa just a split second after he released the puck, however, he left his feet in doing so.  Hossa remained out the rest of the remaining three games the Blackhawks played.  Raffi Torres who was a repeat offender received a whopping 25 game suspension for the hit. Now, keep in mind that Hossa was injured on the play, whereas Zetterberg was not, but honestly, look at the context of each play. Which one was worse? If you're asking me, Weber's actions were far worse than what Torres did. I'm not justifying Torres' hit, because it was dirty, but it was one of the split-second decisions that a player has to make in a game. Weber's hit was not, and it was totally preventable and unnecessary. Why did Weber get nothing and Torres get a whopping 25 games?
Both these incidents expose what is wrong with the system of discipline in the NHL, and it shows how the system is actually more prone to breeding repeat offenders rather then preventing them. Weber's case was isolated and he hasn't been involved in anything since then, Torres' had a previous incident that was nearly identical to the hit on Hossa above.
Just a few months earlier in January of that year, Raffi Torres was called for a charge and subsequently suspended for his hit on Nathan Prosser of the Minnesota Wild. The hit was eerily similar to the one he put on Marian Hossa months later in the playoffs.
You can see in the video that Torres charges and leaves his feet for the hit. Prosser wasn't injured on the play. Torres was suspended two games for an illegal charge. The type of hit the NHL is desperately trying to get out of the game, and they give Torres a two game suspension. It didn't work. Why didn't the NHL suspended Torres for 5 or more games? Injury or no injury, it's a dirty and dangerous hit, and should be more than a two game suspension. If Torres was handed a heftier suspension the first time, do you think he would have gone out and thrown the exact same hit again, just months later? Or do you think that hit on Hossa would have been avoided?
It's not just limited to Raffi Torres either. With about 5 minutes left in game 3 of the 2012 Eastern Conference Quarterfinals, the Flyers up 7-4, James Neal steps onto the ice and takes a run at Flyers forward Sean Couturier.  Neal hit Couturier well after the puck was gone along with leaving his feet.  Couturier laid on the ice struggling to move in the moments after the hit, although he did return to play as he just appeared shaken up and suffered no other apparent injury.
Just seconds later on the same shift, James Neal again came out and took a run at Flyers superstar Claude Giroux, appearing to target, and elbow him right in the head. Giroux appeared dazed immediately after the hit, but returned to the game and did not miss anytime.
James Neal was suspended for a total of one game. The hit on Couturier did not receive a suspension, the hit on Giroux was the one that got him the game. What's even more ironic is that the hit on Couturier came just a mere days before Raffi Torres hit Marian Hossa, and if you compare the two hits, they are nearly identical, but once again, the only difference was that Couturier was fine, and Hossa was carried off on a stretcher.
Neal had never been suspended before, but he had plenty of questionable hits under his belt, even dating back to when he played on the Dallas Stars. Once again the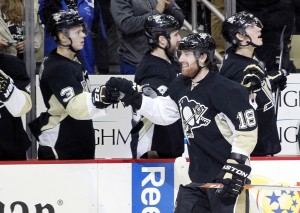 NHL had the chance to put their foot down but instead, giving Neal one game for the incidents in the playoffs sent the message that he can get away with dirty and cheap play in the NHL.
In December of 2013, Neal appeared to intentionally knee Brad Marchand in the head, he was suspended 5 games for that. Then again, later that season, Neal blatantly cross-checked Luke Glendening of the Red Wings in the head, and once again, Neal was not disciplined for this incident.
All of these are primary examples of how the NHL is getting off on the wrong foot with guys who need to be disciplined for the hits they're throwing. Torres and Neal both should have been sternly disciplined after the first illegal hits they threw, repeat offenders or not, injury or not. (Actually, in my opinion, Neal should have been first suspended for this hit during his time in Dallas). Regardless, the lackadaisical suspensions they recieved for hits that were very dangerous, showed them that until they seriously injure someone, these hits are acceptable, and that problem stems from the Department of Player Safety. It's not a problem that is limited to James Neal or Raffi Torres. Guys like Matt Cooke and John Scott are just some other guys who have been notoriously dirty and have gotten off with easy suspensions or no suspensions for some very dirty hits. It's a disturbing reoccurring trend that is creating dirty players on the off chance that maybe 5% of those dirty plays will actually result in serious injuries, which in turn would result in a suspension for the player who threw the cheap shot.
And by the way? There were 13 suspensions in the 2012 Stanley Cup Playoffs for a total of 45 man games, 9 of those supensions came in the first round alone. Not surprisingly, the Weber hit happened on night 1 of the playoffs. It set the tone, and that's why I am using it as a prime example.
Still A Problem Today
The biggest reason why I bring up the NHL's discipline issue is because these hits are still happening today, and their system is still failing to really put their foot down the first time, so that these hits aren't reoccurring from the same players.
Through just the first quarter of the season, there have been 9 suspensions related to issues that happened on the ice (I'm excluding off-ice issues such as PED's or outside investigations). 5 of those suspensions have stemmed from illegal checks to the head, 3 of those suspended for illegal checks to the head this year are repeat offenders (John Moore, Andrew Ference, Anton Volchenkov). All 3 of those repeat offenders have been suspended previously for elbowing of illegal checks to the head, yet none of them have ever been suspended more than 5 games. It's going to keep happening.
In Tuesday nights Penguins-Devils game, Robert Bortuzzo leveled NHL legend Jaromir Jagr with what seemed to be a very late hit. On top of being late, Bortuzzo appeared to be off his feet and appeared to have followed through with his elbow on Jagr's head.
https://www.youtube.com/watch?v=foCJqUxXhpk
Bortuzzo could have easily rubbed Jagr off the play with a clean, solid check. Instead, Bortuzzo chose to leave his feet, and appeared to follow through with an elbow to the head.
Pittsburgh defenseman Robert Bortuzzo will have a hearing for a late hit on New Jersey forward Jaromir Jagr. Day & time TBD.

— NHL Player Safety (@NHLPlayerSafety) December 3, 2014
Bortuzzo has a phone hearing with the NHL. That means he most likely won't get more than 5 games. He is also a first time offender.
Bortuzzo only has 75 NHL games under his belt, so would it be worthwhile for the NHL put their foot down and give him a suspension that will clearly send the message that this type of hit is unacceptable? Or will they give him just a game or two, sending him the message that these types of hit's deserve just a slap on the wrist, and the real reason he's even getting suspended is because Jagr was injured on the play.
It's your call, NHL, but if these hits are going to leave our game anytime soon, then the system needs to be revamped from top to bottom, because it is clearly in disarray right now.
Matt is a contributor for the Philadelphia Flyers at The Hockey Writers. He has previously covered the Flyers for GrandstandU. He enjoys playing hockey and making music in his spare time.