(Author's note – Once again we have lost a hockey icon.  Jean Beliveau was so much more than a hockey player.  I grew up in the 1950's and 1960's, a Maple Leaf fan who (as most of us in rural Ontario did) managed to develop a healthy, almost pathological dislike for anything to do with the Montreal Canadiens.  
But one player rose above all that.  Mr. Beliveau was a player I could not dislike, no matter how hard I tried.  I always admired the way he played the game – those of us of a certain age would say  he played the game "the right way."
I used to get chills (and still do when watching vintage games) when Danny Gallivan would use the phrase "Big Beliveau."  It's a memory from my youth that will always stay with me.
My wife wrote a letter to Mr. Beliveau in 1966.  It wasn't a request for anything, she just wanted to express her admiration for her favourite player.  Mr. Beliveau wrote back a very nice thank you letter, along with a glossy 8×10 photo adorned with that famous signature.  It remains one of our most treasured keepsakes.  
You will be missed Mr. Beliveau, but heaven's hockey team just got a whole lot better!)
Angotti scores in the clutch
Rookie forward Lou Angotti of the New York Rangers was the hero last night as the Broadway Blueshirts battled the Chicago Black Hawks to a 3-3 stalemate at Madison Square Garden in New York.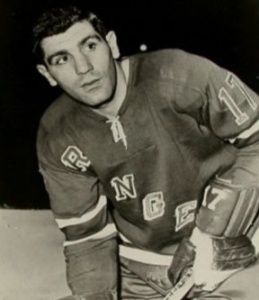 Angotti, the freshman right winger acquired from the Toronto organization during the off-season, converted a Jean Ratelle pass from about ten feet in front of Hawks netminder Glenn Hall with less than four minutes to play to erase a 3-2 Chicago lead.
The Black Hawks held the lead three times in the game, only to have the Rangers roar back to even the score on a like number of occasions.
Stan Mikita gave Chicago a 1-0 first period lead, but Bobby Nevin, another former Leaf, got that one back six minutes later.
Eric Nesterenko put the Hawks up 2-1 in the second, capitalizing on a fine play by Elmer Vasko, who broke up a Ranger rush, skated down the ice and fed the lanky Chicago right winger.  Camille Henry's power play marker for the New Yorkers knotted things at two.
Kenny Wharram scored from a scramble early in the final frame to give Chicago its final lead of the night, setting up Angotti's heroics.  The Ranger rookie's goal came six minutes after Wharram had scored.
Rocket: Hull can score 60
Maurice (Rocket) Richard, the retired Montreal Canadiens superstar, yesterday predicted that if he can stay healthy, Bobby Hull could wind up scoring as many as 60 goals this season.  Richard is the first NHL player to score 50 goals, and he did that in only 50 games in the 1944-45 season.  That record was equalled by Montreal's Bernie Geoffrion in the 1960-61 season, and then again by Hull the following year.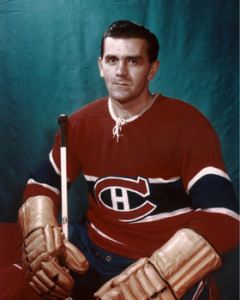 "Hull is off to a great start and he could even score more than 60 if he doesn't get hurt" according to Richard.  "He has the strength, the speed and the shooting ability to do it."
"The calibre of hockey is tougher than it was when I scored 50.  The league is better balanced now than ever before and there is more pressure on anyone going for the record."
"The record before I broke it was 44.  I got 45 with quite a few games left in the season, but I was shooting for 50 because it meant an average of one goal a game and I got it in the 50th game against Paul Bibeault of Boston. "
Richard's final comment on the 25-year-0ld Hull was most interesting:
"Most hockey players reach their peak between 25 and 30 years of age, so Hull may even get better.  The way he is going, Hull could finish with more than 600 goals.  I enjoy watching him play because he is so fast.  And what I like about him too is that he's a clean hockey player."
Campbell: Russia could play for the Stanley Cup
Clarence Campbell, president of the National Hockey League, said that Russia could one day play for the Stanley Cup.
When asked about the possibility, Campbell said, "It's entirely possible.  They're not ready yet, but if the Russians eventually reach the stage that justifies their challenging for the Stanley Cup, then they'll be accommodated."
Campbell says that the charter for the trophy stipulates that it must be a representative of a competitive open championship of the world.  He said there are no restrictions whether the champions must be professional or amateur.  He made it clear, however, that the NHL would not accept just any challenge.  It must be "worthwhile and justifiable."
Hebenton's streak continues
Andy Hebenton, who holds the NHL Iron Man streak of playing in 630 consecutive games, is continuing that run in the Western Hockey League.  According to league publicists, Hebenton is at 904 games and counting without taking a rest. He is currently with Portland of the WHL.
Hebenton had played 266 consecutive games for Victoria in the WHL before joining the Rangers in 1955-56.  His 630-game streak ended this season when he was sent to Portland by the Boston Bruins, for whom he played in 1963-64.
HUGE Baseball trade offer!
This isn't hockey news, but nonetheless very interesting to fans who enjoy the bartering and exchanging of players that goes on between professional sports teams.
Word has come out about a massive EIGHTY player trade that was proposed between the newly-named Houston Astros  (formerly Colt .45s) and the Milwaukee Braves, both of the National League.  That is correct, 80 players would have changed uniforms had the deal been completed.
About three weeks ago, Houston Astros general manager Paul Richards approached the Milwaukee Braves executives John McHale (president) and Bill Bartholomay (chairman of the board).  Richards offered the Braves all 40 players on the Astros roster, plus $5,000,000, in exchange for all 40 Braves roster players.  The offer was made in Phoenix at a meeting attended by the top brass of all the major league clubs.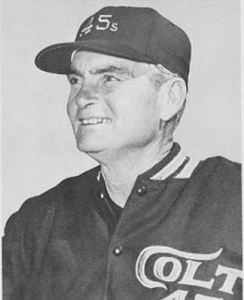 Richards says "It was a legitimate and sincere offer, but they rejected it. Both knew we were dead serious.  If they wanted to do it, we were ready right there and then."
The Astros were an expansion team in the National League in 1962 and have not yet made great strides towards respectability.  The Braves are contending team, boasting stars such as Eddie Mathews, Hank Aaron, Felipe Alou and Warren Spahn.
League officials say that a wholesale roster-for-roster trade would have been completely within baseball law.
CPHL Leaders
The statistical leaders of the Central Professional Hockey League were released yesterday.  Marc Dufour is the leading scorer with 12 goals and 13 assists for 25 points.  He is followed by Paul Andrea and Mel Pearson, who each have compiled 9 goals and 15 assists for 24 points.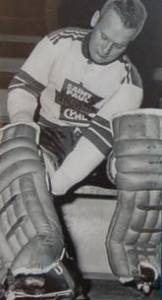 Leading goaltender is Wayne Rutledge of St. Paul, with a fine 2.42 goals-against mark.  Next best is Cesare Maniago of Minneapolis, with 2.95.