'The Nuck Stops Here' is a Vancouver Canucks news and opinion column running every Sunday throughout the season.
NEWS
Update on Canucks at the World Championships
The Canucks boast a large crop of players at this year's World Championships, and despite the relative unimportance of this event, it's still interesting to keep an eye on what Canucks skaters have been doing.
Defenders Chris Tanev and Ben Hutton are representing Canada at the tournament, and Tanev, in particular, has stood out. Head coach Bill Peters said, "He has been very stable and steady in all regards, very intelligent" in regards to the 26-year-old. Peters has also gone on to praise Tanev for his taking on of a leadership role throughout the tournament. Hutton, meanwhile, is one of six defencemen from the 2012 entry draft and is the only to not be selected in the first-round. He has played in a depth capacity, averaging 7:18 in ice-time per game. He has one assist and is a plus-three through three games.
Jannik Hansen, meanwhile, has been playing on Denmark's top line alongside Nikolaj Ehlers (Jets) and Lars Eller (Canadiens) but has only put up one assist to-date. Sweden's Jacob Markstrom has been splitting starting duties with Viktor Fasth, and the tall netminder has put up a performance in which he stopped 20 of 21 shots, as well as taking a 4-2 loss to the Czechs. Additionally, Yannick Weber has put up a goal, an assist and a plus-2 rating for the Swiss, Ronalds Kenins of Latvia is the tournament's penalty minute leader (including a match penalty in game two), has a goal and is minus-5, and Thatcher Demko has been playing in a backup capacity for the United States.
Team Canada defeated Slovakia 5-0 today. Chris Tanev was a +2 and had 17:56 of ice time. #Canucks

— Canucks Now (@CanucksNow) May 14, 2016
ANALYSIS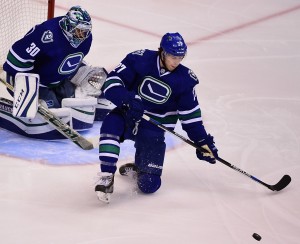 Could Ben Hutton replace Alex Edler on the top defense pair next season?
As the 2015-16 season wound down for the Canucks, with Alex Edler sitting injured on the sidelines, Ben Hutton had walked on to Vancouver's top pairing alongside Chris Tanev and thrived. Hutton, 23 and a 5th round pick in 2012, was regularly playing upwards of 20 minutes over the final stretch of the campaign, and while there were some stretches where it looked like he was being stretched a bit thin, he looks mostly strong in the role. The eventual winner of the Canucks team award for Best Defenceman as a rookie, Hutton looks like the Canucks' next power play quarterback, and it's conceivable that he could overtake Alex Edler as the left-shot presence on pairing #1. While it's almost unthinkable that Edler won't at least start the season with Tanev, it's very possible that the strength of the Hutton-Tanev pairing and the general effectiveness of Hutton as a top pair D (not always alongside Tanev, due to injury) could mean that we could see a transition between Hutton and Edler at some point during the campaign. This is not to say that these two will be of equal quality necessarily, but that the coaching staff may want to give the younger Hutton more of a chance to establish himself as one of the team's true go-to blue liners, should he continue to develop as they expect him to. It's not a lock to happen, but the deployment of Hutton vs Edler could be an interesting storyline to watch as the season progresses.
How will Brandon Sutter be deployed going forward?
As the most high-profile pickup of last summer in a trade from Pittsburgh, Brandon Sutter never really got a true chance this season. Playing in just 20 games due to two separate major injuries, Sutter scored five goals and nine points and never got the opportunity to showcase the player he can really be. Heading into next season, it could end up complicating things in terms of his deployment early on. What is Brandon Sutter with this team? Can he be a defensive stalwart while also contributing consistent offence? Or is he down to being purely a PK/defensive zone kind of guy? Will he help on the first or second power play units? Will they convert him to the wing like they did in his short stint this year? There are many questions to consider, especially when taking into consideration that the recently extended Markus Granlund doesn't exactly fit the mold of a typical fourth line centre. At the moment, the most likely scenario is probably 4th line with heavy penalty kill minutes, but it could be any number of possibilities. There were questions of how much offence he could produce in the first place, and injuries don't help that, so will he really edge out flashier, younger skaters for time on the man advantage, even though he may fit in perfectly as a net-front presence? Who knows. Sutter has flown under the radar in a sense among Canuck fans and media, but the way he's used going forward, especially early on, could be rather interesting to watch.
AROUND THE BLOG-O-SPHERE
Fun links about the Vancouver Canucks from all around the internet.
Three free agents the Canucks could use in their lineup [National Post]
Linden Vey's father has been caught up in murder plot allegations from 2013 [CBC]
Chris Tanev is replaying the role of rookie at the World Championships [Hockey Canada]
The off-season game plan for the Canucks [TSN]
Could Philip Larsen be a dark horse in Vancouver? Brought to you by our own Colton Davies! [The Hockey Writers]
Replacing goalie coach Rollie Melanson won't be easy for the Canucks [The Province]
Finally, here's a look at former Canuck Nick Bonino's series-winning goal against the Washington Capitals. Bonino was a part of the trade that sent Ryan Kesler to the Anaheim Ducks and was sent to Pittsburgh as the centrepiece of the Brandon Sutter deal.
Markus is a Vancouver Canucks columnist out of Victoria, BC. Markus is also a Staff Writer for Last Word on Hockey, an Editor and Staff Writer for country music website The Shotgun Seat, and founder of This Is Country Music.