'The Nuck Stops Here' is a Vancouver Canucks news and opinion column running every Sunday throughout the season.
NEWS
Canucks Sign Tom Nilsson
The following is a press release from the organization:
Vancouver, B.C. – Vancouver Canucks General Manager Jim Benning announced today that the club has signed defenceman Tom Nilsson to a one-year two-way contract.
Nilsson, 22, appeared in 37 regular season games with Frolunda HC of the Swedish Hockey League this past season, where he registered seven points (1-6-7) and 34 penalty minutes. He also registered a goal and an assist (1-1-2) in seven playoff games. In 2014.15, the 6'0", 183-pound defenceman tallied six points (1-5-6) in 44 games as a member of the AHL Toronto Marlies.
A native of Tyreso, Sweden, Nilsson was originally selected by the Toronto Maple Leafs in the fourth round, 100th overall, at the 2011 NHL Entry Draft.
.@VanCanucks sign defenceman Tom Nilsson to 1-year contract https://t.co/ShSNr9ZbZc pic.twitter.com/5pZK5tUGgg

— CBC British Columbia (@cbcnewsbc) May 27, 2016
Luca Sbisa Named to Team Europe
The following is a press release from the organization:
Vancouver, B.C. – The eight teams competing in the World Cup of Hockey 2016 announced their final roster selections today which included Vancouver Canucks defenceman Luca Sbisa being named to Team Europe. Sbisa joins four Canucks players previously selected to represent their respective countries at the tournament including Daniel Sedin (Team Sweden), Henrik Sedin (Team Sweden), Jacob Markstrom (Team Sweden), and Jannik Hansen (Team Europe).
Luca Sbisa, 26, has represented Switzerland on the international stage in a number of tournaments including the Winter Olympic Games in 2010 as well as the IIHF World Junior Championships in 2008 and 2010. The 6-2, 216-pound defenceman most recently represented his country at the IIHF World Championships in 2011 and 2012.
Eight teams – Team Canada, Team Czech Republic, Team Finland, Team Russia, Team Sweden, Team USA, Team Europe and Team North America – will compete in the two-week tournament from September 17th to October 1st, featuring more than 150 of the best players in the NHL. All tournament games will be played at the Air Canada Centre in Toronto.
ANALYSIS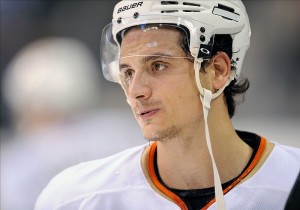 There is no room for Luca Sbisa anymore
One thing you can guarantee to hear from Luca Sbisa-apologists is that he brings grit to the table — that Sbisa is a character guy who brings snarl — something that lacked from the Canucks blue line. And while, for the first two years of his tenure this held mostly true, the tides are turning in Vancouver and the once scarce commodity of physicality that Sbisa brought exclusively has now become prominent on the back-end. The most obvious example of the increased "meat and potatoes" factor on the Canucks defense would be the recent of acquisition of Erik Gudbranson from the Florida Panthers.
While the move has been chastised by many, and Gudbranson's analytics have been heavily criticized by the "fancy stats" crowd, he does bring an element of grit. Overall he's a more competent defender than Sbisa, meaning not only will Sbisa's physicality be replaced, but he'll also lose his spot in the top-four. In addition to Gudbranson, the addition of monster prospect Nikita Tryamkin into the lineup full-time makes Sbisa expendable, as well as the potential for Andrey Pedan to win a spot out of camp. What this all means for Sbisa is that he has been replaced, and appears to be on his last legs in Vancouver. Whether it be via trade (which may be tough, given his $3.6 million caphit) or through buyout, it appears that the last remaining piece of the Ryan Kesler trade could be saying goodbye sooner rather than later.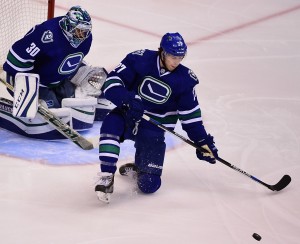 The importance of the Erik Gudbranson trade for Ben Hutton
With the addition of Erik Gudbranson to the Canucks roster, it seems almost a guarantee that he will play alongside 23-year-old Ben Hutton. Hutton, a rookie in 2015-16, scored 25 points over the course of 75 regular season NHL contests. Those numbers ranked him among the strongest totals for a rookie defensemen, and his 24 assists were second only to Calder nominee Shayne Gostisbehere.
While he also demonstrated strong defensive prowess, it was evident that what made Hutton such a special player was his ability to move the puck and his vision on the ice. There were, however, times when he was relied upon to be the shutdown guy for the team, which of course was not the best way for him to showcase his abilities.
Now that Gudbranson is in the fold, though, he will be the one relied upon to focus on the defensive and physical side of the game, which will undoubtedly give Hutton more of an opportunity to show off his sterling offensive gifts. With the pressure now off Hutton to play a shutdown game, he will be given more of a chance to become the puck-moving, Christian Ehrhoff-esque power play quarterback the Canucks have lacked for years, and for that alone, the Erik Gudbranson trade may just be worth it.
AROUND THE BLOG-O-SPHERE
Fun links about the Vancouver Canucks from all around the internet
Nick Bonino's success in Pittsburgh does not mean the Canucks were wrong to trade him away [National Post]
Previewing potential off-season moves for the blue line [Today's Slapshot]
Hope has come a long way in Vancouver, says Ed Willes [Vancouver Sun]
How Trevor Linden may be tarnishing his legacy in Vancouver [Last Word on Sports]
In defence of Jim Benning trading away picks [Nucks Misconduct]
Chris Tanev being praised by his teammates for his play in the World Championships [CanucksArmy]