'The Nuck Stops Here' is a Vancouver Canucks news, opinion and analysis column that runs every Sunday throughout the regular season.
News
Bo Horvat Selected for All-Star Game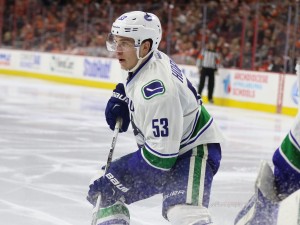 It was announced on January 10 that centre Bo Horvat will represent the Vancouver Canucks at the 2016 NHL All-Star Game. It is his first All-Star appearance, and is one of six forwards representing the Pacific Division at the event.
The 21-year-old leads the Canucks in both points and goals, with 30 and 13 respectively through 44 games. Additionally, Horvat was the club's points and goals leader for the 2016 calendar year, with 55 and 24 respectively.
Horvat was selected ninth overall in the 2013 entry draft, after the pick has been acquired for current New Jersey Devils goaltender Cory Schneider. The All-Star Game will take place on January 29 at 12:30 PM PST.
Scores of the Week
Nashville Predators – 2 : Vancouver Canucks – 1 (OT)
Philadelphia Flyers – 5 : Vancouver Canucks – 4 (SO)
Current Record: 20-19-5 (6th in Pacific Division, 10th in Western Conference, 21st in NHL)
Analysis
Ryan Miller's Future Filled With Uncertainty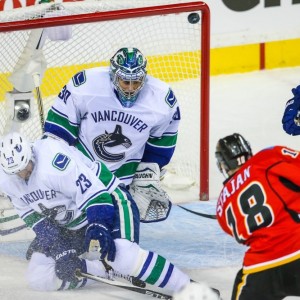 Over the course of the past several weeks, it could be easily argued that goaltender Ryan Miller has been the best of any player on the Canucks. In what has been arguably his best stretch in Vancouver, Miller has allowed more than two goals just once since Christmas, when the Philadelphia Flyers managed four (a contest in which he also made 35 saves). It's a seven game stretch that includes a shutout against the Arizona Coyotes, and a 46 save performance in facing the Calgary Flames.
The recent hot stretch has sparked discussion regarding Miller's future as a member of the Canucks. There are many who believe that his play has only strengthened the argument that he should be used as trade bait, with many debating that his trade value has drastically increased of late. As a result, the consensus is that he could land the Canucks a quality piece at the trade deadline.
On the other hand, there is a segment of the fanbase that believes his play is grounds for a contract extension, with the team perhaps re-signing him at the end of the season (this comes on the heels of Trevor Linden, the team's president, stating that they would consider bringing the 36-year-old back at the end of the season). Of course, there are those that fall in between, deeming him a valuable short-term asset to the roster, but also that letting him go come free agency would be the best course of action.
Whatever the case may be, Miller will be an interesting player to watch on the trade market as deadline season approaches, and one that could hold significant bearing on the future of the Canucks' crease moving forward.
Brandon Sutter Quietly Making a Difference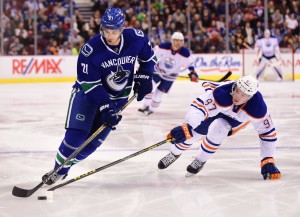 Brandon Sutter has been under scrutiny, perhaps unfairly, since his arrival in Vancouver. Coming over in a controversial trade that sent Nick Bonino, Adam Clendening and a second round pick to the Pittsburgh Penguins, Sutter didn't get the chance to prove his worth in his first year, playing just 20 games of the 2015-16 schedule due to injury.
Over the course of the 2016-17 campaign (essentially his first as a Canuck), he has proved to be an effective player in Vancouver, but has received criticism due to his deployment alongside the Sedin twins, as well as on the top unit power play. While illogical, it's hardly Sutter's fault he has been utilized in this fashion, and if one can look past these coaching mistakes, one will find he's been a big part of Vancouver's (relative) success this season.
Through 44 games, Sutter boasts a solid 23 points, and an even more impressive 12 goals. That goal total ranks second on the team to only Bo Horvat (13), and tied with linemate Markus Granlund and veteran Daniel Sedin. It puts the 27-year-old on pace for 22 goals, a career best for the centre. Additionally, he boasts an exceptional 55.1% faceoff percentage, while averaging just under 20 minutes of time on ice per game.
As evidenced, Sutter has become a go-to forward for Vancouver, and while he hasn't always been used in appropriate situations, that shouldn't take away from the success he has seen. Should he continue to play as he has, the Sutter trade may go down as one general manager Jim Benning can look back upon fondly.
Around the Blog-O-Sphere
Fun links about the Vancouver Canucks from all around the internet.
Jason Botchford on what you can credit for the Canucks' success this year [Vancouver Sun]
Travis Green steering the Utica Comets through a tough season [Sportsnet]
Canucks slowly passing the torch to Bo Horvat [National Post]
A look at former Canuck Mike Duco's inspirational story [The Canuck Way]
Despite improvements, there remain many hurdles for Jake Virtanen and Jordan Subban to scale [The Province]
Daniel Sedin, unknowingly, flew in a helicopter with a former drug smuggler [CTV News]