The Nuck Stops Here is a Vancouver Canucks news and analysis column that runs every Sunday throughout the season. Note: Next Sunday, November 15th, The Nuck Stops Here will not run.
NEWS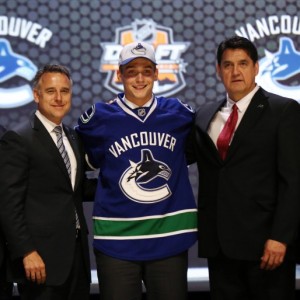 Canucks Re-Assign Three to Utica
The following is a press-release from the organization:
Vancouver, B.C. –Vancouver Canucks General Manager Jim Benning announced today that the club has reassigned defenceman Alex Biega and forward Brendan Gaunce to the AHL Utica Comets. He also confirmed today that goaltender Jacob Markstrom has been assigned to Utica on a conditioning assignment.
Markstrom, 25, is returning from a hamstring injury he sustained on October 6th. Prior to the injury, Markstrom appeared in four preseason games for Vancouver, posting a record of 2-0-0 including one shutout, a 1.01 GAA, and a .962 save percentage. He appeared in three games with the Canucks in 2014.15 and 32 games with the Utica Comets, where he posted a record of 22-7-2, a GAA of 1.88, save percentage of 0.934 and five shutouts. Markstrom backstopped the Comets to the Calder Cup Finals with a 0.925 save percentage and 2.11 GAA through 23 games.
Gaunce, 21, has appeared in two games for Vancouver this season, making his NHL debut on Oct. 29 at Dallas and recording his first career goal on Oct. 30 at Arizona. He has also recorded two points (1-1-2) and six penalty minutes in five games with Utica this season. Gaunce made his professional debut playing with the Comets in 2014.15 where he finished seventh on the team in scoring, collecting 29 points (11-18-29) in 74 games. He also appeared in 21 playoff games for Utica, registering nine points (4-5-9) and 12 penalty minutes.
Biega, 27, has appeared in five games with Utica this season registering an assist (0-1-1) and two penalty minutes. He made his NHL debut in 2014.15, appearing in seven games and notching one goal as a member of the Vancouver Canucks. Last season, Biega registered 19 points (3-16-19) and 24 penalty minutes in 62 games, ranking second in scoring among defencemen on the Utica Comets. Biega also played in 23 playoff games for Utica, collecting four points (0-4-4) and 16 penalty minutes.
Jake Virtanen, Jared McCann to Stay with Canucks
The club announced last Sunday that both Jake Virtanen and Jared McCann would stick with the club past the nine game mark (which signifies a year burned off their entry level contracts).
Virtanen, 19, has one goal and three points through 11 games. McCann, also 19, has a team leading five goals to go with one assist after 12 games played. The announcement was made in dramatic fashion to the youngsters.
In a video meeting this morning, coach Desjardins played bad clips of Virtanen and McCann. A lot of them. Then Horvat stood up and said:

— Vancouver #Canucks (@Canucks) November 1, 2015
"WELCOME TO THE TEAM BOYS!!"

It's official: @Jake_Virtanen & @jaredmccann19 are #Canucks. pic.twitter.com/HGxZFmp5FQ

— Vancouver #Canucks (@Canucks) November 1, 2015
Jacob Markstrom back in game action
Jacob Markstrom returned to game action with the Utica Comets this week, playing two games and posting a 2.40 GAA and a .909 SV%. Look for the 25-year-old Swede to return to the Canucks soon.
Scores of the Week
Vancouver Canucks – 4 : Philadelphia Flyers – 1
Vancouver Canucks – 2 : Pittsburgh Penguins – 3
Buffalo Sabres – 3 : Vancouver Canucks – 2
Current Record: 6-4-4 (16 Points ~ 2nd in Pacific Division, 7th in Western Conference, 13th in NHL)
ANALYSIS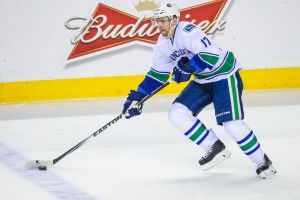 Canucks need Radim Vrbata to get going
After a stunning 2014-15 that saw free agent signing Radim Vrbata pot 31 goals, the Czech forward has gotten off to a rough start in 2015-16. Through 14 games, he has just three goals, a pace that sees his goal total get cut nearly in half. However, it's clearly not due to a lack of effort, as the 34-year-old has 55 shots so far in the campaign, but boasts a shooting percentage of just 5.5 percent, down from 11.6 through all of last season. Much of his struggle could also be attributed to the lack of production from the Sedin twins. Henrik has only nine points in 14 games, while Daniel has a much more respectable (though not particularly stellar) 11. No matter what the case may be, the Canucks better hope Vrbata can get going soon, because it doesn't appear as if anybody else (save maybe Jared McCann) has the ability to be a game-breaking goal scorer. In a league becoming increasingly harder to score in, the Canucks can't afford to have their go-to scorer to go on such a cold-streak, and especially not in a year in which they may be hoping to build his trade value for the deadline. With the likes of the Toronto Maple Leafs and Columbus Blue Jackets coming up for the Canucks, now may be the perfect time for the former All-Star to find his touch once again.
Should the Canucks consider calling up Hunter Shinkaruk?
The trouble in numerous Canucks losses thus far has been their inability to build on leads, and that's been largely due to the lack of a game changing goal scorer. With that in mind, it might be a good idea to considering calling up Hunter Shinkaruk from the Utica Comets to provide a spark of sorts for the Vancouver roster. Through eleven games in the AHL, Shinkaruk has put up a whopping nine goals and 12 points, building off a strong pre-season with the Canucks. The 21-year-old has always had the talent, and now he's putting together consistently at the pro level, and management might want to consider riding his wave of momentum while it lasts. He wouldn't solve all their problems, and it would be in their best interests to not keep him up all season, but the Canucks need a sparkplug, and Shinkaruk might just be the answer.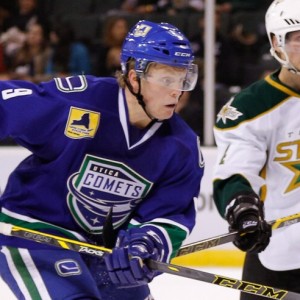 AROUND THE BLOG-O-SPHERE
Fun links about the Vancouver Canucks from all around the internet
Canucks welcome future with Jared McCann, Jake Virtanen [National Post]
Why the Canucks value Ryan Miller's veteran approach [Sportsnet]
Former Canuck Pavel Bure built an experience in Russia before dominating NHL [NHL.com]
Canucks blending youth and goaltending for early success [ESPN]
Canucks made the right call keeping McCann, Virtanen [24 Hours Vancouver]