This semester, I took an Operations Analysis class that was taught by a man who had made a considerable amount of money in consulting. He has saved companies millions upon millions of dollars by telling them what was right in front of them all along. In many cases, he knew very little about the fine details of the business or industry, but that didn't matter. The beauty in his solutions was their simplicity, and adherence to a few core principles and truths.
What Does That Have to do With Hockey?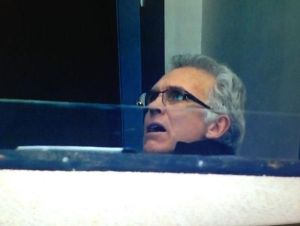 Of all teams in the NHL, I probably know the least about the Edmonton Oilers. They play their games in a time zone 2 hours from me, and I avoid their players in fantasy hockey at all costs. I know they're going to be bad, so I feel no need to watch any of their games. It's been eight seasons since they've made the playoffs, and it's going to be nine once this season is over.
In that time span, they've had five coaches and three general managers. 130 skaters and 13 goalies have played a regular season game in these 8+ years. For a comparison, just 88 players have skated for the Detroit Red Wings in that span. And none of that turnover matters.
It doesn't matter what lines are used or what players GM Craig MacTavish acquires, the Edmonton Oilers will not win. They won't win because, like the companies that my professor helped, they fail to adhere to a few universal truths of good hockey teams. And until that changes, nothing will change in Edmonton.
What do The Edmonton Oilers Have to Change?
Two events occurred on Friday night that demonstrate exactly what is wrong in Edmonton. After giving up two goals in the first minute of the second period to the Ducks, Viktor Fasth was pulled in favor of Ben Scrivens. When he arrived at the bench, he laid into his teammates.
http://youtu.be/nLSEA0fbexA
Knowing Viktor Fasth a little bit, he's very professional in his approach. Seeing him challenge his Oil teammates looked refreshing.

— Eric Stephens (@icemancometh) December 13, 2014
It apparently takes a lot to get Viktor Fasth fired up, but the pathetic effort from his teammates was enough to do it. Dallas Eakins tried to spin it in a positive direction, but the look in Fasth's face tells a very different story.
https://twitter.com/Robin_Brownlee/status/543641187010088960
The Oilers are not playing as a team. You cannot expect to play as a group of talented individuals and have success in the NHL. Playing as team is the first principle that the Oilers are violating. Fasth clearly cares, but can you definitively say that about many of the other Oilers players?
The second event further reinforces that point, and drives home another one. With Scrivens now in net, he came out of his crease to make a routine play with the puck. This is what happened.
Getzlaf trucks Scrivens, and none of the Oilers so much as look at him. Another universal principle of hockey is that you protect your goalie. Someone hits him or hacks at him, you go after them. A few years ago, Milan Lucic did something similar to Ryan Miller, and the Sabres did nothing. We all know how successful the Sabres have been in recent years.
Multiple Oilers players should have been all over Getzlaf when that happened. It doesn't matter that there was a delayed call on Getzlaf and that it might have negated an Oilers power play. Protecting your goalie and having your teammate's back is infinitely more important than a power play.
Instead of playing with passion and unity, the Edmonton Oilers play for the name on their back and not the crest on the front. They can continue to populate their roster with lottery picks for years, but the results won't improve unless the Oilers players hold each other accountable, and start playing like a team. I don't need to watch the games or know every prospect they have to see that truth.
Bill Schoeninger is a Philadelphia Flyers writer and current Boston University student studying business. Coming to THW from Hometown Hockey, Bill follows and writes about the Flyers, Boston University Terriers, and NHL Draft prospects. Follow him on twitter @BSchoeninger17