After winning four in a row, the Leafs now have a record 17-9-3 and sit four points back of the Lightning for first in the Atlantic, with two games in hand.
The Leafs, who, as the title says, are 8-1-1 in their last ten games, are on quite a remarkable run. Whether or not a record close to what they have is sustainable is besides the point – the team is doing well and in the midst of what has to be one of the worst decades in franchise history, we have to take what we can get and enjoy it while we can.
Now, as I said in my last post, the Leafs really ought to be pursuing Keith Yandle – one of the NHL's best possession players over the lasts several years – in order to help their close to league worst possession game. However, you really have to give credit to what is happening now, regardless of what should or might happen in the future.  To that end, here are 3 things I really like about the Leafs lately.
1. They are winning.
As I wrote here there are a lot of reasons to think this won't last – luck with injuries so far, lack of top line C and D, a ridiculous winning percentage when being out shot etc. etc. etc – but who cares if it does or not? When you get right down to it, there will always be things to complain about and ways for the team to disappoint you and if you like the Leafs, this goes ten times more than it does for fans of any other team.
The fact is, the Leafs are not built to be serious cup contenders at this junction, and I think it's best to just roll with it and enjoy the ride for as long as it lasts.  It won't always be pretty, and it almost certainly won't end well, but we might as well enjoy it while it's happening.
Last night's game was a blast to watch. The Red Wings are one of the East's best teams and the Leafs have now beat them three times in a row and taken points from them in four of five games this year.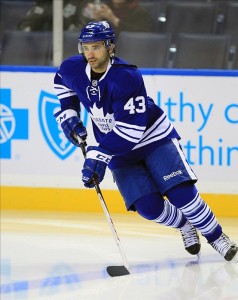 Nazem Kadri
Kadri skated 19:26 last night, for once skating more than Bozak. I have written many times that in this season in which the Leafs chances of competing for the Stanley Cup hovers around zero percent, that they ought to be giving the majority of ice time to Kadri and not Bozak.
But, based on his recent play, I am not too proud to say Randy Carlyle might know a little bit more about player development than I do. He deployed Kadri as he saw fit, and Kadri is now starting to come into his own, in my opinion. The points will come for Kadri when he finally gets to play with Kessel or JVR every night, but  despite having just 18  points in 28 games, I think he just looks like a better player than he ever has at this time.
In fact, I would say that Kadri's ascension to all-round useful player (coupled with Holland's) makes Bozak expendable and that the Leafs should capitalize on Bozak's recent great play and sell-high on him.
What I truly hope though is that this recent run, which I attribute a lot it to luck (which doesn't make it less enjoyable) and a lot to Nazem Kadri, puts an end to the almost constant rumours surrounding the best player the Leafs have developed internally in a long, long time.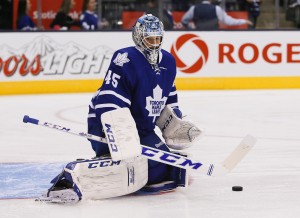 They Are Managing Their Goalies Sensibly 
One thing I was really critical about last year and earlier this season was the way the Leafs deployed their goalies.  You know, I like Reimer, I cheer for him, but it's just crazy to think that he's even close to being on Bernier's level.  And so, when the Leafs continued to toy with the idea that they had "two number ones" or a "1A and 1B"  I would get a little annoyed.
Mostly I would get annoyed because I think having a constant (possibly made-up by the media) goalie controversy is detrimental to the team. But it would also annoy me because Bernier is a pending free agent and if I am a team thinking about singing him long-term to the $6 million plus deal he is going to ask for, then I need to play him 65 or so games so I know whether or not to make that commitment. With Reimer around it seemed as if the Leafs were never going to know this.
Also, I don't like the salary they pay Reimer. For a team with the cap problems the Leafs have, paying a back-up goalie anything more than the league minimum seems like bad management.
Now, obviously point number three has yet to be taken care of, but by playing Bernier in nine of the last ten games, the Leafs are well on their way to learning whether or not they should pay Bernier the big-bucks and the team has stabilized and at least one distraction is on the back-burner.  Playing Bernier the proper amount is nothing short of the best move Carlyle has made since he's been here.
Overall, the team is rocketing up the standings and it's so easy to fall in love with players like Winnik and Komarov that you can't help but like this team. So, whether or not they can maintain it, my advice is just try to enjoy while it lasts, kind of like a Swiss Chalet Holiday Feast.
Covering the Leafs for the Hockey Writers.