Still Jumbo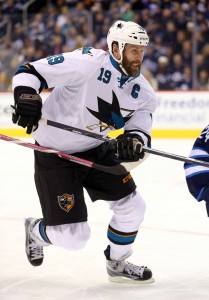 It was suggested here by my colleague a couple of days ago that Thornton was declining because he was "only" on pace for 65 points. Over the last few years Thornton has finished between 70-80 points. Sixty-five isn't that far off, and if it matters, two games later he is back on pace for 72 points. Point totals come and go however, and often times a player can be an awesome facilitator and come up without points. Sometimes the best pass of a goal scoring sequence would be the tertiary assist. Those don't get counted on the score-sheet, but the easiest of secondary assists always get counted.
Thornton, as he does every year, is leading the Sharks in assists even while not getting his usual power-play totals. He is still the driving force on San Jose's top unit, a lethal fivesome that is absolutely shredding opponents to the tune of a 24% success rate, tied for third in the NHL. Only seven of his 20 assists have come on the man advantage. In numerous years past his power-play assists counted for around half of his overall total (2013, 2010-11). Currently his 28 points in 32 games leads the Sharks, and yes, if he were luckier, he would have a couple extra power-play points.
When it comes to five-on-five play, Thornton is both second on the Sharks with a 58.3 corsi-for percentage, and 57.3% fenwick-for percentage. He has a slightly unlucky PDO at 99.4 which perhaps partially explains a tad low 51.5% goals for percentage, but still over 50, and when you add in the power-play facilitation, still a huge positive contributor. Thornton is also averaging nearly two shots on goal per game, which is about 40 more shots over 82 games than his total from last season. His current line with Tomas Hertl and Joe Pavelski absolutely crushed a good Nashville Predators team last night. The trio combined for 12 shots that hit the net, hit a post, and were generally swarming the offensive zone every single shift. The lone actual goal of the night from Hertl came after a Pavelski shot off the post, one rebound from Hertl stopped and then a second that hit the back of the net. Thornton and Pavelski were each 67% in the face-off circle as well.
Defense, Defense, Defense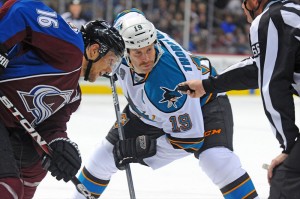 While Patrick Marleau and Logan Couture do play some tough defensive minutes, that doesn't mean Thornton gets easy minutes. Far from it in fact. Thornton gets used much more often defensively than people realize. His 37% defensive zone starts this season trump Marleau and Couture, who start just 29% of their shifts in the defensive zone. Head coach Todd McLellan uses Thornton's face-off prowess and 6'4" 225 pound frame to finish off games this year as Couture has struggled in the circle. Thornton is his usual ridiculously dominant self in the circle this year at 56.4% percent, ninth best in the league. Couture and Marleau are both under 50% this season, and even at their best are in the low 50s. While Couture and Marleau drew the Claude Giroux line against the Flyers, Thornton often draws the Ryan Getzlaf, Corey Perry line against the Ducks. The shutdown duties are often split between the top lines. San Jose is still Thornton's team, he drives the offense night in night out just using the eye test the last two games against the Predators and Wild. Thornton earned assists on both game-winning goals, and drove the Sharks to dominant offensive zone time against two of the top teams in the NHL's strongest division. Thornton is without a doubt the Sharks most valuable forward, perhaps most valuable of all the positions on the ice, he is that good.
Losing Thornton would be a catastrophic blow to this team at his current ability, that is why the organization has gotten thoroughly mocked for any intentions of trying to trade him. He is still one of the few dominant centers in the Western Conference, up there with the likes of Jonathan Toews and Anze Kopitar. In fact, Thornton is currently 10th out of all NHL forwards in corsi while Toews and Kopitar are 25th and 27th. Thornton's 28 points are five more than Toews' 23 , and more than double Kopitar's 13. "Jumbo"  just passed the late great Jean Beliveau in career assists, and is now 39th all time in career points in the NHL. While the words haven't come out of GM Doug Wilson's mouth, it was widely reported this offseason that the Sharks wanted to get rid of Thornton. Why exactly?  The Kings would love the Sharks to get rid of Thornton, that makes their run through the playoffs significantly easier. Is that what the Sharks want to do?
Andrew has been credentialed to cover the Sharks since 2010 and the 49ers since 2012. He graduated with his BA in Broadcast Electronic Communication Arts in 2013 from San Francisco State University.