No Longer Jumbo?
It happens to everyone at some point in their career. Typically around age 30 NHL players begin to decline offensively according to statistics. Joe Thornton is currently on pace for his first under 70 point season in over a decade. Excluding the lockout shortened season in 2013, Joe Thornton has consistently been posting over 70 points since the 2002 season. Thornton is 35 years old and has numerous NHL seasons ahead of him but who knows how much longer he will be able to produce at his previous rates. Soon the Sharks will need to start looking to see if there are better options for a top line center, preferably in their own organization.
In spite of this fact, Thornton is not a part of the Sharks struggles this season, players age and over time they are not able to contribute as much as they once did. Still, because he has played such an integral role on the Sharks roster since he was acquired in 2006 this situation cannot be ignored. At some point Thornton will not be able to be the top line center and it may happen sooner rather than later. While Logan Couture has centered the second line over the past few seasons Joe Pavelski has been regulated to playing wing. While moving Joe Pavelski to the third line may help balance the Sharks roster it will not help their scoring problems on the top line. Right now the Sharks top line is on pace to produce 59 fewer points than last season.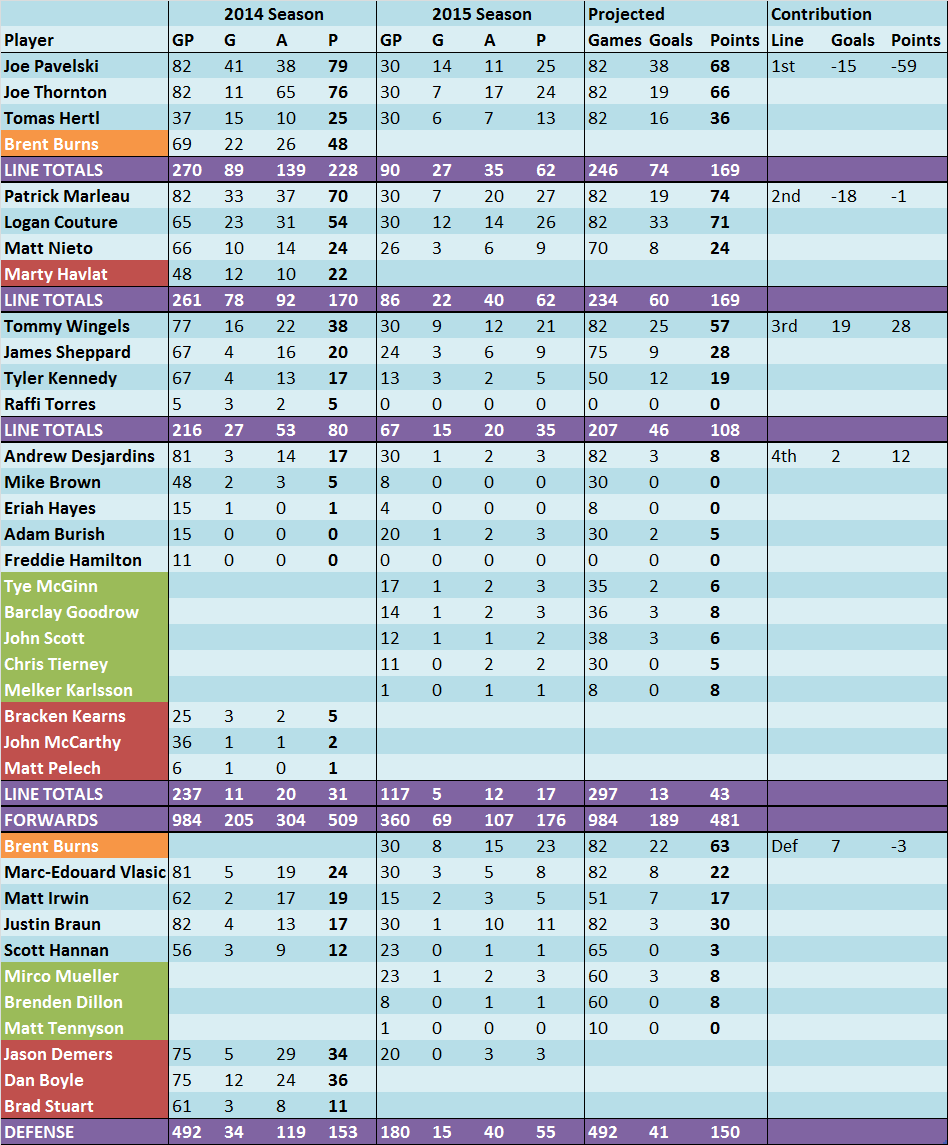 1st Line Trouble
Here are the biggest takeaways from this chart. First of all if you were to flip-flop Tommy Wingels and Matt Nieto then both the second and third lines will be on pace for improvements offensively. Taking into account the constant revolving door of bottom six players the overall offense from lines two, three and four has not dropped from last season. From Logan Couture down to John Scott the San Jose Sharks bottom nine are contributing just as well if not better than last season which helps makes up for the departure of Marty Havlat.
What has changed is the Sharks top line dominance. Tomas Hertl is not scoring at the pace he was last season but he is still young and has a bright future ahead of him. As so many people have pointed out before the season, Joe Pavelski is likely to have a down year compared to his career season. So far this is holding true but coupled with Pavelski's slight relapse is Thornton's own decline. Of course last season the Sharks had Brent Burns on Thornton's wing but it was Pavelski who provided more offense than Hertl and Burns combined. Moving Burns back up front could theoretically help spark Thornton but nothing will stop him from aging.
At the same time the Sharks defense is miraculously putting up decent offensive numbers. Unfortunately this offense is almost entirely dependent on Brent Burns. Not only is Dan Boyle and Brad Stuart gone but so is Jason Demers. Combined those three put up 81 points from the blue line. It doesn't appear as if much of it is being replaced outside of Brent Burns. On top of that it is doubtful that Burns will continue to produce offensively at this pace. Right now the Sharks top line is extremely dependant on Joe Pavelski and the blue line is extremely dependent on Brent Burns. You are kidding yourself if you think moving Brent Burns to forward and dropping Pavelski to the third line will dramatically increase the Sharks offense.
Trade Options
This brings up the idea of trading for another defenseman or top six winger. While these options are certainly do-able they come at a cost. The only Shark currently on the roster without a No-Trade-Clause who makes over $3 million dollars per year is Antti Niemi. Also, certain players have been ruled "untouchable" by Doug Wilson like Mirco Mueller, Matt Nieto, Tomas Hertl, Barclay Goodrow and Nikolay Goldobin. So at this time the Sharks most valuable trade assets other than draft picks are Tommy Wingels, Justin Braun, Tyler Kennedy and James Sheppard. The Sharks are not going to acquire a top four defenseman for Mike Brown and a bag of pucks they will have to give up equal value something that many people forget.
Concurrently, Doug Wilson has stated that the Sharks are in a rebuild so it is doubtful that high draft picks or prospects are going to be in play, meaning the Sharks are much more likely to trade players. With this in mind San Jose can forget about trying to acquire someone like Jeff Petry unless they are willing to give up someone like Tommy Wingels. A trade for a top six forward is cheaper in today's NHL but it may also require something that the Sharks don't want to give up.
Risk vs Reward
The last time the Sharks experimented with their roster it involved moving Brent Burns to forward. It alleviated there offensive woes and because they still had a respectable blue line the risk was low. At this time doing the exact same move would have a tremendous risk with little reward. The Sharks cannot move Burns back to forward until they acquire someone on defense to replace him. On top of that the Sharks will still need offense coming from the blue line making a replacement even harder to find and more expensive. It makes the Jason Demers trade look worse and worse due to his ability to produce offense. On top of that the Sharks would need a player to quarterback the power play again. The Sharks have never used five forwards on the power play and it is ludicrous to think they would start doing it now.
A trade for a top four puck moving offensive defenseman could help mend the Sharks woes but it will cost the Sharks. Of course attempting to  trade a player with high value that is about to decline would be a win win. While Joe Thornton is instrumental for the Sharks top line trading him now would yield no higher value. It would be a major risk but it would allow for the Sharks to acquire the players they need while also sticking to true to this "rebuild." In the end I don't see the Sharks making a move internally or externally that will yield major results. Moving Burns and Pavelski would be like digging a hole in the ground and using the dirt to fill up another hole right next to it.
When all said is done, no team stays good forever and rebuilds are not done overnight. Tomas Hertl, Matt Nieto, Mirco Mueller and many other players all could be the driving factors in a Stanley Cup run but it isn't going to happen now. They still need time to develop and gain experience. For now the Sharks have to tough things out and just make sure not to make any roster moves that could slow down the process.
Andrew graduated from the University of Nevada with a Bachelors Degree in Community Health Sciences. Growing up in Nevada, he played soccer up through college but his passion has always been hockey.