It's been anything but sunshine and rainbows for Vincent Lecavalier. The 34-year old signed a 5-year, $22.5M contract in 2013 and has now been benched for the last five games – his last game was due to injury. It's not what he, nor the Flyers, had hoped for, but that's the way it has played out.
He's been tested on every line and still there has been no consistent scoring or strong play from the once talented franchise center. What's worse is his contract puts a stranglehold on what GM Ron Hextall can do in regards to making his team better and more competitive.
Bob McKenzie was on TSN 1050 earlier in the month. He spoke about Lecavalier's contract and the possibilities of trading it:
"Right now, no. The contract is virtually untradeable. Unless there's a team that would say, 'Okay, we will take his contract, but you have to give us something to take it on.'

So some of the teams that… basically, you've got cap room. You've got money. And you want draft picks. You want young players. So they're going to say to the Philadelphia Flyers, 'Yeah, sure. Give us Vinny Lecavalier. Give us a second round pick. We'll give you a fifth round pick. And we'll just bury him here.'

But it's really clear that as long as Craig Berube is the coach, Vinny Lecavalier is not moving up in that lineup."
And that puts Ron Hextall between a rock and a hard place. Especially since it directly contradicts everything Hextall believes in regarding promoting young talent and not trading high draft picks.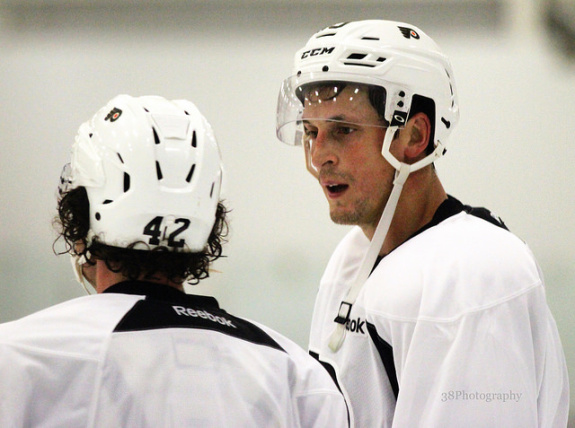 During his first press conference as general manager Hextall harped on his plans of making the Flyers better with draft picks:
"You build from drafting well…certainly I think the Flyers have drafted extremely well.  You look at a lot of the players in the lineup and around the league, they're first-round picks from the Flyers.  But it's… I don't know if you want to call it an easier model or not, but when you're real, real bad and you draft high, it's a little bit easier to build a top team.  I think it's what everybody admires about the Flyers, that they're always trying to get better, and we're going to continue to do that.  In saying that, I like young players, and I like draft picks.  My vision is to build this team and continue to make this team better through the draft."
Vinny doesn't fit into Craig Berube's lineup, hence his four healthy scratches. With Lecavalier's contract, the Flyers are limited in what they can do – the word "limited" is a vast understatement. The team can barely scrape enough money together to call up players from the Phantoms. Furthermore, his NMC clause gives him full reign in whatever he chooses to do. Vinny can nix a trade if he doesn't like the team he will end up going to and he can refuse to be placed on waivers. The only other option the Flyers have is benching him, which they've decided to do. Is the risk of trading a 2nd round pick with Vinny worth the reward?
From a financial standpoint…maybe. Other than waiting years for a prospect to develop, teams can use their extra cap space to fill voids in the lineup via free agency. The Flyers are in desperate need of a #1 defenseman and a 1st line LW. The upcoming free agent class isn't spectacular by any stretch. The marquee names on the list are Mike Green, Martin St. Louis, Jaromir Jagr, Marc Staal, Paul Martin, and Lubomir Visnovsky. It's not the cream of the crop and although they'd benefit the Flyers in the short-term, it wouldn't do much over the long-term. 2016 is exponentially more favorable.
If the Ron Hextall were to trade a 2nd round pick with Lecavalier, perhaps a 2016 2nd rounder is a viable option since they do not have a 2015 first. The risk is diminished slightly since the draft is two years away, but GMs in the NHL are sharks who will do whatever they can to benefit their team. They might ask for a 3rd round pick in 2015 since it is more immediate and the draft is top notch.
It might be wise to hold onto his contract until after free agency and rehash discussions with teams to move him in the offseason and not mortgage the immediate future of the Flyers' prospect pool.
The Flyers can continue to sit Lecavalier if they want, but it doesn't help him, his value, or the Flyers' salary cap situation. The position Hextall is in regarding Vinny Lecavalier's contract is not something anyone should envy.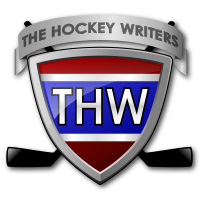 The archives of THW contain over 40,000 posts on all things hockey. We aim to share with you some of the gems we've published over the years.