Last November when the Leafs had an injured Bozak, an injured Bolland and a suspended Kadri, they were left short at centre due to the extremely poor decision to trade Joe Colborne to Calgary for a fourth round pick. In response to this, they ended up trading (an eventual) second round pick to the Ducks along with defenseman Jessie Blacker in exchange for Peter Holland and Brad Staubitz (no longer with the organization).
Holland was a 15th overall selection of the Ducks back in 2009. He is a 6'2″ 185 lbs left-shooting centre who can also play the wing. During limited action last season, in 39 games he put up 5 goals and 5 assists. This season he seemed to be an after-thought for most after the Leafs acquired Santorelli, Komarov, Winnik, Frattin, Booth and Kontiolla and then received strong training camps from Kozun and Leivo.
Despite not being heralded very much in the media, Holland made the team out of camp and started on the fourth line. During the season's first game – against the Canadiens – he played only 11 minutes, among the  lowest on the team. One of the reasons he did make the team – other than being highly talented – is that he can kill penalties, and despite not getting much of a regular shift in the first game, he logged over a minute of PK time, which is admittedly not a lot for anyone except a guy who hardly plays otherwise.
Despite not playing with quality line-mates nor getting enough ice time to make a difference, it is an established fact that coach Randy Carlyle doesn't like to play his fourth line much and by the time the third game of the season rolled around, Holland found himself glued to the bench, playing just over 5 minutes one game, 4 minutes the next. Perhaps due to the Kozun injury, Holland skated almost 12 minutes in back-to-back games against the Red Wings and Islanders during a weekend stretch in mid-October, where, probably not coincidental, he scored his first assist of the season.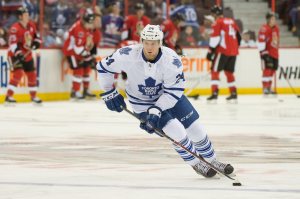 Holland finished out October skating roughly ten minutes per night on the fourth line and skating around one minute per game on the PK. Considering his talent, level of play in limited ice time and the fact the team's non-Kessel line players were and are not exactly tearing it up, this is just – to my mind – an example of poor player management. I mean, all we ever seem to talk about his how this team needs a #1 centre and here we have a speedy, offensively talented, large-bodied centre who we don't even know how good he can be because he never gets good minutes. Seems dumb.
So, entering November, someone seems to have clued Carlyle into this line of thinking and one night against Chicago, Holland played 16+ minutes and scored his first goal of the season. He was rewarded the next game with 15 minutes and some PP time. He again played well and the following game he was nearly at 20 minutes, which is pretty incredible when you consider he only had one minute of PK time during that game.
The following three games the team was rewarded for sticking with  Holland when he scored a goal three games in a row, including a pair of multi-point performances. In fact, since those games, it wasn't until this past Saturday against Washington where Holland has skated less than 16 minutes. For whatever reason, Holland only skated just over 12 minutes Saturday. Despite that, he put together a decent November, averaging around 6 minutes more per game, and putting up 5 goals and 7 points in 13 games. Not bad when you consider that he has been moved to wing some nights, but other wise rarely skates with any of the teams better players.
Overall, when you analyze Holland's play, I think it's safe to say the Leafs could be deploying him better. He averages 13 minutes per game (though he barely played in October) and that is less than Clarkson, Winnik, Komarov and nearly the same as Santorelli. He averages just over one minute of power-play time per game as well. All of which is ridiculous, actually, because those are veteran players that the Leafs are fully aware of what they provide. Holland on the other hand, may have several more levels of play he can hit and has one of the highest potential ceilings on the team and in the organization. There simply is no way to know what they have in him if he doesn't play more.
A couple more points:
– His points per sixty-minutes are similar to Bozak's, despite playing with far worse players.
– He seems to me – and this is not scientific – to be more offensively talented than Bozak and less than so than Kadri
– His defense is probably the best of the centres the Leafs currently employ.
When you factor everything in, I am of the opinion that the Leafs need to play Holland more so they can learn just what exactly he is at the NHL level. My guess is an above average second line player.  The Leafs must find a way to get him better minutes, not just for his development, but also because they are in a salary cap bind and Holland makes close to the league minimum. If he can reproduce what Bozak does at a fraction of the cost, there isn't really even an argument to be made for keeping Bozak and his close to $5 million dollar contract.
On top of which, playing Holland more might just make them a better team. I am close to certain that it would.
Covering the Leafs for the Hockey Writers.