A few weeks ago, I put together a list of my 10 favorite NHL sweaters. Those are the best of the best but what about the worst of the worst? It's time for the NHL's Ugly Sweater Party. It is after all the first of December.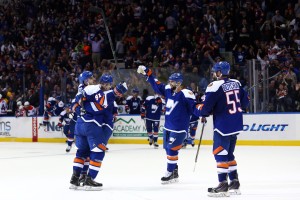 New York Islanders' Alternates
While I really like the Flyers' orange jerseys, most sweaters with a different color name plate than the main background color just don't do it for me. The current Islanders third jersey has a weird font for the numbers and just an awkward looking name plate contrast. The Flyers have black writing on a white name plate with an orange background allowing a crisp contrast. However the Islanders blue letters get lost on a white name plate with a blue background, not a good contrast.
Minnesota Wild's Whites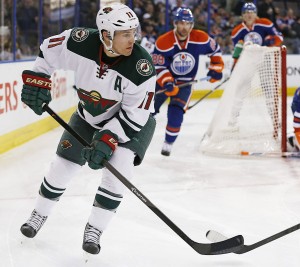 Some out there gave me grief for putting the Wild's red jersey in my favorites list. While it is still the same basic group of colors, I can't stand the Wild whites. The red numbers with green letters, it just looks way too much like Christmas for me. You want to talk about an ugly sweater party, just wear one of these.
San Jose Sharks' Teal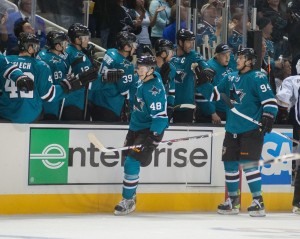 Where I'm going to get a lot of grief from my loyal readers, is this one. Primarily I cover the Sharks here at The Hockey Writers, and historically I love the Sharks teal jerseys. Unlike most, I have typically loved both the teal and the alternate black no matter the era. However, personally I find the current teal to look boring, nothing interesting, little contrast, they look like practice jerseys to me.
Nashville Predators' Yellow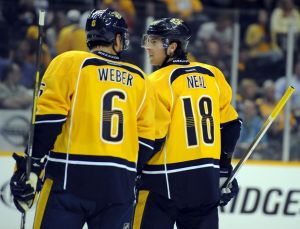 Anybody need a highlighter? I think that is all I have to say here. Although they are better than that old off-yellow, whatever that color was that they used to wear, I still think these are atrocious.
Dallas Stars' Green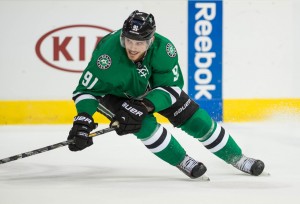 For some reason a lot of people seem to love the Stars' new jerseys. The bright green just doesn't do it for me. I know many fans grew up with this type of color with the North Stars, but growing up my image of Mike Modano is the North Stars black jerseys he wears in his Mighty Ducks cameo with Emilio Estevez.
Edmonton Oilers' Blue & Orange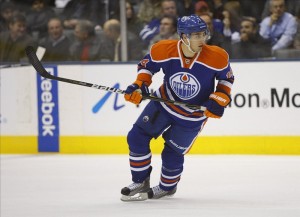 Who do they think they are? The 1980's Denver Broncos? Yuck.
Pittsburgh Penguins' Baby Blue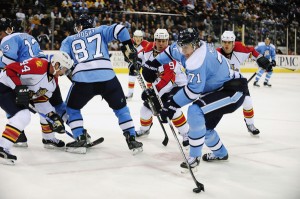 I don't know what it is, but it bothers me like no other when teams throw in alternate uniforms with zero resemblance whatsoever to their main jerseys and main color scheme. Not quite sure how long ago they last wore these or if they are primarily their outdoor game jerseys or what have you, but personally I'm not a fan. They look like giant babies out there.
Anaheim Ducks' Whites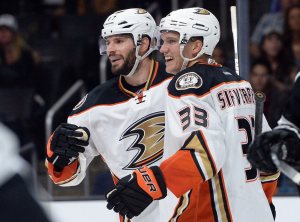 Is that brown? Or black? That really looks like brown, and unless your team name is the Browns, that is a terrible color choice for a jersey. These are awfully reminiscent of the Minnesota Wild whites, but at least red and green are good colors by themselves. I'd rather wear an ugly Christmas themed jersey than a jersey that looks like it belongs in the toilet.
Calgary Flames' Reds
Not sure what it is but the black logo with orange border on a bright red background doesn't do it for me. I'm a big fan of the logo itself, but I much prefer Calgary's whites.
Buffalo Sabres' Blue & Yellow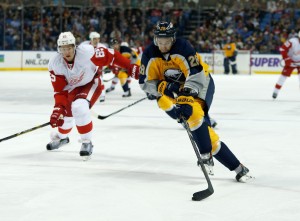 A lot of you may have major qualms with some of my choices for ugly sweaters but I think we can all agree that this new Sabres jersey is by far the worst in the entire league. Is it mainly yellow? Is it mainly blue? Whatever it is, it is an ugly one.
Have a problem with my list of ugly sweaters? Let me know in the comments below which ones you feel I've done wrong. Or which ugly ones I forgot about!
Andrew has been credentialed to cover the Sharks since 2010 and the 49ers since 2012. He graduated with his BA in Broadcast Electronic Communication Arts in 2013 from San Francisco State University.