There are a lot of things one could criticize the Leafs for – coaching, roster management, salary cap, possession,UFA signings etc. – but to me, the most egregious is the fact that since they have acquired Phaneuf, they have never had a player to pair him with who is a legitimate NHL top-pairing defenseman.
This has lead to Phaneuf being over-worked and mis-employed and has lead to his current reputation among fans – which is unwarranted and frankly, embarrassing for a fan-base that considers itself the NHL's best and most knowledgeable. Phaneuf is a great player, but considering he has been saddled with a host of second-rate partners, not to mention bad teams, during his time in Toronto, I think he is much better player than the majority of fans give him credit for being.
That being said, I do appreciate the emergence of Cody Franson, but I do not think that he and Phaneuf combine to create a top-pairing worthy of a competitive team.
Enter Keith Yandle:
While the Leafs are in a cap crunch, Keith Yandle, who is available, makes only $5 million against the cap for this year and next year, so any trade the Leafs made for him – if it included either Bozak or Lupul, two players Toronto should actively be trying to move – would be a wash, cap-wise.
Yandle is a player that is much, much better than people give him credit for. His reputation is that of a high-risk offensive defenseman who is poor defensively.  While Yandle is a magician with the puck, his reputation as being "bad defensively" is simply a function of confirmation bias and the inability of people to be objective in what they remember. (This is not an insult, it is a problem for every single human and the reason eye-witness testimony is often unreliable).
Defenseman like Yandle (and Gardiner) are often under-appreciated because people remember when their failure to box-out properly, pinch at the right time, or their penchant to occasionally look lost without the puck leads to a goal by the opposition. While these things do happen,  people remember these errors every single time and they don't often notice (or at least remember) the subtle plays these players make that lead constantly to less time in the defensive zone and thus more offense.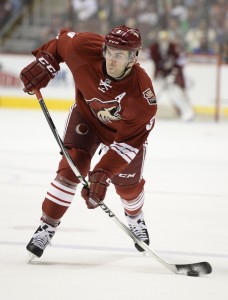 For example, Yandle is a great passer and he makes one of the best first-passes in the NHL and is thus excellent at moving the puck up the ice. While not as memorable as a glaring error, when they happen enough (which in Yandle's case they invariably do, and in Gardiner's they will eventually, should he live up to his potential) these subtle  plays lead to more offensive chances for than they do against.  So sure, you will see Yandle screw up sometimes, but you must remember that over time, he is a positive force for whatever team he plays for.
This can be seen and demonstrated through advanced stats like Corsi. Yandle  is a shot producing beast. He is second among defensemen in individual Corsi for this season, second last season,  first in 2012-13 and second in 2011-12. And that is just 5v5. On the Power-Play no one doubts he is one of the best. (From Stats.HockeyAnalysis.com).
I know these advanced stats can drive some people crazy, but it's pretty undeniable that for a four year period Yandle was the best defensemen in the NHL at driving possession. Whether his team was good or bad (and over that time, the Coyotes have been both) Yandle was among lead leaders at producing offense despite playing for a severely offensive-challenged team.  This should put to bed any notions of him being bad in his own zone, because it simply does not matter if he is or not – over time his team will get more scoring chances for than against when he's on the ice.
For an even better look at what Yandle truly does, check out this chart from the same guys at Stats.HockeyAnalysis.com What it shows is that for a 7 year period, Yandle made virtually every player he played with better when he was on the ice.  Frankly, it's incredible and if he didn't play in Phoenix, he'd be one of the biggest superstars in the NHL.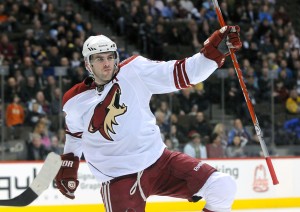 So, This is What I Am Saying:
-The Leafs are among the worst possession teams in the NHL, which means that if this keeps up, they almost certainly won't make the Playoffs, wasting yet another year of Phil Kessel's prime.
-The Leafs are so terrible, in part, because they lack a truly elite top-pairing.
-Keith Yandle is available.
-The Leafs should move heaven and earth to acquire him.
You might ask yourself why a team with Phaneuf, Franson, Gardiner and Rielly should be chasing another offensive defenseman. The answer is that that is the only type of defensemen you should employ because the more you have the puck, the more you win. If the Leafs can dress Yandle-Phaneuf for 25 + and then follow it up with Franson – Gardiner for another 20 and give Rielly-Percy some nicely sheltered minutes in which to develop, they will quickly go from the pretender they are right now to being a legitimate contender.
The Leafs need Keith Yandle. They've desperately needed a player like him for years, and even if it costs them William Nylander, it will be worth it.
Covering the Leafs for the Hockey Writers.