It's becoming abundantly clear that any of Ben Scrivens, Viktor Fasth and Richard Bachman aren't cutting the mustard in Edmonton. Goaltending has long been in an issue in this market. The Oilers just can't seem to find a viable netminder, one of the most crucial and important positions in the game. Granted, the defence that the Oilers trot out on a game to game basis could probably make Patrick Roy or Dominik Hasek look ordinary, but none-the-less, there's still a problem.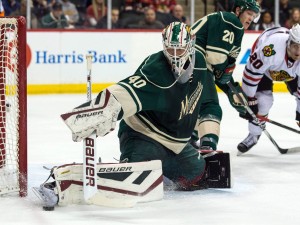 "We Gave Away Devan Dubnyk!"
I am thrilled to see the success that Devan Dubnyk is having in Minnesota. A guy whos' career looked dead just a few months ago is now playing his way into the Hart trophy conversation. (No, he isn't going to win). The old cliche about a change of scenery couldn't be more true in the case of Dubnyk. But make no mistake, Oilers fans. He wouldn't be playing this way if he were still in Edmonton. Too many nights of getting hung out to dry, too much of his confidence thrown out the window, too much inconsistency to gain the trust of anyone in the organization.
It doesn't matter how good he's been with the Wild. His tenure with the Oilers needed to end. He had to go somewhere else to find his game again. Now, having said that, I really don't think anyone predicted he would find so good of a game, but here we are. He bounced around a bit before landing in Minnesota, and maybe the realization that he could be on the outside looking in if he didn't play better sparked something. Maybe it was the goalie coach in Arizona. Maybe it was just a few tweaks to his positioning. Or maybe the Wild just have a better defensive structure. Could be any or all of those things.
Will Dubnyk's incredible run last? Based on his history, it feels as though this is an anomaly and not the norm. But, for his sake, I really hope he can continue this play. He's a great story, and it's fun to watch. The Wild were dead in the water until he came to town. If they make the playoffs, that's just incredible stuff. Obviously, some Oilers fans wish he could have been their hero. They lament why he couldn't play like this in Edmonton. But like I said, he wouldn't have played this way in Edmonton. He needed to move on. Both sides did.
Are There Any Other Options Out There?
You look at the Oilers record, you look at how they're playing, and it's easy to say "get a new goalie". But the reality is, who are they going to get? Elite goaltenders don't just become available, and if they do, they maybe aren't as elite as people think. But then you look at a guy like Jaroslav Halak, who was expendable to both the Canadiens and the Blues, and now he's leading the Islanders to challenge for a division title. Yes, it's possible to get a real gem in a trade, but it's the exception, not the rule.
In terms of free agent goalies, it is really slim pickings. Antii Niemi is the only household name out there. Yes, he's a Stanley Cup champion, but he has regressed since that championship. Karri Ramo, Jonas Enroth and Michael Neuvirth could also be had in the offseason, but are any of those guys really upgrades? In terms of free agency, I don't see how anyone is decidedly better than what the Oilers have now. That doesn't mean they don't take a shot at one of these guys on a short term deal. It could certainly pay off.
In terms of trades, are there any goalies they could deal for? A guy who's name has bounced around is Jonathan Bernier of the Toronto Maple Leafs. The Leafs are another example of a team that makes goalies look bad. Bernier has had his brilliant moments, but he's also had tough times. He would likely be an expensive trade target, and the Oilers don't have a ton of move-able assets at this point.
I'd take a look at Ottawa as well, since the emergence of Andrew Hammond is creating a log-jam in the crease. What if Robin Lehner became available in the offseason? Is he better than what the Oilers have now? And what about if a team like Carolina wants to shake things up and move Cam Ward? Maybe Boston would unload Malcolm Subban for the right price. All these things are speculation, but here's the problem. If you're going to trade for a goalie, you have to give something up, and many of the guys I mentioned aren't really battle-tested.
It's a risk anyway you slice it, and there may not be any real payoff. It's a difficult situation for the Oilers right now, especially since they have so many other problems to address. If they do make a trade or sign a free agent, is that guy going to be the savior, or will the Oilers defence claim yet another goaltending victim? Stay tuned.
Marcy, a former hockey player, is a hockey correspondent on CTV News and TSN radio. She began her career as a Sports Journalist in 2009 and has been part of The Hockey Writers since 2010, where she is currently a senior writer and editor.