Once the stable partner of future Hall of Fame member Zdeno Chara, Dennis Seidenberg was one of the most stable defenders in the league. His reputation as one of the best defensive blue-liners was virtually undisputed, until the last campaign. Plagued by defensive deficiencies, Tuukka Rask earned every penny of his paycheck due to an overload of shots on net.
The Past
Yes, there was a time when Seidenberg made life difficult for anyone who opposed him. With quick instincts, Seidenberg surprised opposing forwards with his ability to keep up with their pace. A very mobile defenseman, the German defenseman used his long strides to always be in the right spot. He used his keen vision to make swift passes and was outstanding at exiting the zone. Capable of logging massive amounts of minutes, Seidenberg was an extremely dependable defenseman. The 12-year NHL veteran has averaged over 21 minutes of ice time per game for the past eight seasons.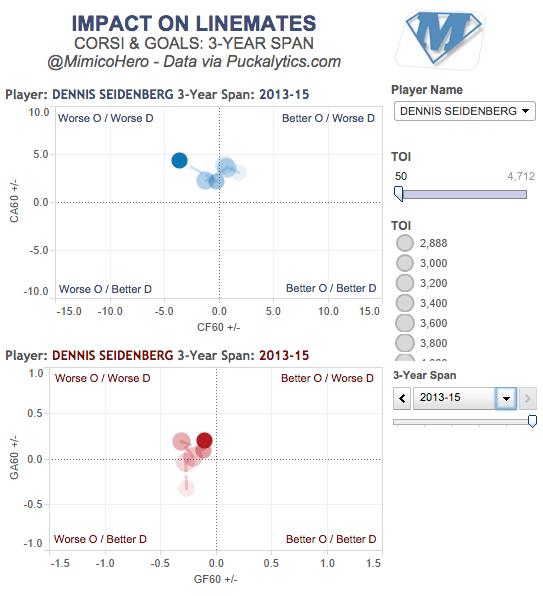 In the graph pictured above, courtesy of Ownthepuck.blogspot.com, Seidenberg's Corsi for/against and goals for/against are able to be tracked over a three year span. The faded dots represent past three year periods, beginning in 2007-2010; the lighter the shade, the further in the past the period was. Seidenberg once had better defense when it came to GA/60 and and better offense for CF/60. However, Seidenberg's current numbers indicate worse offense and defense in both goals for and against per 60 and Corsi for and against per 60. He isn't the statistical defender that he once was.
The Present
Skating in every game this past season, Seidenberg accumulated 14 points while playing 22:06 a game. Despite the large minutes, Seidenberg is a shell of who he once was. His iCorsi/60, iFenwick/60, points/60, assists/60, and shots/60. In almost every statistical category, he posted the lowest numbers of his career.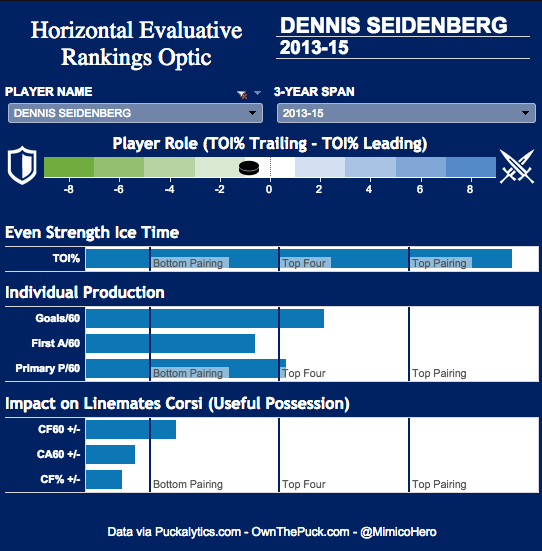 As visible in the chart above, Seidenberg plays high top pairing minutes, yet hovers around high top six individual production and doesn't even register with his impact on linemates' Corsi. For production for the amount of minutes he's on the ice for is just pitiful.
The Future
The veteran German defender has three years left on his deal, paying him $4 million per year, according to our friends at CapFriendly.
With the Bruins trying to emerge from the hell of straying close the cap line, Seidenberg's hefty payday doesn't bode well with his declining production. The combination of an extensive price tag and declining production doesn't bode well for the Bruins, who no doubt have to be hoping that Seidenberg can boost his overall effectiveness. A leader in the locker room, it's hard to knock the importance of his presence in the locker room. A classy individual and a puck moving defenseman who eats up minutes well, Seidenberg is in line to see a lot of minutes this season due to a potentially weak Bruins blue line. With a solid statistical season, Seidenberg could help propel the Bruins back into the playoffs.
After returning from a torn ACL to play all 82 games last season, Seidenberg suffered a setback on an injury that he was nursing into training camp, which will now cost him eight weeks. His absence will open the door for more playing for younger players, and could crowd the Bruins' blue line upon his return. Hopefully, Seidenberg makes a full recover and will be able to return at full strength during the season.
Cam Kerry covers the Bruins for The Hockey Writers. He can be reached on Twitter (@camkerryPRS).