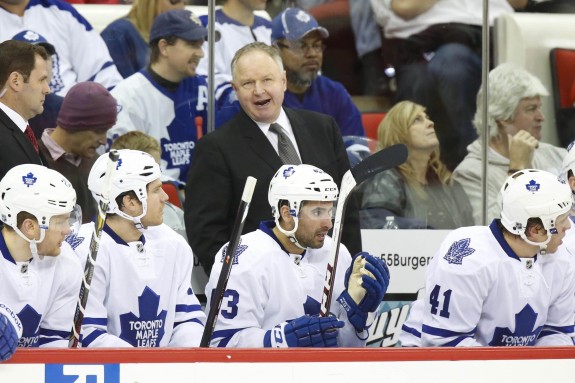 After weeks of silence, Brendan Shanahan and company made a pretty loud statement, and its one that supports (at least for the time being) head coach Randy Carlyle. There is change on the bench though, as assistant coaches Dave Farrish, Scott Gordon, and Greg Cronin were all informed they would not be with the Toronto Maple Leafs next season. There seems to be a varied reaction across Leafs Nation, and there are definitely a number of disgruntled fans. Actually, that may not be a strong enough sentiment to describe the anger and frustration with Leafs fans after the decision to retain Carlyle.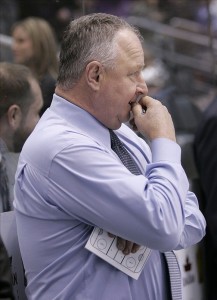 It has been the Sudbury native commanding the Maple Leafs bench for two of the most shocking collapses in recent sports memory. Coach Carlyle unquestionably deserves a lot of heat for those breakdowns, but even the most outraged of Leafs fans would agree that blame should be shared between the players, coaches, management and organization as a whole.  But with Shanahan and Nonis choosing to give Carlyle a two-year extension, a couple questions need to be asked. How can the competitive nature, culture, and identity of the team change when members of the organization are rewarded for ineptitude and failure?
Why was a contract extension necessary when Randy Carlyle was already under contract for next season?
Nonis made the point during today's conference call; this decision sends a message to the entire roster. Shanahan and Nonis have put the microscope onto their players. Maple Leafs management has issued a test to their players, one that challenges the team to play within a certain style and system that, although the athletes may not like it, management feels is a winning method.
But considering Tim Leiweke was vocally displeased with the lack of identity, direction, and culture within the Maple Leafs, the decision to retain Randy Carlyle becomes even more perplexing. There is nothing to suggest that Carlyle can adapt his style to correspond with the current style of play in the NHL. This sends a message to players in the room that, not only will failure be tolerated, but possibly rewarded. Now obviously that's not the intended message to anyone associated with the team, but it must be pretty hard for guys like Nazem Kadri or Jake Gardiner to understand why the organization would bring back a coach that they would probably argue was detrimental to their progression as NHL'ers.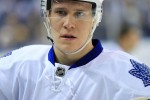 That is wherein lies the issue for Leafs Nation
The informed Leafs fan understands the teams best chance of becoming a perennial Cup contender lies with the future of young assets like Gardiner, Kadri, Van Riemsdyk, and Rielly. So I can understand why Maple Leafs fans are frustrated that the team is bringing back a coach who hasn't been able to break though to those key young pieces. Just because he's received an extension doesn't mean Randy Carlyle is bulletproof. Heck, it wouldn't shock me if he doesn't finish the 2014/15 season behind the bench, but by extending Carlyle it makes one question the immediate direction that the Leafs are heading.
With Randy Carlyle officially returning to the Toronto Maple Leafs, armed with a two-year contract extension in hand, one thing in an otherwise murky situation has become clear. The trainers better have a backup toaster ready for next season.