A guest post by Brian Kennedy
One question was on the mind of Ducks fans Saturday night as their team headed to Los
Angeles to take on the Kings. Would those guys in LA do us a huge favor?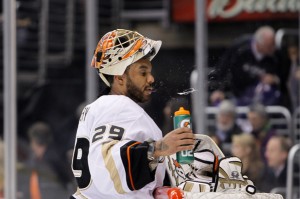 How might they do that? By continuing their ways of two nights before, when they'd
played a game that their coach described afterwards as absolutely humiliating, or words
to that effect.
The home team had been outshot 30-6 by the end of two periods, and they'd gone on
to lose 4-0. It was so bad that the coach didn't even think of pulling the goalie for a
replacement. There was no point.
But aside from the opponent's woes, the crucial question for the Ducks boils down to one
simple thing—can they get the goaltending they need to carry them into the playoffs?
The other night, Emery played a solid, if unspectacular game with the Blues in town. It
was his first full NHL game in a year, though he had put some games in in Syracuse for
the team's AHL franchise. There, he'd done well, winning four of five on a team that,
frankly, stinks.
His style, which I described extensively in an article for Inside Hockey earlier in the
week, is to take short, shuffling steps from side to side. If you know he's had hip
problems, it almost looks like he's constantly compensating, and in fact, there's some
truth in that.
He told me that the goal is to keep the hip healthy by not stressing it the way it used to
be stressed, and he has worked on his game over the time of his recovery, he said, to
do things differently than he did before. His rehab, by the way, was months of all-day
training in strength, stretching, and other conditioning. The routine now is about 45
minutes a day to keep him where he's at.
His style of playing the puck is to get out high and stand up, then drop to his knees with
the legs in a V shape as the puck gets near him. He then leans out with his gloves and
tries to grab it. He looks as he does it like he's smaller than he is, and that's worrying.
His body kind of shrinks down when he's on his knees.
That style makes him the opposite of someone like Giguere used to be in this team's goal,
or even Hiller, who is not a big man, but bigger than Emery, and who goes to his knees,
but doesn't collapse his chest toward the ice as Emery does.
He describes his own feeling about how things are going in positive terms, without
clichés. "The first game I played, I had been practicing with the pro [AHL] team for two
days, and that was an uncomfortable game, but it's been getting more comfortable since
that time. You get a feel for things, you know, the speed, and just kind of get a taste for
it."
He says that this team expects the goaltender to handle the puck a lot, but that
communication with his teammates has a lot to do with his approach to that.
"Guys help you out back there pretty good. I hit a couple of shin pads with pucks and things,
but all in all, I think I did a decent enough job handling the puck."
He further explained: "You start to calm down a little bit and get a feel for it, actually
remind yourself of things a little bit less, but it's pumped at the start, and maybe you
settle down a little bit toward the end and get more calm in there."
When he was asked how he felt handling the puck, he said "Pretty good. I try to keep it
pretty simple. When a guy is open, I try to get it to him, the things I'm used to."
His numbers earlier in his career were pretty solid, though when you realize the number
of games he's played, only 165 before Saturday, you recognize that his legend, if it's OK
to use the word, is bigger than he is. Why?
Because he's been a mercurial figure wherever he's been. In Ottawa, a super-
conservative government town, he was known for his interest in boxing and getting
tattooed. The Sens ended up waiving him and he played in Russia. He came back a year
later (last season) and played 29 games for the Flyers before the hip problems put him
out, many thought for good.
If anything, then, a recovery like Emery has had means that this guy is going to suck up
every moment, enjoy what's happening to him, and give it all he's got every second on
the ice. I asked him about that the other night, the human feeling side of things.
The question was whether he would go home and reflect, given that this was his first
game back after a year off, and with many, including Bo Jackson, who suffered a hip
ailment similar to Emery's finding it miraculous that he could return. "There have been
many moments like that," he said, "you've got to keep the small goals in mind to achieve
the big ones, and this is definitely one of them."
He further explained, "I took it step by step and was fortunate to have the doctors I did
and trainers I did and catch it when I caught it. But was definitely a scare. When you
can't play the game, you realize how much you like it."
Forget like, and don't for a minute think he's between the pipes because he's a charity
case. The Ducks need him, desperately. At the moment, he seems to have taken over for
Dan Ellis, whose early days after coming from Tampa Bay were good, but who could be
counted on to let in a bit of a softie most nights. He was pulled in favor of Emery against
Phoenix on March 13th.
But is there any cause for concern with one guy not so steady and the other one coming
off of a year of surgery and rehab? That partly depends upon how you see the role
of the goalie in Anaheim. Saturday night after Emery had beaten the Kings 2-1 in
OT, the name "Emery" was on everyone's lips. The Kings' Murray mentioned him.
His own coach did as well, complimenting him as "an NHL quality goaltender." He
elaborated, "That's what you ask of your goaltender, to give you a chance, give your team
a chance. He withstood some barrages there when we got into penalty problems
in the second period, and he made some big stops, you know, not acrobatic but big stops
from a positional standpoint. Big for our hockey club."
The Ducks, if they can stay out of the box, won't have to rely so much on Emery, but
Carlyle pretty much gave away the secret right there. Emery may not be the same
netminder he was, and he's not terribly athletic in one sense. But he has to be steady, and
if he can do that, his team will take it from there. That's always been the Ducks' way.
Fans will remember that the Stanley Cup final that they lost, in 2003, was solely a matter
of Giguere. Had he not been amazing, they would never have made it. Heck, they
wouldn't have beaten Detroit in the first round. The one they won in 2007, by contrast,
was not about netminding so much as team play and offense. In fact, starter Giguere
missed some games due to complications suffered by his infant son. Backup Bryzgalov
came in and filled the hole.
Emery, really, is third on the Ducks' chart behind Ellis and the still-injured Jonas
Hiller. In one way, then, there's no pressure. Whatever they get from him is a bonus.
Commenting on his work after Saturday's game, said that he looked to Felix Potvin as
an inspiration earlier in his career, but that in this game, "We knew they'd chip the puck
in the zone, press, because of what happened Thursday night." Pretty standard stuff, but
while he talked, I looked at him closely. He's bigger than you think, taller, and more
muscular. It's not just that he looks like a professional athlete, but that there's a thickness
to him in the chest that's more than what you'd imagine.
He also does his homework, like watching the Kings' game from Thursday night on tape
at home Friday. He recognized the tendencies they'd be using, and defended well, he
thought.
Emery might not end up being the difference maker, but then again he might. If he does,
he'll likely stand up pretty well. The old Ray Emery, the smart a@# of 2007 who lost to
Anaheim, is gone. It's not professional image management that has made the difference
(reference Kurt Busch in NASCAR), but the humble change that has taken place due to
the amazing difficulties he's overcome. Emery is a man with a couple of grey flecks in
his hair now, and they're well-earned. But he's also a guy who gets what he has, and
wants to make whatever of it that he can.
Look for the trust relationship between him and his Ducks' teammates to grow, especially
if he can hold them in as he did in beating the Kings on their ice, 2-1 in OT.