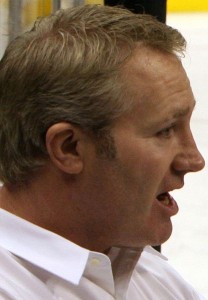 Since November, The Hockey Writers and the NHL Alumni Association have teamed up for a monthly series called Ask the Alumni. It provides us with the opportunity to shine a spotlight on the business ventures and charitbale work done by the NHL Alumni members while reminiscing about some of hockey's greatest moments. It also gives our readers the opportunity to be a part of the interviews – each month, a different NHL Alumni member will join us here at The Hockey Writers for an interview and THW readers provide some of the questions.
The list of hockey legends we have spoken with continues to grow  – Lanny McDonald, Georges Laraque, Theoren Fluery and Claude Lemieux have already taken part in the series. The Hockey Writers is now taking questions for our next guest, NHL Alumni member and two-time Stanley Cup champion Marty McSorley.
We cannot promise that we will be able to use every question submitted, but if you have a question for Marty McSorley, please send it to thwnhlalumni@gmail.com by April 11, 2011.
Marty McSorley
McSorley began his NHL career with the Pittsburgh Penguins, playing in 72 games during his rookie season (1983-84), scoring two goals and adding seven assists to go along with his 224 penalty minutes. He would go on to play 961 NHL games with the Penguins, Edmonton Oilers, Los Angeles Kings, New York Rangers, San Jose Sharks and Boston Bruins. He scored 108 career goals, accumulated 359 points and had an astounding 3,381 penalty minutes (fourth all-time behind Tiger Williams, Dale Hunter and Tie Domi).
It was during his time in Edmonton that McSorley rose to prominence as one of the league's top enforcers, ensuring that opposition players did not take liberties with his teammates, particularly Wayne Gretzky. He was also part of two championship teams in Edmonton, helping to win the Stanley Cup in 1987 and 1988. During  those two trips to the Stanley Cup Final he played in 37 playoff games and had 10 points (4 goals and 6 assists).
The hockey world was rocked on August 9, 1988 when McSorley, Mike Krushelnyski and The Great One, Wayne Gretzky, were traded to the Los Angeles Kings. While in Los Angeles, McSorley continued in his role as on of the league's top enforcers but his overall game improved as well, with his best season being the 1992-1993 season when he played in 81 games, scoring 15 goals and 41 total points. The Kings made it all the way to the Stanley Cup Final that year but lost to a determined Patrick Roy and his Montreal Canadiens.
McSorley also has a special place in the NHL record book, drawing an assist on Wayne Gretzky's 802nd career goal – the goal that broke Gordie Howe's all-time record. In a recent conversation with McSorley as he prepared for the Scotiabank Pro-Am Tournament in Edmonton, an Alumni event that raises money for the Gordie and Colleen Howe Fund for Alzheimer's research, he had an interesting take on his role in the historic moment.
"It was really nice to assist on that goal, but Wayne Gretzky was going to break Gordie Howe's record with or without me," he said with a laugh.
If you have a question for two-time Stanley Cup Champion Marty McSorley – Send it to thwnhlalumni@gmail.com by April 11, 2011.
For more information on the NHL Alumni Association, visit the Alumni's website.