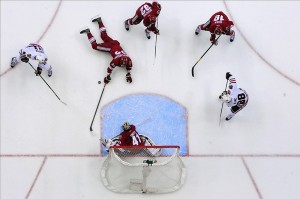 Bob Francis was the winning-est coach in Phoenix Coyotes franchise history prior to Dave Tippett, but you wouldn't recognize him today. He has had a very difficult road to walk since his success with the Coyotes. Much of his difficulties can be linked back to injuries suffered in his days as a professional hockey player and his own internal struggles.
On the ice and beginnings behind the bench
From 1975 to 1987 Bob Francis took to the ice for 610 games. His career was mostly spent in the minor leagues after his time with the University of New Hampshire. He had his only stint of 14 games with the Detroit Red Wings in 1982.
After his playing career he spent the first six seasons of his coaching career with the Salt Lake Golden Eagles of the IHL. The first two seasons he was an assistant coach prior to becoming the head coach from 1989 to 1993.
Moving up the ladder
In 1993 he would move up to the American Hockey League to become the head coach of the Saint John Flames for two seasons and another two seasons with the Providence Bruins.
The Boston Bruins saw something they liked in his approach and he spent two seasons as their assistant coach at the NHL level prior to being hired on by the Phoenix Coyotes as head coach in 1999.
He was the first Coyotes head coach to win the Jack Adams Award as the best coach in the NHL. He won the Jack Adams for the 2001-02 season when he led Phoenix to a record of 40 wins and 95 points.
Headed for rock bottom
After winning the Jack Adams award things came undone for Bob Francis and the Phoenix Coyotes. The team  would go on to miss the playoffs each of the next two seasons, which resulted in Francis being fired by the club in 2004 after only winning 20 of 62 games.
He would eventually sign on to be the head coach of the Finnish club HIFK but he was fired in December 2006. It was later revealed that symptoms of loss of balance began affecting Francis during the 2003-04 season with the Coyotes and rumors of alcoholism were lingering.
Since his coaching career ended Bob Francis' health has slowly deteriorated to the point where he requires a walker to move about. Much of this appears to be linked to his days laying hockey.
The road to recovery
When reading Dan Bickley's article for the Arizona Republic it is clear that Bob Francis has met his personal demons head on in the last few years. Bob Francis said in the article,
"Where I was getting out of control with the alcohol was the isolation. My three kids were up and gone, and my (first) wife worked long hours. I had too much time on my hands, and wasn't occupying that time in a better manner."
While it is unfortunate that Francis had to get to such a dark place with the alcoholism and mental illness, he has clearly been facing his issues head on in the past few years. Everyone knows someone in their life that has been touched by mental illness, even if it is not apparent in that person's day to day life.
The hardest part about mental illness is getting help for yourself and continually moving forward through the inevitable stumbles in recovery. For Bob Francis and all others who have suffered and/or continue to suffer from mental illness, the scars will always be there, invisible and ever ready to come back to the forefront.
For those of us that are lucky enough to have tremendous support from our family, friends and doctor's it is a constant struggle, but we know that we can always lean on the people around us for support.
The scariest part of mental illness is not knowing if, and/or believing that, there is no cure for you. This leads people to many different avenues to deal with this internal damnation. For Bob Francis alcohol, for a time, was his escape from whatever issues may have been his.
A shining light
With mental illness initially you can believe that you will be able to handle your issues internally and that you are better not to involve the ones you love so as not to hurt them. Unfortunately that is the worst trap that can be fallen into. Bob's words from Bickley's article reflect this, .
"I didn't realize the damage I was doing to them," Francis said. "The thing that hurt most going through the process was the regret they felt for not doing more for me in my bleakest, darkest moments. That hits home. They resent themselves for something they didn't do to help? You couldn't do any more damage to your own kids than making them feel that way."
While Francis, or the others that have gone through these struggles, cannot change the past wrongs. They can look towards a brighter future and hopefully see the light at the end of the tunnel. To me that light is my wife and daughters. Anyone who has been through these trials and tribulations has their own light to look to, and it is very heart-warming to see that Bob Francis has found his.
I wish Bob Francis all the best in his future and leave everyone struggling internally with this message…your light is out there, find it, embrace it and never let go of returning to the person you can be again.
All Bob Francis quotes are from Columnist Dan Bickley's article for the Arizona Republic, Ex-coach Bob Francis now fighting for quality of life.