The last several Kings games have provided another example of one of hockey's oldest adages. It's never as bad as it looks. The boys in black and white have gotten back to doing what they do best, which is grinding out close wins against all comers. I know it's frustrating, but the greater Los Angeles area just has to embrace the fact that not every great team will be the 1980s Edmonton Oilers, reducing foes to tears and handing out carpal tunnel surgeries to scorekeepers. When the Kings are on (as they were in recent wins over the Wild, Avalanche, and Sharks) they just don't blow teams out of the water. They smother the opposition, take away time and space in their defensive zone, and control the puck with seamless precision.  Some nights the score will look closer than it should, and others will leave you wondering how they won by as many as they did. Finding a way to win is all that matters, and the Kings are skillful at doing just that. But if you're looking for a team that gives away free Big Macs or Chalupas for high goal totals, this L.A. hockey club isn't for you.
I put the Kings in a small group of teams that I could realistic see winning the Stanley Cup this season. So long as they stay focused during the long haul, qualify for the playoffs, and don't lock Darryl Sutter out of the locker room listen to their coach, there's no reason to doubt the championship potential that this bunch has.
But there are no locks in the NHL. Nothing is for sure, and even the most talent-filled rosters need some good fortune to hoist the greatest trophy in all of sports. With that being said, here are my five biggest roadblocks that the Kings will have to navigate around in order to etch their dynasty in the hockey history books. None of these roadblocks should be a huge surprise like Marilyn Monroe jumping out of a cake and singing "Happy Birthday" to the President (there's only one JFK), but each is worth noting as the season unwinds. Let's start with an easy one.
The Impending Off-Season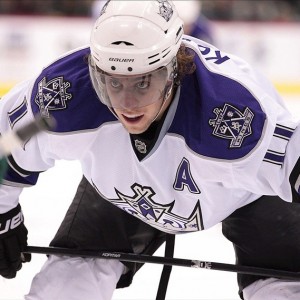 Every team deals with this issue across all major sports. A year of ups and downs is not only measured by the ability to achieve the ultimate prize in the present, but also by what current actions are affecting the future well-being of the franchise. The Kings are by no means a team in transition or crisis mode, but there are some enormous pending roster decisions that will have to be made. The big moves center around two players in particular (with apologies to Brayden McNabb, Christian Ehrhoff, and Trevor Lewis). Anze Kopitar has led the team in points for an insanely efficient eight straight seasons, and has been one of the most well-rounded and gifted players in the NHL during that stretch. He's an unrestricted free agent after this season (at the age of 29), and is in line for a mega-deal that will rival those of his elite contemporaries.
There's no need to freak out in L.A., because the chances Kopitar bolts town are very slim. And quite frankly, the pressure is on G.M. Dean Lombardi to strike a deal (losing Kopitar would be the worst possible moment in his Kings legacy). Economies of scale aside, the longer a deal does not done, the more this situation will hang like a black cloud over downtown L.A. Even a player like Anze Kopitar, who is as selfless and humble as they come, is still vulnerable to letting a contract situation affect him. He's only human.
The other King with a big off-season forthcoming is Milan Lucic, who is currently skating on a 1-year Hollywood audition deal. The Boston Bruins were wise to trad him when they did, and the Kings acquired him knowing that they had ample time to evaluate the bruising winger. If Lucic plays well during the first half of the season, the Kings will be hard-pressed not to find a place for him in the future of the organization. But if he struggles, well that will make things very interesting. Do the Kings try to trade him at the deadline, to both shore-up their goal scoring and avoid an even tougher decision in July? Or do they ride it out, and hope he improves as the make one final playoff push? As is always the case with Milan Lucic, buckle up and hold on for dear life as this unfolds.
The Back-Up Goalie Factor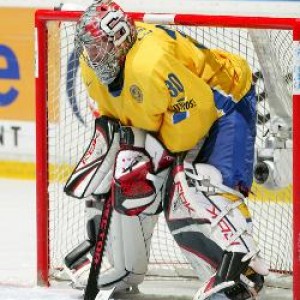 I can assure you, I'm not as crazy as this roadblock looks. Yeah, Jonathan Quick is a goalie-jedi that has the ability to play lights out and/or grow extra legs during the highest pressure moments of the year. Yet last year he practically needed an IV during the final two months of the season, when the Kings were forced to trot him out on a nightly basis as they desperately aimed to make the playoffs. After falling short in 2014-15, I find it hard to believe that same approach would be attempted if similar circumstances arrive at the end of this season.
Ben Scrivens and Martin Jones have moved on, and the new netminder given backup duties in L.A. is none other than Stockholm's finest Jhonas Enroth. It has been an interesting ride for Enroth, who was drafted by Buffalo and selected to the NHL's All-Rookie team for the 2011-12 season. But he never could claim the Sabres goaltending job after Ryan Miller was traded to St. Louis, and he made a pit-stop in Dallas before inking a 1-year deal to back up Quick on the Kings. If you logically thought that this franchise's AHL team (the Ontario Reign) had a few young goalies at hand in case Enroth flames out, allow me to "rain" (get it?) all over your parade. The Reign are rolling out the dynamic duo of Peter Budaj and Ray Emery, because apparently Brian Boucher and Chris Osgood were unavailable.
Enroth's success and Sutter's confidence in him will be a vital subplot all season for the Kings. If he puts together more than enough quality starts (like last night's 39 save gem in a 4-1 victory at San Jose) he'll see some work in the spring, and Quick will be rejuvenated come playoff time. If Enroth falters, Ontario might have a promotional meatball night in the near future.
The Defensive Unit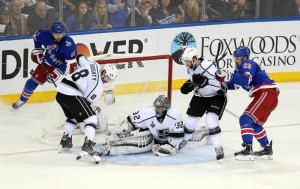 I think we can all agree that this is the weakest part of the Kings roster, and hopefully this doesn't turn into a Katie Holmes in Batman Begins situation where they start sabotaging something really promising. Drew Doughty remains one of the top 5 defenseman in the game, but the man needs a Kit-Kat bar at some point (coming in hot on the puns today). Can L.A. count on Jake Muzzin to be a consistent number two option? He's shown glimpses off it in the last two years (the 2014 postseason was his finest hour), but the team needs more. McNabb and Alec Martinez could be the de facto second pairing, but each will need to elevate their game as the competition get stiffer. A rotation of Ehrhoff, Matt Greene, and rookie Derek Forbort could be a very solid third pairing, but you have to wonder what will occur if injuries or performance struggles thrusts them into a greater role.
There's really only two ways this can play out. Either Muzzin, McNabb AND Martinez all take sizable strides throughout the season and solidify the depth at the blueline. Or they don't, and Lombardi starts shopping for defenseman like he's a perky college student at IKEA. The more I think about it, the more I'm inclined to believe that the Kings won't wait till the deadline to make a deal if that's their course of action. For all we know, the recon might be underway.
The Mileage on the Roster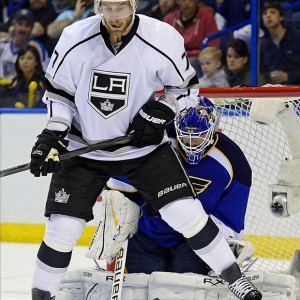 Excluding last year's early start to golf season, the Kings have made the playoffs five of the previous six seasons. From 2012-2014, the Kings won two Stanley Cups and lost in the Conference Final. Why am I bringing this up (other than to get back on your good side)? Because that is a lot of high quality minutes of hockey for a roster to play. There are plenty of pros for keeping virtually an entire championship core intact, but one of the few cons is the added collective mileage of the unit. It's why no team has repeated as champions since the Red Wings in the late 90s; playing 20 extra games is hard to recover from. The Kings are younger than most teams that have dealt with or are currently facing this problem, but it does not diminish the fact that this group is not as fresh as it once was. Much like a boxer taking thunderous punches over the course of their career, the Kings have repeatedly taken the best shots (figuratively and literally) from the most dynamic players the NHL has to offer. Every postseason we see clubs run out of gas, and L.A. will always be at that risk given the amount of time they have spent on the ice.
So how do you fight excess mileage without turning back the odometer and committing a felony? Youth of course! If the Kings are going to go all the way, it's time for Tanner Pearson and Tyler Tofolli to do more of the heavy lifting on offense. Both young players were so vital to the second Stanley Cup run, and now each has the experience and the ability to take some of the pressure off of their elder statesman forwards. Muzzin and McNabb have to pump some young life into the defensive unit, and I wouldn't be surprised if the Kings tap into the Ontario Reign for some depth as the season progresses. The addition of Lucic was a nice attempt to tinker with the roster, although further transactions might be necessary. Nobody gets younger in the game of life, but the Kings  will undoubtedly be doing their best J-Lo and John Stamos impressions to reverse the aging process and stay refreshed.
Injuries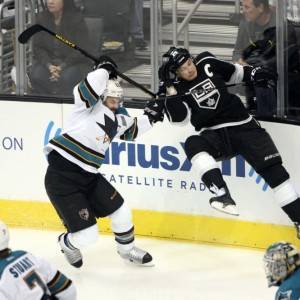 Nothing matters more than the health of your team come playoff time. Nothing. We could look at every Stanley Cup champion and find a team that is thankful they weren't ravaged by injuries. It's the most simplistic and ultimately cruel part of sports. You just have to stay healthy. Now some injuries are manageable, while others are championship kill-shots. The Kings have done a masterful job building a roster that doesn't have to rely on one scoring presence, which pays enormous dividends when an injury bug sadly hits. Still though, any injury is significant to the overall depth and stamina of the team.
The Kings trail only the Blackhawks in Stanley Cups won this decade, and there is no team other than Chicago I would trust more to rally amid an unfortunate injury. L.A. has an enormous amount of pride, a large level of resiliency, and miles and miles of heart as Jimmy McGinity once eloquently put it. In 2013, a year after winning their first title, the Kings fought till the bitter end trying to defend it. Dustin Brown had a torn PCL, former King Justin Williams had a separated shoulder, and Drew Doughty had a serious ankle injury. Yet none of them missed a single game, as the Kings advanced to the Conference Final. I know hockey players are tough, and playing through injuries don't make you any tougher than your counterparts around the league. But how many franchises would have continued winning with that damage on deck? L.A. will find a way to take their season as far as humanly possible, injured or not. But injuries happen, injuries disappoint, and injuries painfully make a difference.
The run to a third championship has already started within the boards at the Staples Center. Every team has obstacles to overcome in their pursuit for hockey happiness. The Kings know what's at stake, and they know how to survive the pitfalls they will face. All it takes is hard work, savvy roster moves, and a little bit of luck. Welcome to life in the NHL.