Upon being hired by the Los Angeles Kings, Dean Lombardi had a plan to bring a winning culture to a team that was lacking identity and he delivered. Lombardi also said he would build a championship team from the ground up that would stay in contention for years and he has delivered.
The Kings failed to make the playoffs for the fourth time under Dean Lombardi and this year was the first time since 2009. It is a tough pill to swallow and the Kings failing to qualify for this year's playoffs negates any argument that they are still a contending team, however, there are still intangibles to Lombardi's cunning business maneuvers that cannot be overlooked. Especially when taking a step back and looking at the organization as a whole. It truly attests to the team Lombardi has been able to skillfully build.
In terms of business and all transactions that fall under the spectrum of managing assets (players), Lombardi has used the transactional side of hockey brilliantly. The draft, trades, and free agent signings have ultimately molded the team fans have paid and sold out 54 of the last 56 home games for.
Drafting Kings
Going into full rebuild mode required two things: patience and draft picks. Always looking at the draft as a solid foundation to develop players into long-term commitments, Lombardi has kept busy with an eye on the draft every year. Long-time Kings Captain Mattias Norstrom was traded for draft picks among other assets in 2007. Craig Conroy, Brent Sopel, and Brad Stuart were others all traded away to obtain draft picks or other players that would help the team in the early stages of the rebuild.
Since Lombardi's first draft as the Kings general manager, he has seen 23 draft picks play in the NHL. With the Manchester Monarchs winning the Calder Cup this last Saturday, exactly one year after the Kings won their second Stanley Cup, the team had 15 players on this year's AHL championship team that had been drafted by Dean Lombardi and company.
The second round seems to be a sweet spot for the scouting staff with picks like Kyle Clifford, Tyler Toffoli, Slava Voynov, and Valentin Zykov. However, Lombardi has been able to find great potential in all rounds. For example, like taking a player like Tanner Pearson with the last pick of the first round in 2012, a year removed from being skipped in the draft altogether. Alec Martinez, Dwight King, and Jordan Nolan were all drafted in later rounds and all have their names engraved on the Stanley Cup.
Player Acquisitions
Dean Lombardi may be the best general manager in terms of trading players. The trade for Mike Richards was a perfect example of this. The Kings needed a second line center to fill in behind Anze Kopitar and gave up a lot to extract the captain from the city no one expected him to leave for a very long time.
The trade deadline has also been a fruitful platform for the Kings acquiring players like Jeff Carter, Robyn Regehr, Marian Gaborik, and Andrej Sekera. Two of the last three decided to sign extensions in Los Angeles after arriving and Sekera's signing in LA seems to be a priority for both parties.
Free Agency Greatness
In the beginning of Lombardi's reign, it was difficult to sign free agents. Names like Ilya Kovalchuk and Brad Richards are remnants of a period where Los Angeles was not a favourable destination for big-name free agents. Instead, fans and management would succumb to free agent signings like Kyle Calder, Ladislav Nagy, and Tom Preissing.
The moment that changed all that was the signing of Stanley Cup winner Rob Scuderi. Scuderi helped the Pittsburgh Penguins win the trophy in 2009, had extensive playoff experience, and was a stable defensive defenseman. Following that, the wheels began to turn and Willie Mitchell was signed for those same reasons the next year. Mitchell was definitely a gamble considering his history with injuries, but the signing paid off as he helped the Kings win two Stanley Cups.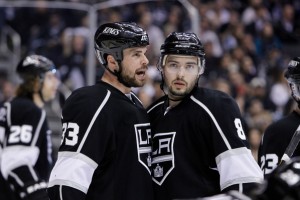 An Eye for Unwanted Players
Two signings that really make Dean Lombardi stand out as a true mastermind are the initial signings of defenseman Jake Muzzin and goalie Martin Jones. Muzzin was invited to the 2009 Nashville Predators' training camp, but was shortly released by the team. In 2010, Lombardi swooped in on the 2007 fifth round draft pick and signed one of the (now) top possession defenseman in the league.
Martin Jones went undrafted. Despite being named to the 2009-2010 WHL first all-star team, named WHL playoff MVP, and top goalie in the WHL for the Calgary Hitmen, the Vancouver native was still somehow overlooked. Jones has played well when called upon and could possibly put the Kings in the same situation they were in with Jonathan Bernier.
This year was another example of how well Lombardi is able to adapt to different situations using free agency. Due to the salary cap restrictions of Slava Voynov's suspension and the league's unwillingness to cut the Kings cap some slack at the beginning of the suspension, Lombardi went on to sign Jamie McBain to a league-minimum contract. McBain played 26 games with the Kings recording nine points and was able to supply the Kings with sufficient minutes when called upon.
The Bigger Perspective
The NHL has to be looked at as a business. It's a business involving drafts, asset management, and millions of dollars. It's a business that requires skillful strategy and a knack for the present and future. Dean Lombardi is a mastermind at this craft and has continued to deliver in all forms of NHL transactional management.
It is easy to be a pessimist and solely focus on some of the speed bumps Dean Lombardi has put fans through such as acquiring Dan Cloutier or drafting Thomas Hickey with the fourth overall draft pick in 2007. But these ill-advised moves can be forgotten with success and they seem like fuzzy memories off the reflection of two Stanley Cups.