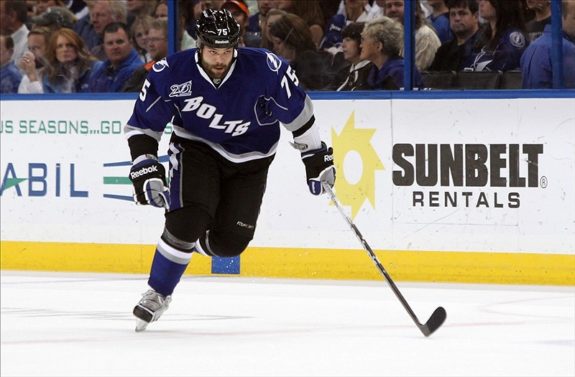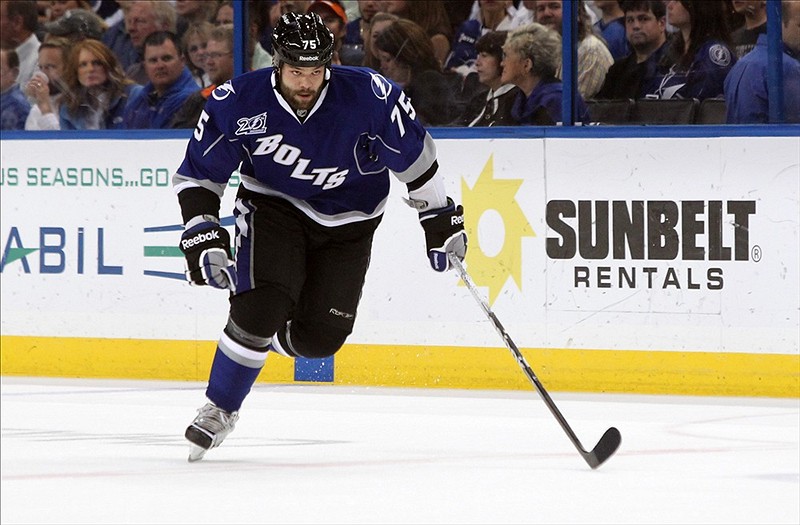 The 22 year old Radko Gudas has quickly endeared himself to Tampa Bay Lightning Fans. But what is his true value moving forward?
Money Matters
He currently carries a $750,000 cap hit between base salary, signing and performance bonuses.
With his entry level contract expiring this summer the Lightning are required to offer him a minimum qualifying offer of $605,000 with the minimum signing bonus of $75,000.
The Blueline Moving Forward
Tampa Bay currently has five of their NHL level defensemen signed through next season at a total cap hit of $20,732,143 with Keith Aulie and Radko Gudas left to sign.
Assuming Mattias Ohlund is still on injured reserve the total cap hit for the four signed defenders (Matt Carle, Victor Hedman, Eric Brewer and Sami Salo) is $17,125,000. Those four defensemen will eat up 27% of the $64,300,000 salary cap limit next season.
With a minimum cap hit of $680,000 to resign Radko Gudas and $710,250 to resign Keith Aulie that number moves to $18,515,250 or 29% of the cap next season for six defensemen. That is reasonable as far as the cap goes, assuming defensemen make of seven of 23 roster spots for 30% of the players on the team.
What the Scouts Say
The question remains, what is Gudas' true value to the Lightning. Does he have the potential to be a top four defender in the NHL? Let's dive into this question.
He is known for his bruising hits and high compete level, but he is also mobile and makes a good first pass out of his zone. He will never become an offensive threat on the blueline, his puck skills and stick handling are just not at that level.
Most scouts have determined his potential to be that of a third pairing defender that drives the opposition nuts.
What the Numbers Say
This season Radko Gudas has contributed one goal and three assists in 18 games. He has also come true on his reputation as a bruiser with 73 hits (4 per game) and 25 blocked shots (1.4 per game).
His point shares, which are the estimate of the number of points in the standings a player has contributed, are 0.2 points due to his offense and 0.5 points for his defense for a total of 0.7 points.
When Gudas is on the ice the team's plus-minus is even, when he is off the ice it is a plus 0.39 rating. He is also essentially cancelling himself out in terms of penalties  He takes 0.8 penalties per 60 minutes and draws 0.6 per 60 minutes.
His PDO, which is a good measure of the luck of the player (save percentage plus shooting percentage when he is on the ice), is not high and is actually lower than the average 1000 mark at 988. This means his performance has not be overly aided by luck and should be expected to continue.
His Corsi rating is excellent thus far this season at 17.2. This means that for every 60 minutes Radko plays the Lightning are getting 17.2 more shots on the opposition than they are getting on their own goal.
However  it must be noted that he has played somewhat sheltered minutes this season. His Corsi Quality of Competition rating is -0.907, compared to Victor Hedman (whom plays against top lines consistently) and his rating of 1.004.
This does not mean that you throw out the rest of Gudas' stats, but it does give you an indication that he is thriving in his current role. He could clearly handle more defensive responsibilities but these should be given in measured steps.
Final Thoughts on Gudas' Value
Radko Gudas is of value moving forward for the Tampa Bay Lightning. His long term projection of a third pairing defenseman appears to be a very accurate assessment.
As a comparable, long term I see Gudas turning out much like Douglas Murrary the former long time San Jose Shark that was traded to Pittsburgh this season.
Special thanks to NHL.com, Hockey-Reference.com, BoltProspects.com, Behindthenet.ca and CapGeek.com.