This is the debut of a weekly feature looking back at the past week of Vancouver Canucks hockey. The good, the bad, the ugly, the pain, the cheers and what it all might mean.

The Vancouver Canucks had a pretty memorable week these past seven days. Monday the NHL trade deadline came and saw the Canucks make a couple of moves. They picked up Sami Pahlsson from Columbus and then shocked all of Canucks nation when they moved Cody Hodgson and Alex Sulzer to Buffalo for Zack Kassian and Marc-Andre Gragnani.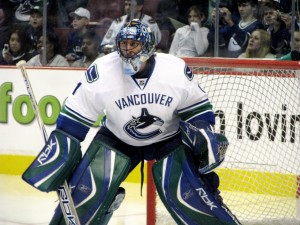 On the ice the Canucks went 1-1-1 which included a hard-fought, emotional game against the surging St. Louis Blues. Of course they followed that up by laying a huge egg against Buffalo on Saturday night but now get to look forward with five more home games before hitting the road again.
The Trade
The trade came as quite a surprise to most people following Vancouver. Hodgson had made some big strides this year and was fourth on the team in scoring. Since Vancouver has struggled to score the past month, moving a guy who can put the puck in the net was a bit surprising.
The key player coming back from Buffalo was Zack Kassian. Kassian is big, real big. He weighs in at 6'3" and 214 pounds and gives Vancouver a physical power forward they've been searching for since, well, forever. Kassian is only 21 and is quite raw and the Canucks will need to be patient with him but they hope he can provide the physical presence that Vancouver has lacked come playoff time.
In his brief time with Vancouver he has already become a fan favorite. He shows tremendous skill for a big player, throws his body around and has found himself getting minutes on Kesler's line. He finally got on the scoreboard Saturday night against the Sabres with a goal and an assist.
While Kassian was the main focus of the trade, they also bolstered their defense by adding Gragnani in the deal. Gragnani can move the puck, has good offensive instinct and will soon find himself on the top Power Play for Vancouver.
By picking up Pahlsson they get a guy who can centre a shut-down line and give Ryan Kesler less defensive responsibility. If all goes as planned look for Kesler to get more offensive zone starts which should lead to more goals.
Cody Cody Cody

When news broke that Hodgson had been shipped out there was a huge outcry from Vancouver fans. The wailing and outrage filled the airs of sports radio and internet message boards. How could they do this? Was Hodgson going to be the next Cam Neely? Is Gillis nuts?
All these things were put into question.
It is beginning to look like perhaps Cody Hodgson isn't an innocent victim here. Did he ask for a trade?
There had been whispers all year that he wasn't happy with his ice time and then people started questioning about a trade request.
When asked about it the Canucks brass made no comment but the Sabres just happened to be coming into town Saturday and the story grew. Hockey Night In Canada was there too, finally we were going to get the truth.
Scott Oake sat down with Hodgson and asked him point-blank whether he asked for a trade. Hodgson refused to answer and gave some lame retort about the past being in the past. That sure sounds like someone who asked to be traded and doesn't want to come across the bad guy.
That interview may have changed a lot of minds in Vancouver. Sure, he probably saw that his immediate future was going to be limited behind Kesler and Henrik Sedin but to ask for a trade at 21 is pretty bold. Some might say it is diva-like.
Good luck Sabres.
What was worrisome about this week?

Two things were worrisome this week, goal scoring and the power play.
In the three games they played this past week the Canucks managed six goals. This has been a disturbing trend for Vancouver who can't seem to score consistently any more. Further worrisome is that the Sedin twins continue to struggle.
They combined for one point this past week. That's only one more than you did and they need to find their game again.  One big reason the twins point production is down is the lack of power plays and power play success.
This past week saw the Canucks score one power play goal and that one bounced off about four guys before finding the net. Vancouver once had the best power play in the NHL and has now seen that slip to the third best in just a few weeks.
The hope is that Gragnani can help.
Worst Moment of the Week

The first five minutes against Buffalo on Saturday night were pretty brutal. Roberto Luongo gave up three goals on seven shots and was pulled five minutes into the game. The second one was by far the worst of the bunch as Luongo flopped around and tried to bat the puck with his blocker hand.
Goal of the Week

We have to go with the new kid with the best goal of the week. Here is Zack Kassian's first as a member of the Canucks. Kassian ripped a rebound past Miller to give the Canucks a chance at the comeback.
The Week to Come
The Canucks have three more home games this upcoming week. Two are going to be tough as they are facing a Dallas and Winnipeg team that are battling to make the playoffs. The third game next Saturday is against the hapless Canadiens and will be the easiest game the Canucks have played in a while.