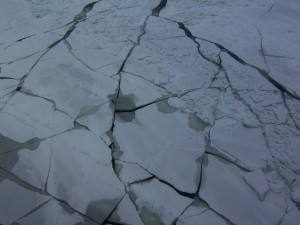 To my knowledge, Richard III never coached a hockey team, in the NHL or otherwise.  However, the tragic flaws that led to his ultimate demise are likely well appreciated by former St. Louis Blues coach Andy Murray, and current (for now) Columbus Blue Jackets coach Ken Hitchcock.  And though Richard III actually spoke of the "winter of discontent" in the context of emerging from times of despair through his brother's ascension to the throne, Murray saw no such salvation, and Hitchcock  seems increasingly unlikely to emerge from the winter in his current role.
Murray, of course, was asked to fall on his sword by management last week, a move that had been rumored for some period of time.  THW's Laura Astorian chronicled the Murray firing, and had some interesting observations:  
Andy Murray/Bryankreutz 77/Wikipedia
Murray by all accounts is a nice guy, but his coaching style puts an unfair amount of responsibility on the youth of the organization.  The players tuned him out – Berglund's mini-breakdown and benching was due to him playing scared, to him being worried that Murray would ream him for screwing up.  
. . .  the Blues have 14 players under the age of 30.  And, quite frankly, half of your team is too many people to have playing scared.
You can bench people to "send a message," but when you make a point out of only benching the youth who are still learning while the vets who should know better get off scott free, there's a problem.  When you make a habit of blaming a humiliating loss on one player, like Murray did with the loss at home to Edmonton, there's a bigger problem.
  To the average Columbus fan, unaware of the St. Louis situation, the preceding passage would be a stunner, as virtually all of the points raised there could be applied with equal force to Hitchcock and his reign in Columbus.
Indeed, Murray and Hitchcock have shared almost bizarre parallel universes, particularly in the most recent years of their NHL careers. Both born in 1951,  Hitchcock and Murray were the finalists for the Columbus job in 2006, with Hitchcock accepting the post on November 22.  19 days later, Murray took hold of the reins in St. Louis.   Murray posted a 118-102-40 record  during his St. Louis tenure, and Hitchcock has a 118-116-36 record thus far in Columbus.  Both squads had breakout years last year, with identical 41-31-10 records, and both lost first round playoff encounters last year.  It was ultimately the expectations created by those performances, and the failure to meet those expectations, which doomed Murray and have Hitchcock on the precipice. Three weeks ago, I documented the increasingly perilous situation for the Blue Jackets and the steps that needed to be taken to right the ship.  Unfortunately, in the intervening period of time, those developments have not come to pass, and signs have pointed toward further entrenchment, rather than compromise. 
To be fair, certain elements of the Blue Jacket's on ice performance had begun to show signs of life.  The defense had improved, dramatically reducing the teams GAA.  Unfortunately, as is common with Hitchcock-coached teams, that increase in defensive prowess was accompanied by a corresponding decrease in offensive output.  At one point during this stretch, the Jackets scored only one goal in five consecutive games.  It was only due to the amazing goaltending of Steve Mason and Mathieu Garon that the Jackets were able to garner four points in that string.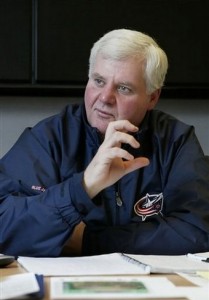 However, despite signs of life, the essential problems remain.  While many point to a sophomore slump by goalie Steve Mason, and others point to Derick Brassard not meeting expectations, or Mike Commodore being out of shape , these are not at the heart of the problem.  The Blue Jackets ills do not stem from lack of talent.  Six Columbus players are headed to the Olympics (plus Ken Hitchcock as an associate coach for Canada) — only three NHL clubs are sending more players to Vancouver. Similarly, the club has not conspired to have a massive collective slump.  Instead, the problem is in the very fiber of the club, the collective spirit of the players.  The events of the last week have crystallized the issue.
Murray and Hitchcock share many characteristics, and among these are stubbornness and a marked distrust of young players.  That distrust was at the heart of Murray's issues in St. Louis, which is a young organization.  So too is it at the crux of the Columbus situation, as the Blue Jackets team is even younger than the Blues.  Besides the now-notorious Nikita Filatov story, the "poster child" for this issue has been Derick Brassard.  Hitchcock has moved Brassard up and down the lineup like a yo-yo, reduced his minutes and predictably impacted his confidence.  Brassard is a skill player, but a young one, and needs time with other skill players to get into a groove.  Instead, he found himself mired on the fourth line, with no means of showing what he can bring to the table.
On Saturday night, against Colorado, Brassard had a dirty, grimy, "Hitchcock Goal" in the second period, battling down low in the blue paint and ramming the puck home — a task ill-suited to his rather slight frame.  This was merely validation of a string of good play on Brassard's part that had been unrewarded due to the lack of finishing ability by his fourth line mates.  Starting the third period, Brassard committed a turnover in the neutral zone — ultimately harmless, but a turnover nonetheless.   As a result, Hitchcock parked Brassard on the bench for virtually the entire period, despite the fact that Brassard had been one of the best players on the ice, for either club, and the further fact that the Jackets were down two players, as Jared Boll and Alexander Picard were both off with injuries.  At the same time, brutal turnovers by Kristian Huselius, Fedor Tyutin and other veterans are treated with benign neglect.
This type of double standard has an erosive effect on a team — or any other organization for that matter.  This is compounded by constant fiddling with lines, adoption of hard and fast rules one day, which are abandoned the next, and cryptic pronouncements from the coach that make the club a fragile, scared group of youngsters on the ice. 
The day after the Colorado game, Hitchcock made the following statements:
  "It would be easy to sit out young guys and play stop-gap (players) but we are not doing that. We trust how good these guys are going to be." "We've got a plan and we're willing to stick with it, and if it costs me my job then it costs me my job, but there is a plan."
This sent most observers scurrying to their local therapists, as the coach seemed to be implying that he was being held to account because he was playing his youngsters too much.  To the contrary, most of the criticism focuses on his squashing of the confidence of the youngsters, arbitrarily cutting their ice time, and for refusing to hold veterans accountable for their mistakes.  For the record, the majority of the defensive lapses have come from the more senior ranks, not the youngsters. 
This is emblematic of a type of disconnection for reality that Hitchcock has displayed with increasing frequency as the current slump has deepened.  After the Colorado game, he mused:
"I don't know. My feeling is it's going to break one way or the other, and I don't know which. Either we're energized, or we're going to get discouraged. I just don't know."
Not exactly the inspiring type of leadership you would expect from a future Hall of Fame coach with a victory total north of 500, eh? 
To this observer, the entire situation came to a head Tuesday night, when the Jackets lost to Vancouver, 7 – 3, while the USA Junior squad won the gold medal in a thrilling overtime victory over Canada.  How are these connected?    When watching the USA vs. Canada match, what struck me immediately was how both squads were able to keep momentum and speed through all three zones, how the players stayed wide and created space, how the play flowed from one side to the other.  If passes were missed or odd man situations created, gaps were filled and play continued.  In other words — the players were loose, they were having fun, and were not afraid of making a mistake. That is, until the USA had the two goal lead with time running out.  All of a sudden, the sticks got held a little tighter, fluid motion turned to inertia (or scrambling), and in a hearbeat the game was tied.  Cut to overtime, four-on-four, and the flow returned. 
The contrast between the game played by the two junior squads and the Columbus efforts of late was stark and obvious.  The Blue Jackets have been playing scared, and have lacked any of the flow that characterizes them when their game is clicking.  When the puck dropped in Vancouver, all of a sudden the flow was back.  A goal by Umberger was quickly followed by a Huselius goal, both assisted by Nash.  A two goal lead early in the first seemed to be the medicine the team needed.   Then, however, the Canucks nailed a bouncing, diving shot from the point, and the fear returned.  The tying goal came 24 seconds later, and the rout was on.
After the game, Hitchcock made the following observation:
"When your best defenseman is Kris Russell tonight, you're not going to win a lot of hockey games."
This was a shocking reference from a man who is usually at least slightly circumspect in calling out individuals, preferring to say things like "Our top six need to be more productive and competetive."  The fact of the matter is that Russell was the best defenseman on the ice (1 goal and 1 assist), and has been for some time.  However, he commits the cardinal sin of being both young and small — anathema in Hitchcock's world.  While the coach tried to back off of the statement on Wednesday, the damage was done.  Also telling was the fact that Wednesday's practice in Edmonton saw Brassard moved once again — to the checking line.
A coach cannot play the game for the players, no question about it.  However, a coach can, and must, create an atmosphere of trust, support and equanimity that players can rely upon when the going gets tough.  The players have been cast adrift by this coach, and while they would never overtly criticize him, the results are clear. 
Of interest are some comments made by the Blues' Brad Boyes and after the club's first game under interim coach David Payne:
"A couple of times coming off a shift, and it wasn't every guy, he tried to adjust things and get us to be in a different spot [on the ice to see the play differently] which was good," Boyes said "He didn't do it in a demeaning way. He was truly coaching, and that was nice to see."

"He was talking to me and Erik Johnson on the power play, and was just telling us, 'Just play hockey.' That we're good players and just be creative. It's nice to hear,"  Oshie said.
Again, the parallels between the St. Louis and Columbus scenarios is eerie. 
When questioned earlier this week about the impact of Murray's firing, Columbus GM Scott Howson replied:
"The decision in St. Louis is not relevant to Columbus."
Perhaps not, in a truly literal sense.  However, the parallels cannot be ignored, and as Columbus Dispatch columnist Michael Arace observed, losing 21 of 24 games, and 13 consecutive road games, by itself, is enough for most coaches to lose a job.  The clamor is reaching deafening proportions, and some action is necessary to avoid a fan revolt. 
Ken Hitchcock is a good man, a smart man, and knows hockey.  However, like Richard III and many of Shakespeare's protagonists, he suffers from the tragic flaws of stubbornness and an inability to adapt.  While those might not be fatal in some settings, they are in Columbus.  Regrettably,  change is essential, and if it is to happen, it would best happen soon.
Fan of hockey at all levels, with focus on the Blue Jackets, Miami RedHawks and the business side of the game. I try to bring a rational, even-handed analysis to my writing, wtih just a touch of snark. I use my legal background to bring some more insight on the business side. Love family, travel, hockey, golf and curling.