*Duh-nuh-NUH, Duh-nuh-NUH*
"Hello everybody and welcome to Sportscenter. Our top story this evening is the NHL is coming back to ESPN in 2021, as ESPN has acquired the exclusive rights to televise the league once again."
Could it happen?
With the current NBC and NHL television deal expiring after the 2020-21 season, we can't rule out the possibility. ESPN will be televising the reborn World Cup of Hockey this September and it presents a huge opportunity for them to showcase some excellent hockey coverage.
We all know that ESPN has been lackluster in its coverage of the NHL since it lost the media rights to NBC. Casual dunks beating out crazy goals on Sportscenter Top-Ten. LeBron's new shoe being the top story the day after the Los Angeles Kings win the Stanley Cup. These are stories that most are familiar with and can't stand when it comes to ESPN's coverage of hockey.
.@espn Who is this?

— Columbus Blue Jackets (@BlueJacketsNHL) November 11, 2014
We get it. ESPN has let hockey fans in America down for many years. But why should they really put a lot of effort into something that they don't have the rights to? That's NBC's job now. ESPN has plenty of other things to worry about.
Until now.
NBC Should Be Getting Worried
Let's put ESPN aside for a bit and focus on NBC's coverage of the NHL in America. When they signed that ten-year TV deal, I was excited and optimistic about what was to come. Hockey coverage in the U.S. had faded significantly and NBC rode in on its great steed to save the day for American hockey fans. They are going to come in and televise hundreds of hockey games per year and all fans of the NHL will get to see their team on a national stage more than ever before!
Whoops.
Fan of a Canadian team living in the States? Find another way to see your team, because you aren't seeing them on NBC. The first year of that fresh TV deal featured Canada 11 times. Winnipeg had one appearance, Toronto and Vancouver each had two, Montreal had six and the group of Ottawa, Calgary and Edmonton had zero.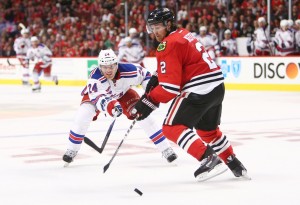 Fan of a small-market team? You won't be seeing your team get much national coverage either, sorry. Nashville, Phoenix, Florida, Columbus and New York (Islanders) combined for 14 total appearances in that first year.
Flash-forward to now and it hasn't gotten better. In fact, it has gotten much worse. This season, the Chicago Blackhawks will make a total of 21 appearances on NBC or NBCSN. That is more than the combined total of the following teams; Arizona Coyotes, Calgary Flames, Edmonton Oilers, Vancouver Canucks, Dallas Stars, Nashville Predators, Winnipeg Jets, Florida Panthers, Ottawa Senators, Toronto Maple Leafs, Carolina Hurricanes, Columbus Blue Jackets, New Jersey Devils, and the New York Islanders. Those teams were scheduled to make a combined 19 appearances on NBC/NBCSN this season (I say scheduled because they actually pulled the only Oiler broadcast they were going to have for Pittsburgh/Washington).
The Blackhawks have three more national TV appearances than 14 teams combined. That is insane.
Think hockey fans are sick of having the same teams shoved down their throat time and time again? Look at the ratings of the last two Winter Classics. It's not pretty and maybe that is because hockey fans in the United States have seen the Blackhawks and Bruins roughly 300 times in the past five years.
The Quality of the Coverage Isn't Helping
Alright, alright, so they show the same teams all the time. Is the coverage on NBC excellent at least?
https://twitter.com/AndyCole84/status/693917418725310465?ref_src=twsrc%5Etfw
That's Mike Milbury, the man who is often featured in intermissions on NBCSN broadcasts. There is actually a petition with nearly 14,000 supporters to remove him from his position. Essentially he is on the air to stir the pot and create controversy where there is none. He's good at it, but he provides nothing to a broadcast. Nobody learns anything about the game when he opens his mouth and generally people will just flip away to watch The Bachelor anyway. He adds nothing to the coverage.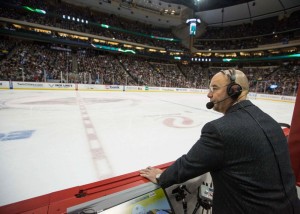 Then there's the most-used in-game broadcast team of Doc Emrick, Eddie Olczyk and Pierre McGuire. I'm not going talk down about Emrick as he does try to manufacture a ton of excitement into a game and generally does a good job. Sure he will force some things and say stuff that annoys people but nobody can do it all.
For Olczyk and McGuire, it's another story. Why are you talking about horse-racing when Vladimir Tarasenko is rushing down the ice for a scoring chance? Jamie Benn's dad's brother's kid also plays hockey? Who knew!
There are some bright spots. Dave Strader, who is now the play-by-play guy of the Dallas Stars, was generally pretty solid. I'm a big fan of John Forslund and the job he does. Gord Miller is fantastic. They certainly aren't all bad. But NBC chooses to feature the ones who add the least to a game. It's disheartening to say the least.
ESPN Has a Shot
So here it is, ESPN. A chance.
A chance to take advantage of NBC's struggles and pitfalls. A chance to show American hockey fans that it can provide unmatched coverage of the sport they all know and love. A chance to perhaps take hockey back from NBC. A chance with the World Cup of Hockey.
They've been given a platform to showcase their talent and they certainly aren't lacking in it. I'm not sure who exactly will be broadcasting the games but if it's anything like the past NHL events on ESPN, fans should be in for a treat with the likes of John Buccigross, Ray Ferraro and Darren Pang. They have some excellent on-air talent that provide a ton to a broadcast and continue to further hockey in the United States.
It won't be without its challenges. So far, the World Cup of Hockey hasn't exactly been taken seriously by many hardcore hockey fans. But when September rolls around and they've been without competitive hockey for a few months, they will tune in. ESPN has to take advantage of that.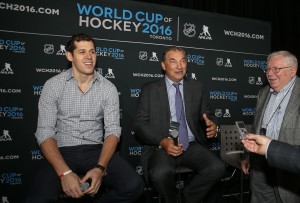 How do they do it?
By putting on a superb broadcast and adding  high-level analysis of the games. I'm not saying they have to go on and spout statistics for 20 minutes in-between periods, but they have to do something that adds to a viewer's experience. Be entertaining. Be thought-provoking. Give the fans something different by showing them things about the game that the average fan doesn't see. Don't rattle off hockey cliché after hockey cliché or try to create controversy for controversy's sake. If they just be who they used to be, fans will love it.
Hockey fans in the United States have been craving something new. ESPN has an opportunity to grab the attention of hockey fans in the U.S. by giving them something different.
Is ESPN going to step up and give it to them? We'll find out in September.
Thank you for reading. You can follow me on Twitter at @jordan_dix. Feel free to Tweet at me or comment below with your thoughts on the World Cup of Hockey.
Jordan has been covering the Stars for The Hockey Writers since February 2015. He is originally from Iowa City, Iowa. You can follow Jordan on twitter @jordan_dix