By Steve Kendall
Throughout most of last spring, while the Boston Bruins were making their late-season run to the Eastern Conference semifinals, fans and media were all about Tuukka Rask and had given up on defending Vezina Award winner Tim Thomas. Granted, Thomas "struggled" through most of last year – though, honestly, his 2.56 goals against average and .915 save percentage still were pretty good. When you add in the fact that he played most of the season with a hip injury, his struggles were somewhat understandable.
When fans combined Thomas' struggles with his unorthodox style, big-money contract, and the strong play of Rask, many clamored it was time to give the full-time job to Rask and clear some cap space by sending Thomas out of town.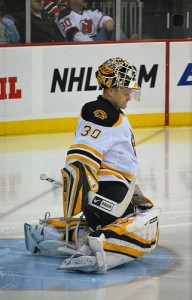 However, Peter Chiarelli elected to keep Thomas, maybe because he couldn't find a trade partner, maybe because he wasn't sold on Rask as a 55-game goalie, or maybe because he still believed in Thomas. Whatever the reason, the Bruins are glad Thomas is still around.
In two starts this season, Thomas has looked like the Vezina winner from 2009-2010. In fact, he looks even better. He posted a shutout in a 3-0 win over Phoenix in Prague last Sunday, and followed that performance with a brilliant, 31-save effort in a 4-1 win over New Jersey on the road on Saturday night.
Thomas, who earlier in the week told Mike Giardi of Comcast Sports New England (www.csnne.com) he felt he was better now than in his Vezina year, backed it up on Saturday. He was dazzling early, making several tough stops to keep the Devils off the board. Finally, the Bruins' offense awoke and scored four second-period goals to blow the game open.
"I felt good out there and I'm seeing the puck well," Thomas said on Boston's post-game show. "I feel like I am playing as well as I can right now."
Thomas is used to being doubted. He was told he couldn't play Division 1 college hockey, then stared for four years for the Catamounts, leading Vermont to the 1994 Frozen Four, and is still third on the NCAA's all-time save list (3,950). Next, he was told he'd never make the NHL and, for a few years, it looked like the critics might finally be right as he toiled in the AHL, IHL, and in Europe before finally making his NHL debut for the Bruins in 2002.
After a couple years, he decided to return to Europe and played a year in Finland, breaking the league record for shutouts with 15. In 2005, he rejoined the Bruins and, despite being relegated to back-up duty to open the next two years, won the team's 7th Player Award in back-to-back seasons. The following year, he shared the Jennings Award with Manny Fernandez before winning the Vezina in 2008-2009.
Even after winning the Vezina, the 36-year-old Thomas was once again doubted, as many fans, newspaper columnists, and radio hosts demanded Rask take the starting spot and Thomas be traded.
"I'm used to people doubting me, and I have learned to not worry about what people say," he said. "I just play my best and let that do my talking. I know I can play, and if I need to prove that every year, that's what I will do."
So far, that's exactly what Thomas has done.
(Steve Kendall has covered college hockey, the AHL, and the NHL for several newspapers, including the Boston Herald, the Worcester Telegram & Gazette, the Sentinel & Enterprise, and New England Hockey Journal.)
Steve has been a writer for 20 years, and has covered the NHL, NCAA, and amateur hockey for the likes of the Worcester Telegram & Gazette, the Boston Herald, and New England Hockey Journal. Follow me on twitter @stevekendallthw