Business is about to pick up for the Boston Bruins.
The NHL released its official salary cap numbers on Tuesday for the upcoming 2015-16 season, beginning July 1. The cap number has increased to $71.4 million, accurately reflecting the previous projections in the $71-72 million range earlier this season.
NHL salary cap for next year will be $71.4-million. Floor will be $52.8-million. So full escalator was used.

— James Mirtle (@mirtle) June 23, 2015
Bruins' general manager Don Sweeney now has $7.5 million to spend to improve his team next season. However, Dougie Hamilton still needs a new contract as a restricted free agent. Preliminary expectations are that the young defenseman will demand a long-term contract between $6-7 million per season. That will leave Boston in a major pickle financially as part of their offseason game plan.
As a result, trade rumors have started around Causeway Street. There are several assets the Bruins could have in play this summer, beginning with the NHL Draft this weekend in Sunrise, Florida. Milan Lucic and Loui Eriksson are two of the bigger names that have been floated around as potential trade bait.
However, there are a few players on Boston's roster that, for various reasons, are untradeable commodities. Here are three such examples that fit the bill for the Bruins.
Zdeno Chara
The captain of the Black and Gold makes this list for all the wrong reasons.
Zdeno Chara is coming off a season in which he missed 19 games with a tear of the posterior cruciate ligament (PCL) in his left knee back in October. Even after he returned, the 6-foot-9-inch defenseman did not look like the same guy who played bridesmaid to Duncan Keith the previous season for the Norris Trophy.
Chara's 20 points this year were the fewest in a full season for him since 2001. The Slovakian also averaged the lowest amount of ice time per game (23:21) since the 2001-02 season with Ottawa. Not exactly the most enticing statistics for a guy who counts almost $7 million against the salary cap each of the next two seasons.
Zdeno Chara saying his has permanent PCL damage can't exactly help trade value can it?!

— MurphysLaw74 (@MurphysLaw74) April 13, 2015
In addition to a bad contract (which includes a no-movement clause), Chara openly admitted his PCL was permanently torn with "about 10 percent" still attached to his left knee. The 38-year-old blueliner did his club no favors by delving further into the specifics of his injury. He did say "I will find a way to be great again" but it is next to impossible for Chara to be elite in the back-nine of his career.
That is unless he takes a drink from the fountain of youth.
To summarize, Chara is an aging defenseman with a permanent knee injury and a bad contract to boot. Add it all up and it equals a player who merits nothing of significant value (except cap relief) in return for a Bruins team that needs to get younger.
Chris Kelly
Another aging veteran that suffocates Sweeney with a bad and borderline unmovable contract is Chris Kelly.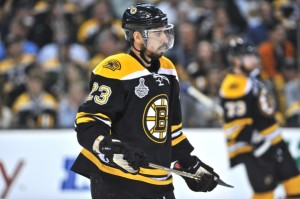 The 34-year-old forward's current contract is all thanks to a "lightning-in-a-bottle" 20-goal season in 2011-12. Former boss Peter Chiarelli decided to throw a blank check at his third-line winger, signing Kelly to a four-year, $12 million deal in the summer of 2012. The deal also included a no-trade clause which is now a limited NTC for the upcoming season.
Since putting pen to paper, Kelly has played in 171 games and scored a grand total of 19 goals. It begs the question: What exactly does he do that makes him worth $3 million per season?
However, the saving grace for Boston is that nine teams find themselves below the salary cap floor as of today. The potential to find a taker for Kelly's services are there but the Bruins cannot acquire the assets they need if Sweeney were to find an opposing club willing to take him on.
Tuukka Rask
Remember when "trade Tuukka" was a thing in Boston last season?
One more thought before I go: Tuukka Rask has given up 2 or fewer goals in 16 of 25 starts this year. Trade him!!!!

— Tim Rosenthal (@_TimRosenthal) December 22, 2014
There were some fans that actually wanted to see franchise netminder Tuukka Rask traded away this season. However, the 28-year old was not the source of Boston's problems in 2014-15. He appeared in a club-record 70 games (64 starts) with a 34-21-13 record, 2.30 goals-against average, and .922 save percentage.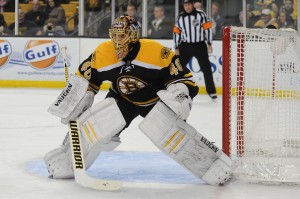 Furthermore, the Finnish Olympian gave up two or fewer goals in 45 of his 70 appearances. Rask did his part to keep the Bruins around long enough in games to secure at least a point. Those blaming him for the club's struggles should look elsewhere for someone else to point the finger at.
Trading Rask does more harm than good for Boston. Their future between the pipes would be in serious doubt as Malcolm Subban still has a long way to go before reaching the NHL level. For a team that sees their championship window as wide open, it is purely nonsense to even entertain the idea of trading a goaltender that is just entering his prime.
Rask is on Boston's books for six more years at a cap hit of $7 million, third-highest in the league below Henrik Lundqvist and Sergei Bobrovsky. Anyone who feels his performance does not justify the contract he has earned should look at this season as evidence of the contrary.
After all, where would they have been without Rask? They may have been closer to contending for Connor McDavid or Jack Eichel rather than a playoff spot.