The Nashville Predators finally signed their fourth-round pick from the 2013 NHL Draft Juuse Saros on June 16, and that signing has added another name in the race to replace Pekka Rinne.
Saros Shining in Finland
Saros has honed his craft for HPK in the Finnish SM-Liga and for the Finnish national team at the junior and senior levels.
Saros has collected medals at the U18 (bronze in 2013 at Russia where he picked up best goaltender honors), U20 (gold in 2014 at Sweden) and the senior level (silver at the 2014 IIHF World Championships at Belarus). Saros is one of the few goalies in recent years to win medals on both the junior and senior level.
He might not get a lot of time in net at the IIHFs because he was behind Rinne, but Saros has put together some solid performances. Saros blanked Slovakia, 3-0, in his only start of the 2015 tournament and made some good saves.
The Book on Saros
Saros may only be 5'11", but he was the best international goalie according the Central Scouting in 2013. He has compensated for his height issues by getting the most of his technical ability. We did a breakdown of Saros' game in our The Next Ones series in 2013.
Not only is the Finnish netminder more than adept at playing his angles and remaining positionally sound, he plays a hybrid style of goaltending and can switch to and from the butterfly style when necessary.
Scouts have raved about Saros and called him "the next Finnish Super goalie." That's praise puts him in the company of great goalies like Rinne and Tuukka Rask. He's quick like Rask and very intelligent like Rinne, and those are some good traits to have.
What it Means to Mazanec and Hellburg?
The signing of Saros will also affect the two other international goalies playing for the American Hockey League's Milwaukee Admirals.
Marek Mazanec was considered a steal by some people as he filled in admirably for Rinne after dealing with that hip infection in the 2013-14 season, and even claimed Rookie of the Month in November 2013. Mazanec finished with an 8-10-4 record and 2.80 goals against average with two shutouts.
Mazanec shared time Milwaukee with Magnus Hellberg, and finished at 18-18-4 with 2.76 GAA and .900 save-percentage. He also was the backup to Carter Hutton when Rinne missed time due to a knee injury. Mazanec dropped his only start of the season giving up two goals in a 3-0 loss at Colorado on Jan. 30.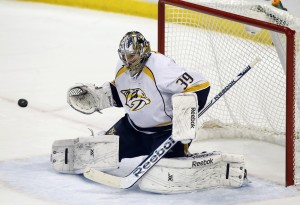 Mazanec was signed to a two-way contract will probably get the backup job once Carter Hutton's contract runs out at the end of next season.
The signing of Saros probably spells the end of Hellburg's time with the Nashville organization as my colleague Colin Fitts pointed out early last month. The former second-round pick did make the AHL All-Star Game and was 15-10-6, 2.33 GAA and .933 save percentage.
Hellburg is a restricted free agent and will probably sign somewhere else if he has designs on cracking an NHL roster. It's not impossible as Scott Darling was once an Admirals goalie that played a big part in the Chicago Blackhawks Stanley Cup winning run.
The Verdict
It's been established that Hutton will be the backup to Rinne next season, but the battle to be the starter in Milwaukee and the potential successor to Rinne could be a good one. Both Mazanec and Saros have enjoyed success in Europe and have been drooled over by scouts.
General Manager David Poile and the rest of the front office will be very interested in who comes out on top in the battle for the Admirals starting job. The winner might be the guy when Rinne retires in a few seasons.
Subscribe to our Predators stories to get email updates every time a new story is published.
Dan Mount is a Nashville Predators staff writer for The Hockey Writers. You can follow him on Twitter, @DanMountSports.