Todd Bertuzzi's legacy in the NHL is an interesting one.
The 6-foot-3 winger from Ontario was drafted in the 1st round by the New York Islanders in 1993, but never really lived up to expectations while on the Island. He played parts of three seasons on Long Island and had a high of 39 points in 76 games as a 20-year-old. He was only 22 when the Islanders shipped him to the opposite coast to play with the Vancouver Canucks.
After three 25-goal seasons, two seasons of 36 and 46 goals respectively, and a long, messy legal battle after his infamous interactions with Steve Moore, the Canucks shipped Bertuzzi off to Florida (among other pieces) for Roberto Luongo. That season started off well for Bertuzzi, as he put up 7 points in 7 games before getting back surgery to fix a herniated disc. Ken Holland saw an opportunity to improve his roster with a former 40-goal scorer, and pulled the trigger.
The Trade
Detroit receives
Todd Bertuzzi
Florida receives
Shawn Matthias
2007 2nd round pick (Nick Spaling)
2008 Conditional 2nd round pick (not exercised)
The Analysis
At the time of the trade, Mike Babcock had the following to say about Bertuzzi.
"Bertuzzi is a huge, talented man that adds the dimensions of
size and skill that we need on one of our top two lines," Detroit
coach Mike Babcock told The Associated Press. "We'll give up a
first-round pick if there are a lot of conditions met, such as us
winning a lot in the playoffs and him helping us do that. We'd be
happy to give up that pick."
The upside for Bertuzzi was big. If he could recover from his legal problems and focus on hockey, his big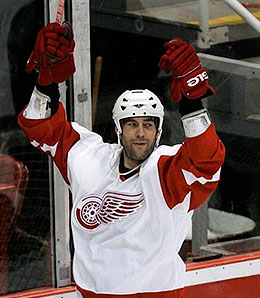 body and scoring touch would be a huge boost to the Red Wings. After recovering from surgery, he suited up for only eight games with the Wings. He netted himself two goals, and two assists for four points in those eight games. He then chipped in with 7 points in 16 playoff games, which wasn't exactly spectacular, but it wasn't exactly subpar either. To say that Bertuzzi "met" his average expectations would be correct. Fans were skeptical that he could make it back to his former glory, but he did just fine that season.
Related: Detroit Red Wings: 5 Biggest Trades in the Salary Cap Era
Shawn Matthias was coming off of a 73 point season with the Belleville Bulls of the OHL, however, he didn't even crack the top 20 Red Wings prospects list over at Hockey'sFuture before he was traded. The Red Wings had some strong up-and-coming centres on their hands at the time (Darren Helm, Cory Emmerton, Evan McGrath, Joakim Andersson) and could spare a little piece of their future to shore up their present. Matthias' highest point total came this past season with the Vancouver Canucks, where he had 27 points in 78 games.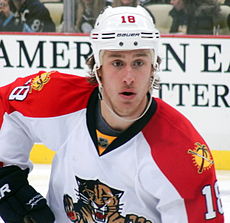 The conditional pick in 2008 stayed with the Red Wings, as Bertuzzi did not re-sign with the team. With the 2nd round pick the Red Wings shipped off to Florida, the Panthers selected Nick Spaling, who had a bit of a scoring bump in junior as well, and, like Matthias, also topped out at 27 points this past season, a career high.
The Winner
I think this trade was fairly low impact for both teams. The Panthers got 7 games out of Bertuzzi, and then flipped him for two prospects, one of whom they got seven seasons out of. The Red Wings had a (supposed) top-six forward who chipped in and helped the Red Wings get to the third round of the playoffs that season. Bertuzzi's time in Detroit also helped his decision in coming back to the Red Wings for 5 more seasons. Whether those seasons were positives or not, is much debated over. Either way, the Wings got (essentially) 6 seasons out of Bertuzzi for two checking line forwards. Not a bad deal at all.
Winner: Detroit Red Wings.