Ken Holland exercises caution before moving assets. In fact, some fans feel as if he is not nearly active enough around this time of year – he is a well-known kicker of tires. With the trade deadline just two days away, I thought it would be interesting to look back at some of the deals Ken Holland made in the post-cap era. I have ranked the deals, considering the assets moved and their impact on the Detroit Red Wings. In addition, I should mention that not every deal came right before the trade deadline.
#5: Detroit acquires Todd Bertuzzi for Shawn Matthias and a conditional pick in 2007 (Nick Spaling)
On February 27th, 2007, the Red Wings landed power forward, Todd Bertuzzi by sending Shawn Matthias and two conditional picks (one based on Detroit's performance in the post-season, and the other one based on Todd re-signing with Detroit) to the Florida Panthers. Admittedly, acquiring Bertuzzi was a risk at the time – he was just coming off lower back surgery, and had not played in several months. Bert played in just eight games for Detroit in the regular season, putting up four points. He also chipped in with seven points during 16 post-season games that year.
Though he left for Anaheim after the 2006-07 season, Bertuzzi returned to Detroit in 2009-10, healthy and ready to contribute. He played five more seasons with the Red Wings, participating in 300 games and putting up 146 points in that time. He also offered some leadership to team, and was one of the more consistent players in the shootout for Detroit.
So who won?
Even if you don't include Bertuzzi's second stint with the Red Wings, I'm still comfortable with the price they paid. Matthias and Spaling have been checking line forwards for the majority of their NHL careers, playing in the bottom six and getting some time on the penalty kill. Moreover, I don't think Big Bert would have ever returned to Detroit, if not for that first stint with the team. Personally, I think it was worth it just to hear the "Todd Bertuzzi" chants, but maybe that's just me.
#4: Detroit acquires Kyle Quincey for a 1st round pick in 2012 (Andrei Vasilveskiy) and Sebastien Piche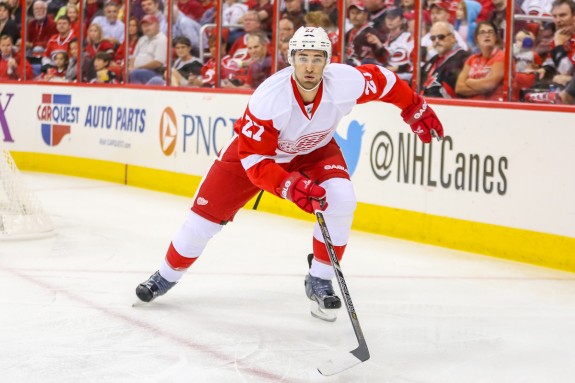 Detroit re-acquired Kyle Quincey on February 21st, 2012 by sending a first round selection in the 2012 draft and defensive prospect, Sebastien Piche to the Tampa Bay Lightning. The centerpiece of this trade was the first rounder – Piche moving created room for another contract in Detroit's system. When Quincey came to the Wings, the move served two purposes: To alleviate some of the pressure on the veteran defencemen and to help fill the void of the soon-to-leave Brad Stuart. It may have taken longer than Red Wings fans would have hoped, but Quincey has become a solid, top-four defender for Detroit this season.
"We should have never let him go in the first place," Holland said of Quincey. "He became available, and now he's back."
So who won?
If you had asked me before the start of the season, I would have said "Tampa Bay. Every day of the week, and twice on Sunday". However, Quincey's had a very solid season, forming a shutdown pairing with Danny DeKeyser. I'm still kind of leaning toward Tampa winning this one – Vasilevskiy has a bright future in the NHL, in my opinion. There's no way of knowing if Detroit would select Vasilevskiy with their pick, but that's who Tampa Bay selected, so that's who I'll consider here. If Quincey can put together another solid season with the Wings next year, I'll be more comfortable with the price Detroit paid to bring him back into the fold.
#3: Detroit acquires two 2nd round picks in 2011 (Tomas Jurco and Xavier Ouellet) for a 1st round pick in 2011 (Matt Puempel)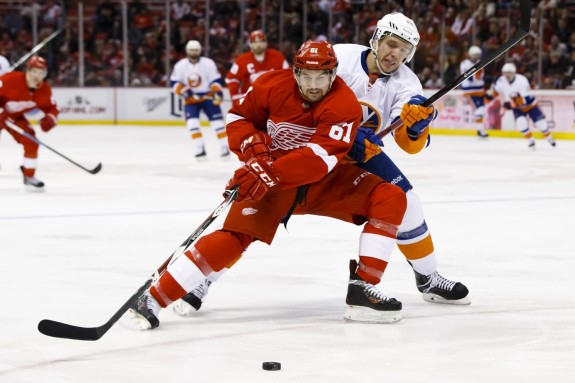 Occurring at the 2011 draft, this is the only move on this list that was not a trade deadline move. Holland moved his first round selection in the draft for two of Ottawa's second round picks. Those picks turned out to be Tomas Jurco and Xavier Ouellet for Detroit and Matt Puempel for Ottawa. Although Puempel has put up some respectable numbers in the AHL, he's played in just two games for the Senators. Long-term, he projects as a scoring line winger, capable of playing in a top-six role.
On the other hand, Tomas Jurco played in 36 for the Wings last season, and has been a regular for the team since the beginning of the 2014-15 season. He has struggled to put up points at the NHL level (29 points through 84 games), but he has also been used primarily in a checking-line role. Ouellet received a call-up last season for a brief stay with the Wings, as he played in just four games for the team. This year, however, Ouellet has participated in 21 contests for Detroit. Though the points have been hard to come by, and he received very little time on special teams, he has looked solid during his stints with the Wings. Both players are forming into capable NHL'ers, and factor into the team's plans moving forward.
So who won?
OK, so this isn't a trade deadline pick-up, but it's a move Holland made in the post-cap era, which is the point of this piece. I think this one is an easy win for Detroit, as Holland shows us that trading down in the draft IS the answer… sometimes. Jurco has struggled at times this year. Certainly, Detroit's depth up front and his limited role have something to do with it. I'm convinced that Jurco will play in a top-six role – whether it's as a skilled player, or a net-front presence. Ouellet has looked solid during his call-ups in Detroit, and I can see him turning into a top-four defender. Overall, I think this deal turned out very well for Detroit.
#2: Detroit acquires David Legwand for Calle Jarnkrok, Patrick Eaves and a conditional pick in 2014
Fellow Red Wings contributor Jacob Messing took a closer look at this trade in a piece he did a few days ago.
When Detroit acquired Legwand on March 5th, 2014, they were struggling to keep their 22-year playoff streak alive. Injuries to several key forwards including Pavel Datsyuk, Henrik Zetterberg and Darren Helm forced Ken Holland's hand, and so he had to make a move to acquire depth at the center position. Legwand put up 11 points in 21 games for Detroit, playing primarily on a line with Johan Franzen and Gustav Nyquist. Once some of the injured players returned, he moved down the depth chart. Legwand was purely a rental player, though, as he signed a two-year deal with the Ottawa Senators worth 6 million dollars during the 2014 off-season.
"Last year I paid what I thought was a pretty heavy price, […] But I think the line of Legwand with [Johan] Franzen and [Gustav] Nyquist certainly for the first 10 games after the trade carried us and gave us hope. And we eventually made the playoffs." – Ken Holland
Jarnkrok has worked out for Nashville so far, albeit in a limited role, spending some time on their penalty kill. Considering the Predators' depth and the success they have experienced this year, Jarnkrok will have ample time to ease into a bigger role on the team. At the very least, he should turn into a dependable second-line center, capable of playing in all situations.
So who won?
I see this trade as a necessity. Objectively, looking at the assets involved, Nashville wins this one. Considering what was on the line for the Red Wings, I think it's a trade they had to make. I'm still not the biggest fan of the move, but I understand why it happened. At the end of the day, the Red Wings extended their consecutive playoff appearance record to 23 seasons, so it was worth it.
#1: Detroit acquires Brad Stuart for a 2nd round pick in 2008 and 4th round pick in 2009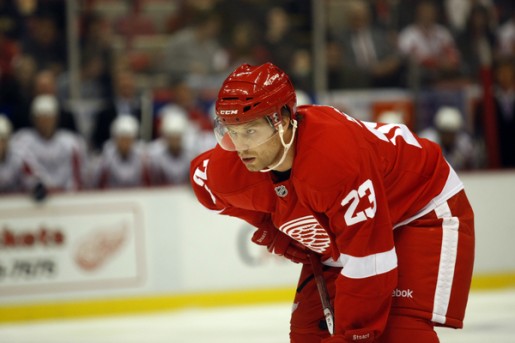 On February 26th, 2008, the Red Wings shipped off two draft picks (2nd in 2008 and 4th in 2009) to the Los Angeles Kings for the services of Brad Stuart. Stuart was the missing piece of Detroit's back end, as the Wings would go on to win the Stanley Cup in 2008, defeating the Pittsburgh Penguins in six games. He would go on to sign a four-year deal with Detroit, with an AAV of 3.75. Stuart brought a different dimension to Detroit's blueline. He led the team in hits every season that he was part of the Wings, and was a solid presence on Detroit's penalty kill. Stuart was also able to chip in offensively, putting up roughly 15-20 points in each of his four seasons with the Red Wings.
As for the draft picks that Los Angeles acquired from the Wings, they never actually used them to draft players. The Kings moved the second round pick to grab Brad Richardson from the Colorado Avalanche, who spent about four-and-a-half seasons with the Kings. The fourth round pick essentially turned into J.S Berube, who has yet to see time at the NHL level.
So who won?
No question, the Detroit Red Wings made the right move when they landed Stuart. He immediately solidified their top-four – bringing grit and strong defensive play to the Wings, something they were lacking then. Even though Stuart may have committed a costly turnover or two in his day, he really solidified Detroit's second pairing with Kronwall, and took a lot of the pressure off Detroit's top pair. It's arguable that Stuart was the final piece for Detroit that propelled them on their road to winning the 2008 Stanley Cup.
Subscribe to our Red Wings stories to get email updates every time a new story is published.
I am a writer from Windsor, Ontario who has covered the Detroit Red Wings for The Hockey Writers. I have had the pleasure of doing so since February of 2015. Previously, I have written about Red Wings prospects for Hockey's Future. I am always up for chatting about the Red Wings and hockey in general, so leave me your comment and/or tweets. Follow me on Twitter at @BrandonPeleshok.