The fact that the New York Rangers are right up against the salary cap — with uncertainty over a potential cap increase for next season — is no secret. As such, re-signing UFA-to-be Mats Zuccarello was always going to be difficult, but it seemed like the Rangers were committed to bringing back the diminutive but greatly effective Norwegian winger.
Then came this twist on Saturday morning, from ESPN's Katie Strang:
As it currently stands, looks more likely that Rangers F Mats Zuccarello will be traded than re-signed. Teams have been told he's available

— Katie Strang (@KatieStrangESPN) February 28, 2015
This is pretty unsettling news for a team that is looking to win the Stanley Cup. If the Rangers are wise, "Zucc" will not be traded, as he is too valuable of a player for them to move at this time.
The Rangers Are Contenders
The Rangers are not in a situation where they should be looking to sell. Heading into Saturday night's game against Philadelphia, they are right at the top of the Metropolitan Division standings, two points behind the first-place New York Islanders but holding three games in hand. If anything, the Rangers should be looking to add, not subtract. In fact, they might even be better off doing nothing at all, given the success of their current roster.  
For the Rangers, this seems like deja vu, given that they were in a similar situation with then-captain and UFA-to-be Ryan Callahan leading up to last year's trade deadline. Callahan was asking for too much money and term, so the Rangers dealt him and two first-round draft picks to the Tampa Bay Lightning in exchange for Martin St. Louis and a second-round draft pick.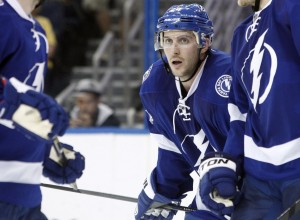 As difficult as it must have been to part ways with their captain and heart-and-soul leader in Callahan, the key for the Rangers was that as a contending team, they were getting back a piece in St. Louis that could (and did) help them make a run for the Stanley Cup. The option of acquiring St. Louis came about when he became unhappy playing for GM Steve Yzerman in Tampa, following a Canadian Olympic roster snub. St. Louis also wanted to be closer to his family in Connecticut, so he had a desire to be moved to the Rangers.
In this year's situation, it's hard to see a similar type of scenario whereby the Rangers would be adding a player who would benefit them in the short term. The Callahan-for-St. Louis swap was particularly unique in that sense. The Rangers' thinking of not wanting to lose Zuccarello for nothing in the off-season is understandable, but there are no signs that the right move to balance short-term and long-term needs exists for the team right now.
Zuccarello Means Too Much to the Rangers
Getting to perhaps the more obvious point, Zuccarello means too much to the Rangers and their success right now for them to entertain the idea of trading him. Yes, one can argue that Callahan meant too much to the Rangers as well, but one can counter that argument by saying that Callahan was becoming a less important on-ice player for a New York team that was evolving its style into one based more on speed and puck possession. Sure, his off-ice intangibles and leadership were key, but his overall value was diminishing.
Zuccarello, on the other hand, is a perfect fit for the Rangers' style under head coach Alain Vigneault. It's no wonder why he broke out with a career-high 59 points last season under Vigneault after he struggled to even maintain a regular spot in the lineup under previous head coach John Tortorella. While Zuccarello got off to somewhat of a slow start this season, he has picked it up lately, tallying 12 points in his last 14 games. He also plays on the Rangers' top line with Derick Brassard and Rick Nash, and is key in solidifying the team's deep and formidable top 6, which is rounded out by Derek Stepan, Chris Kreider, and the aforementioned St. Louis.
Rangers have two very strong lines. They shouldn't mess with it by trading Zucc, they should ride it out because they're legit contenders. — Sean Hartnett (@HartnettHockey) February 28, 2015

Undoubtedly, the best-case scenario for the Rangers would be to re-sign Zuccarello to a long-term, relatively cap-friendly contract — even if it doesn't happen before Monday's trade deadline. Who knows? Maybe by the time the off-season rolls around, there will be a better sense of what next year's salary cap will look like. Maybe St. Louis, who would be 40 years old by the start of next season, will decide to retire, opening up more cap space. Maybe some more preferable options for moving other players (someone, please take Tanner Glass) will present themselves.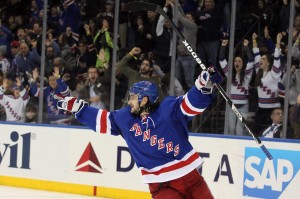 Even failing all of that though, the Rangers should at the very least be looking at Zuccarello as a "rental" for the remainder of this season. Contending teams typically go out and acquire good players with expiring contracts who likely will not re-sign, because they want to make a run for the Cup. Since the Rangers are clearly a top contender, keeping Zuccarello can be looked at as them "going for it."
Perhaps the Rangers and GM Glen Sather are floating the notion of trading Zuccarello as a negotiating tactic to get the right winger to lower his demands. But if the club really is leaning toward trading Zuccarello, they need to think again.